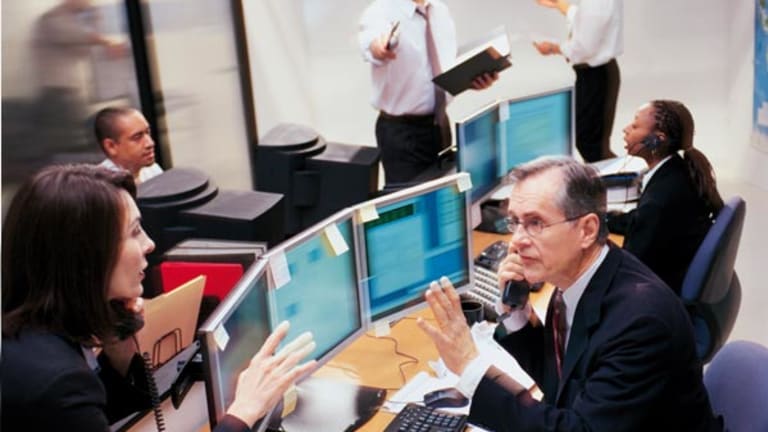 Railroad Winners and Losers: Norfolk
Norfolk Southern says its expansion has helped grow renewable energy projects around the U.S.
Shares of
Norfolk Southern
(NSC)
, which announced Thursday that its expansion has led to $2.2 billion in investment -- mostly in renewable energy -- moved higher along with shares of other railroad companies.
Norfolk Southern was recently higher by 8.3%, or $2.85, to $37.39.
Norfolk said it participated in the location of 80 new industries and the expansion of 35 existing industries in 20 states along its rail lines throughout 2008.
The company said the investment will lead to 3,623 jobs in the railroad's territory and eventually generate more than 136,000 carloads of new rail traffic annually.
"Renewable energy projects led the way across our service area in 2008," said Newell Baker, assistant vice president industrial development. "Our group was able to assist in the location of 19 ethanol and bio-diesel production and distribution facilities across 10 states.
"In addition, we completed eight projects with stone producers and electric utilities to facilitate rail shipment of high-calcium limestone for use in 'scrubbing' power plant air emissions to reduce atmospheric sulfur dioxide and meet future clean air standards."
Elsewhere in the group,
Kansas City Southern
( KSC) shares were up 10.4%, or $1.31 to $13.93.
Shares of
CSX
(CSX)
were up $2.44, or 9.2% to $28.99. BMO Capital Markets initiated coverage of CSX Thursday with a market perform rating.
Burlington Northern Santa Fe
( BNI) shares were up $4.37, or 7.1% to $65.57.
Canadian National Railway
(CNI)
was higher by $2.30, or 6.45% to $37.98.
Shares of China's
Guangshen Rail
(GSH)
were up $2.28, or 13% to $19.86.