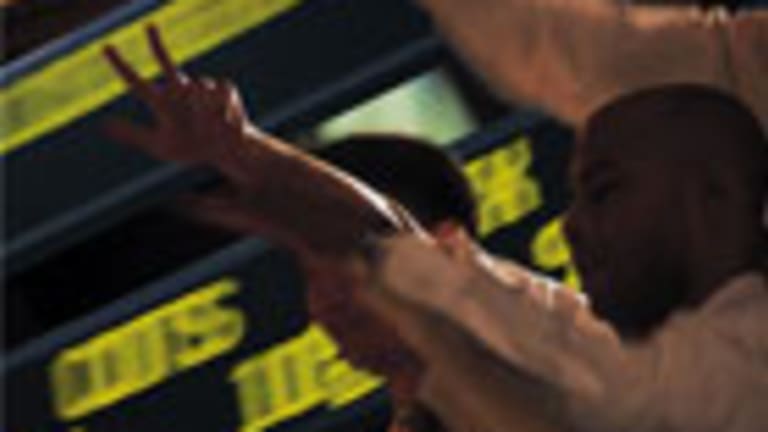 Rag Doll; Taking Another Crack at Citi: Best of Kass
In highlights from his trading diary of the past week, Doug Kass examines how the market has begun to look ragged, and discusses why his view of Citigroup has changed.
NEW YORK (TheStreet) -- Doug Kass of Seabreeze Partners is known for his accurate stock market calls and keen insights into the economy, which he shares with RealMoney Pro readers in his daily trading diary.
Last week, Kass wrote on a possible shift in market conditions and on Citigroup.
Please click here for information about subscribing to RealMoney Pro.
Rag Doll
Originally published on Friday, July 25, at 7:22 a.m. EDT

(Rag doll, ooh)
(Hand-me-down)
When she was just a kid, her clothes were hand-me-down
(Hand-me-down)
They always laughed at her when she came into town
Called her rag doll
-- The Four Seasons, "Rag Doll"
Despite headline records, market conditions (subsurface and not-so-subsurface) could be turning, and my net short exposure reflects my concerns.
We have a bull market in stocks but also in complacency (a self-satisfied view that fails to take into account adverse outcomes).
There are technical divergences aplenty (the beneficiaries of the market melt-up are narrowing).
Bears have become an endangered species, and some measures of investor sentiment are at a bullish extreme.
The fuel of corporate buybacks (junk bonds) is starting to retreat from bubble-like conditions.
Geopolitical risks are multiplying geometrically.
[Read: IMF Sees U.S. Growth at Weakest Since Recession]
The domestic economic recovery has been an exclusive one.
Stock valuations (adjusted for normalized profit margins) are well above the historic averages, and financial engineering may not steer us to higher P/E multiples forever.
We are five years from the Great Recession, and aggressive easing by central bankers around the world is still needed to sustain economic growth. Confidence and faith in the ability of the Fed to exit neatly remains one of the biggest bubbles extant.
Corporations' and individuals' dependency on low interest rates is not likely fully appreciated by market participants. (Just look at the U.S. housing market.) Buying all (even shallow) dips and dismissing short-selling as a mug's game have become entrenched strategies -- signals that, contrarily, risks are rising.
[Read: Where the Housing Bubble May Be About to Burst]
Thirty-five months without a meaningful correction is an excess itself.
It has become downright embarrassing for the cautious among us. Toward that end, a longtime and well-respected bear, technical analyst Sue Berge, gave up the 10% correction call this week.
Seasonality might also be a concern, as historically, markets often run into trouble in the July-to-October period. July and/or August highs are commonplace in the modern investment period. Some of the more serious examples developed in overbought markets in periods such as 1929, 1937, 1946, 1957, 1987, 1990 and 2007. Between now and November, investors and traders face atypically large uncertainties, including:
again, rising geopolitical issues
a Fed that is ending its bond purchases and is considering an interest rate rise
a potentially divisive midterm election that will set the stage for legislation in the years ahead.
To summarize, segments of the market are beginning to wear out, and certain conditions that have led to low volatility and an unrelenting bull market are looking like a rag doll.
Such a pretty face has been dressed in lace.
But the market is a forward-looking mechanism and has begun, well, to get ragged.
Going forward, err on the side of conservatism.
Taking Another Crack at Citi
Originally published on Wednesday, July 23, at 10:55 a.m. EDT
Citigroup (C) - Get Citigroup Inc. Report is a former Kass Katch.
Over a month ago, I sold my Citigroup shares at a slightly lower price than where the shares currently stand. My concerns surrounded the Banamex fraud, the Comprehensive Capital Analysis and Review failure and the uncertainty over the deferred tax asset line and with Citi Holdings' future profits.
Since then, Citigroup has reported its second-quarter results, and I have been going back and forth with Jim "El Capitan" Cramer, who is bullish on the stock.
After a lot of thought/input/analysis (and help from Jimmy), I have reversed my previously neutral stance as the facts have changed.
Yesterday, I added Citigroup to my Best Ideas list.
Again, my principal concerns were that a very large percentage of the holding company's book value ($38 billion) was contained in a deferred tax asset, and that Citi Holdings' had a lot of capital tied up (and returns dragged down).
There is obviously a lot of value in not paying taxes. Moreover, if a bank management can consume the deferred tax asset, the bank will, in turn, generate excess capital above Basel 3 requirements (see below). The significance is that as deferred tax asset runs off, the bank's inferior (relative to peers) return on equity will improve, which allows the bank to return excess capital to shareholders and the valuation (P/E ratio) to expand.
Prior to the release of the last quarter, it was unclear that the full benefit of this asset could be utilized, so I had given less value to the deferred tax asset line. Markets generally don't give a lot of value to deferred tax assets (which are not allowed under Basel 3 capital calculations) and typically wait for actual capital to be returned.
With the release of second-quarter results, I have grown more optimistic that both the deferred tax asset and Citi Holdings have greater value than I previously thought.
These are the positive highlights contained in the recent profit report:
Earnings have stabilized after a series of quarterly earnings cuts. Second-quarter 2014 EPS was a strong beat relative to consensus expectations. Loan growth and trading volume were very positive.
An aggressive core expense cut has been obscured by litigation expenses.
Stripping out nonrecurring items, Citi Holdings reported profit in excess of $200 million -- its first profit ever.
Assuming these trends continue, my (and the market's) deferred tax asset and Citi Holdings concerns will abate.
To quantify the importance (and as seen below), the deferred tax asset represents a relatively large percentage of Citigroup's tangible book value of $57 a share:
Citigroup's ongoing franchise earns approximately 15.5% on tangible equity of $33.25 a share, representing 58% of the bank's total equity per share.
Deferred tax assets represent $17 a share, or about 30% of Citigroup's tangible equity. The deferred tax asset line represents about a 450-basis-point drag to Citgroup's return on tangible equity, which is lowered to about 11% from 15.5%.
Citi Holdings ("the bad bank") comprises about $7 a share (or 12%) of the $57 a share total equity base. Before the release of second-quarter 2014 results, Citi Holdings earned about a 5% return on capital, further serving to drag total returns (by about 250 basis points) from 11% to 8.5%.
[Read: $25 Billion Deal and JPMorgan Stumble to Aid of Bronx Homeowner]
Assuming that Citigroup's ongoing franchise is valued at 1.25x book value (compared with 1.4x for JPMorgan Chase (JPM) - Get JPMorgan Chase & Co. Report and worth $41.50 share, deferred tax asset is worth $10 a share and Citi Holdings is valued at $3.50 a share, I value Citigroup today at about $55 a share, over 10% above the current share price.
If, over time, Citigroup can move toward a 12% return on tangible book value (a conservative forecast for now), the shares can move into the mid-$60s over the next two years.
I currently have a quarter position in Citigroup, and I plan to add on any weakness that might occur.
At the time of publication, the author was long C, although positions may change at any time.
Doug Kass is the president of Seabreeze Partners Management Inc. Under no circumstances does this information represent a recommendation to buy, sell or hold any security.