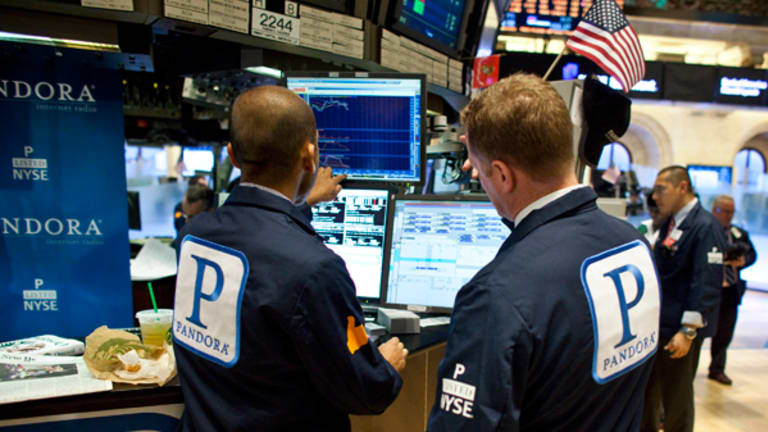 Radio's Quiet Game Changer That Could Crush Pandora
Expect a groundbreaking new initiative launched by a Seattle radio station to spread, changing traditional radio for the better and eventually putting serious hurt on Pandora.
NEW YORK (TheStreet) -- You're unlikely to hear much about this in the financial or tech media, but it's a big deal. Given the media's desire to create and perpetuate Pandora (P) "killers" that always fail to materialize, you would think they would pay attention to something that actually matters. But, as usual, they're not. The only place you'll hear about this is in the radio trades (that nobody outside of radio reads) and, now, in my column.
Entercom Communications (ETM) - Get Entercom Communications Corp. Class A Report is a small company that owns broadcast radio stations. A few days ago, it introduced "The 2-Minute Promise" on what is already a pretty good alternative radio station in Seattle -- 107.7 The End, KNDD. It's a simple, but bold new initiative:
Cut the number of commercials played per hour in half;
Never play more than two minutes of commercials in a row;
Refocus on music discovery. Cut down on music repetition;
And, maybe most importantly, do not fire disc jockeys to fund the endeavor.
Shortly after the Seattle announcement, a privately owned Fresno radio station made a similar move. It will play no more than five minutes of commercials per hour, giving advertisers, as RadioInfo.com put it, "ownership of each break." Expect more stations to follow suit. Once Clear Channel and Cumulus Media (CMLS) - Get Cumulus Media Inc. Report follow suit, the game doesn't simply change, it breaks completely wide open. In traditional radio's favor. On its own terms.
A couple key points to consider.
This will immediately raise the value of advertising on radio. Radio stations will be able to charge more, focusing on premium clients. Because, instead of seeing the advertisement you pay for get buried in a sea of commercials, you receive featured treatment. Ownership. Prime placement. Whatever you want to call it, it redefines the notion of buying time on a radio station. It became routine. Mundane. Screw programmatic! Now, radio advertising gets some of its flair back.
Some businesses (eventually) will not be able to afford to advertise on radio. In what will be a dramatic shift, radio stations will no longer have to scratch and claw to put any client willing to spend on the air; instead they'll pick and choose. If anybody loses, its individual sales reps in radio sales departments, whose services might not be quite as needed as they once were. (Or radio will have to come up with ways to create venues for "leftover" clients). This will allow radio companies to focus on the on-air product, which will only increase the value of air time and put heat on Pandora.
Speaking of Pandora ...
Over the past few months, we have heard a considerable bit about Pandora gradually increasing the number of commercials it plays per hour. It has no choice really given the economics of its business.
But playing fewer commercials has always been a key selling point for Pandora over traditional radio. These moves in Seattle and Fresno dramatically close that gap. In fact, one day a gap might not even exist. (In May, Pandora played roughly 2.5 minutes of commercials per hour, which is actually done a wee bit from the previous month, based on testing in four representative markets). But, even if a gap does exist, it's all about the perceived (and ultimately actual) value of an advertisement from the advertiser's point of view as well as the perceived (and ultimately actual) pleasure of the listening experience from the listener's point of view.
From a listener standpoint, traditional radio wins if more stations embrace the idea of refocusing on personality along with more and better music (on stations that play music) alongside fewer, more lucrative premium (that's the key) commercial breaks.
That's one thing Pandora has never had and, sans a complete overhaul of its business model, can never have -- personality, which is the one "thing" that best drives and nurtures the proceeding two. Make no mistake, real life human beings connecting with an audience of real life human beings is the key ingredient to success. Personality wins. And, if traditional radio, by and large, goes along with KNDD's move to level the playing field, Pandora, assuming it continues to stand still, will lose.
The two-minute promise will likely take on several forms, but if it materializes the way I expect it to, it will be the Pandora killer the media oddly, in all of its hyperbole, happened to miss.
--Written by Rocco Pendola in Santa Monica, Calif.
Rocco Pendola is a full-time columnist for
TheStreet
. He lives in Santa Monica. Disclosure: TheStreet's editorial policy prohibits staff editors, reporters and analysts from holding positions in any individual stocks.