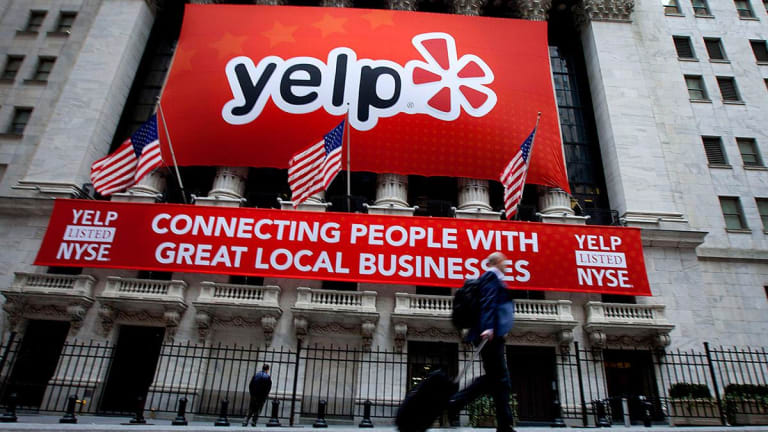 Question: Can We Make Money With Yelp Stock?
This may be one of the rare occurrences where I can bless the purchase rather than the sale of options in general.
There were a few names taken to the woodshed on Thursday night. Down goes Activision Blizzard Inc. (ATVI) - Get Activision Blizzard, Inc. Report , down goes Skyworks Solutions Inc. (SWKS) - Get Skyworks Solutions, Inc. Report , and down goes Yelp Inc. (YELP) - Get Yelp Inc Report . Yeah, that's what the Fox says. The Fox says "yelp." I think.
The was much ugliness to be shared as Yelp, the online provider of local business reviews, reported an earnings beat that was badly overshadowed by a revenue print that fell short of projections. Problem? Yes. Severe problem? Perhaps.
Yelp guided full-year revenue well below consensus on Thursday night. The cause? Yelp for some bazaar reason apparently went to a non-term advertising model that allows unhappy customers to take a hike as soon as they think that they are unhappy. Psst. They seem pretty unhappy. Talk about fragility in a business model. Gee whiz. The question for those of us who scour the night for opportunity becomes simply: Can we make some dough here?

See this chart? Yeah, it's useless. The stock is trading around 30 bucks here in the dark hours. The stock is broken; I wouldn't buy it with your money. Now, if you want to talk options, there will be an opportunity somewhere. How to price it? This may be one of the rare occurrences where I can bless the purchase rather than the sale of options in general.
My thought is this: As of Thursday, the September-through-November range for this stock spanned almost 13 clams. When the bell rings on Friday morning, that range might be something like 22 bucks. YELP, if anything, is consistently volatile. I think that if a trader can get a January straddle at local strike for seven or eight bucks (no way to accurately price this yet) that the risk/reward may be in the trader's favor.
For those new to options, a straddle is really easy to understand. In minimal lots, a straddle is simply the opening purchase (long) or sale (short) of both one put and one call with the same strike price and the same expiration date. This strategy basically guarantees that one side will expire worth something and the other worthless. The only way to profit from this trade is for the underlying equity to move away from the strike price by that expiration in greater distance than the aggregate net debit if long the strategy. Easy peasy.
I know some of you newer traders still may have trouble understanding. It's better to ask than not ask. I am happy to answer your e-mails or comments. Making you stronger makes us stronger. We are a team. Note: Opportunities where straddles actually work come few and far between in my past experience.
(A longer version of this column appeared at 8:18 a.m. ET on Real Money, our premium site for active traders. Click here to get great columns like this from Stephen "Sarge" Guilfoyle, Jim Cramer and other experts throughout the market day.)
At the time of publication, Stephen Guilfoyle had no position in the securities mentioned.