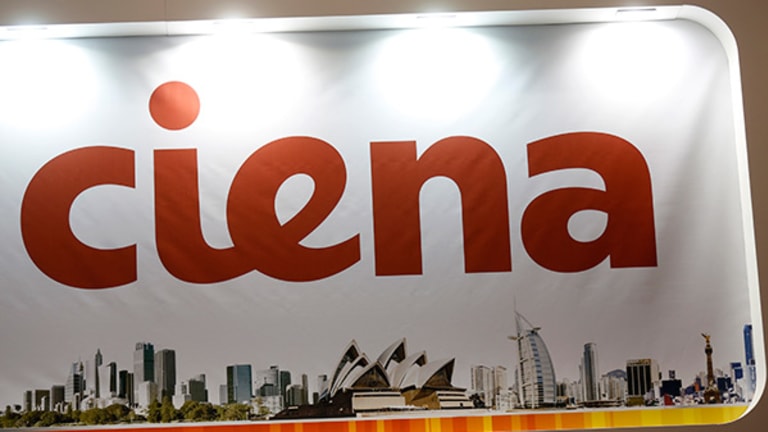 Quant Ratings Upgrades Ciena to a 'Buy,' but the Charts Look Mixed
Our computer algorithm boosts the tech giant's rating, but our technical analyst isn't so sure.
TheStreet's Quant Ratings quantitative-analysis service has upgraded Ciena Corp. (CIEN) - Get Report to a "B- Buy" from a previous "C+ Hold." Now, I always keep track of Quant Ratings' upgrades and downgrades to see if they cover a stock that I've recently written about, or one that looks worth looking at in terms of technical analysis.
I do the same thing sometimes with stocks that have been upgraded or downgraded based on fundamental analysis. After all, technical analysis is a tool that can complement other investment approaches. Results matter, and a combination of tools can give you greater confidence when you do in fact "pull the trigger."
So, let's check out Ciena's charts. In this daily bar chart of CIEN, we can see prices have trended higher the past 12 months -- but we can see that corrections/pullbacks have taken place, too:
The chart above shows that the stock has had a number of upside and downside price gaps with volume surges. However, Ciena's price is currently above the stock's rising 50- and 200-day moving-average lines.
But check out Ciena's daily On-Balance-Volume line (OBV) in the middle panel. The OBV line declined from September to April, then has improved a little since then. I would say such a weak OBV line is a very bearish indicator. Lastly, the lower panel of the chart above shows a Moving Average Convergence Divergence oscillator (MACD) that's recently turned down to a fresh sell signal.
However, we should look at Ciena's weekly chart as well:
We can see in the chart above that the stock's price is above a rising 40-week moving average line. The weekly OBV line is also positive, while the MACD oscillator just turned up to a fresh go-long signal.
Lastly, let's look at CIEN's "point-and-figure" chart:

We can see in the chart above that the stock's price has come up to the $27 level three times. Prices are therefore poised for an upside breakout, but that hasn't happened yet. Conversely, a decline to $24 would give us a down column on this chart.
The bottom line: Traders could go long CIEN on strength above $27 and $28 and then risk a close below $25.
(This column originally appeared at 2:14 p.m. ET on June 20 on Real Money, our premium site for active traders. Click here to get great columns like this from Jim Cramer, Bruce Kamich and other writers even earlier in the trading day. Or, you can click here to subscribe to Quant Ratings, where you can read our full report on Ciena or more than 4,000 other stocks that our service rates in real time every market day. Our Quant Ratings service assesses stocks using a proprietary computer model that runs a variety of factors through quantitative and technical analysis. Ratings do not necessarily reflect the opinions of Jim Cramer or other columnists, who may use different criteria to grade stocks.)
Employees of TheStreet are restricted from trading individual securities.