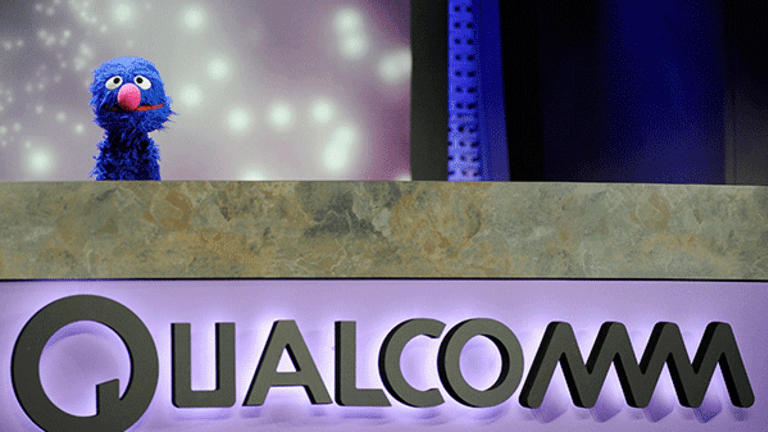 Publish date:
Qualcomm Is a Tech Bargain Right Now
The chipmaker trades at a discount after getting hit with a lawsuit by Apple.
The chipmaker trades at a discount after getting hit with a lawsuit by Apple.
After a solid 2016, mobile chipmaker Qualcomm (QCOM) - Get Report , saw its shares take a nosedive in mid-January after Apple (AAPL) - Get Report sued the company for patent royalty tactics. Apple alleged that the chipmaker, "charged royalties for technologies they have nothing to do with."
Down about 12.5% year-to-date, this is an excellent opportunity to buy stock in the chipmaker that has a stranglehold over mobile device components. With the company's growth potential in the thriving Internet of Things (IoT) sector, a reliable balance sheet and strong cash flow numbers, Qualcomm's business model is robust.
The company's proposed $38-billion takeover of NXP Semiconductors (NXPI) - Get Report would give Qualcomm an edge in its automotive market aspirations. If the deal does end up going through, that piece of news alone will send the stock soaring.
However, Qualcomm's real challenge will be whether it can retain its current business model following the Apple lawsuit. The $1 billion legal wrangle is viewed as a direct assault on Qualcomm's basic licensing business model. If found guilty the company will likely have to make changes that could hurt its previously impressive growth.
Of course, Qualcomm is ready to go up against Apple and we believe this lawsuit is merely a cost-management maneuver by Apple, which is otherwise lacking in strong new product innovations.
Investors are understandably concerned about the current situation—but they needn't be. Given that Qualcomm's intellectual property portfolio is extensive and only a few patents are at a high risk of litigation, it makes sense that the most valuable patents would come under attack. Remember, any business where a major portion of profits come from patent licensing will be subject to such legal disputes.
Instead investors should focus on Qualcomm's strengths. Earnings have been solid, with Q1 reports reflecting moderate revenue growth and numbers which beat analysts' expectations.
Qualcomm also paid out more than a billion dollars in dividends and share repurchases.
On a long-term basis, Qualcomm is expected to deliver over 10% annual earnings growth, which is an improvement over the 3.25% annual earnings growth over the previous five years. Rival Intel (INTC) - Get Report is expected to grow earnings by about 8% annually, while Advanced Micro Devices (AMD) - Get Report is just hoping to be profitable.
Qualcomm has worked diligently to broaden its revenue streams by offering specialized Snapdragon chips for new products in sectors like drones, wearables, and connected cars.
Looking at the company's financials, Qualcomm carries a decent balance sheet. It has total cash of $10.8 billion, which matches up well against its $9.9 billion debt. This financial position would also allow the company to comfortably manage NXP's $9-billion debt.
Further, Qualcomm's free cash flow track-record should help it tide over any period of greyness. The company has generated $4 to $7 billion in free cash flow over the last four years, supporting its generous 3.7% dividend yield.
The stock should even be attractive to income investors. Qualcomm shares offer steady dividend growth with the payout more than doubling from from 2012 to 2016.
With Qualcomm only trading $7 above its 52-week low, this is an excellent opportunity to get in.
---
As we've just explained, Qualcomm is an excellent growth opportunity. If you're looking for other growth opportunities, we've found a genius trader who turned $50,000 into $5 million by using his proprietary trading method. For a limited time, he's guaranteeing you $67,548 per year in profitable trades if you follow his simple step-by-step process.Click here now for details.
The author is an independent contributor who at the time of publication owned none of the stocks mentioned.