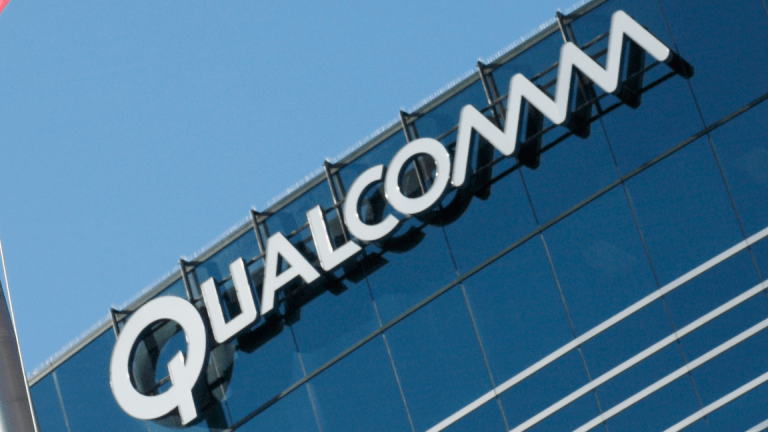 Look at Qualcomm's Drop as a Buying Opportunity
After all the Qualcomm-Apple drama, QCOM stock has returned to a tested area of support -- a good risk/reward long entry point.
The 7% drop in Qualcomm shares is setting up a trade -- to the buy side.
Qualcomm (QCOM) shares were up more than 60% in 2016, rising in a steady series of higher highs and higher lows. But in January 2017, Apple (AAP)  filed a 1 billion dollar law suit against the chip maker. Following that announcement, shares gapped down hard,  dropping back to the 62% retracement level of the 2016 rally range.
A series of legal punch and counter-punch lawsuits between the two companies began, including accusations of Qualcomm overcharging for licensing and royalty fees and the allegation that Apple is deliberately slowing down chip speeds in its devices. This battle has played out on the QCOM chart within the confines of the 2016 Fibonacci retracement levels. The weekly chart illustrates the drama.
Qualcomm's initial drop found support at the 62% retracement level, and the bounce that followed met resistance at the 38%  level, which is also the bottom end of the January gap. Tests and retests of those levels have continued. This week the stock price is back below the 50% retracement level on new reports Thursday that Apple may stop using Qualcomm chips in its iPhone next year. This would be a body blow to Qualcomm but don't count out the chip maker just yet.
The daily chart shows the stock down 7.5% after gapping lower on today's news. It has re-entered the zone of support at the 62% retracement area seen on the weekly chart. In the past, retests of this support have been followed by renewed buying interest as evidenced by the money flow readings at the bottom of the chart.
At some point in the future, Qualcomm shares are either going to break out of the channel they have been trading in or breakdown from the channel. Thursday's price action may be a sign of an impending breakdown, but it is impossible to say with certainty. Traders can only look for previous patterns to repeat and get an edge by finding good risk/reward entry points. The $50 area is a good risk/reward level to enter a long position in Qualcomm. Downside is limited to a percentage move just below the $49 level, but upside projects back to the $57 channel top.
More of What's Trending on TheStreet:
The author is an independent contributor and at the time of publication had no position in the stocks mentioned.