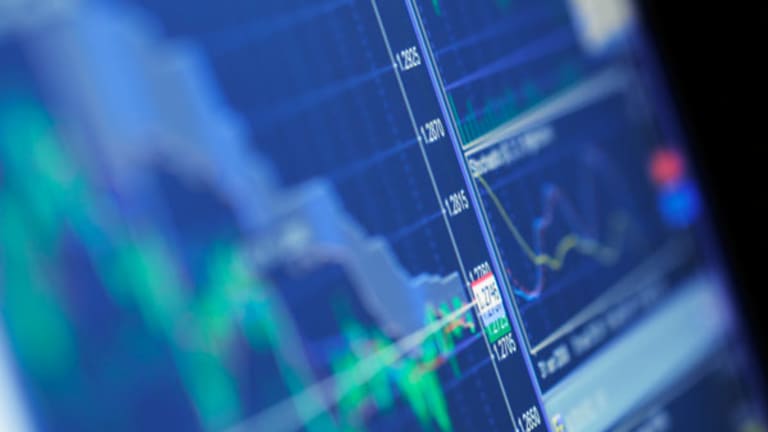 Publish date:
QE5 Is Coming -- Here's What It Means for Your Portfolio
We're headed on a collision course with another big round of stimulus in 2014. Are you ready for it?
We're headed on a collision course with another big round of stimulus in 2014. Are you ready for it?
BALTIMORE (Stockpickr) -- Don't let the latest press releases from the Fed fool you -- we're headed on a collision course with another big round of stimulus in 2014.
Yes, QE5 is coming. Are you ready for it?
Today, I'll show you why the Fed isn't showing you the whole quantitative easing picture and how to position yourself on the right side of this unmistakable trend.
>>5 Rocket Stocks to Buy This Week
"Interest rates are headed higher. Uh, just kidding!"
That's effectively what Federal Reserve chair Janet Yellen announced in her first quarter as the big boss of the big bank.
Just over a week after shocking investors with news that the Fed could begin ratcheting interest rates higher as soon as six months after the end of their bond-buying smorgasbord, Yellen assured us that the Fed would continue to provide stimulus cash for "some time to come."
Welcome to the latest round of Fed minutes, my possible by Plausible Deniability and viewers like us.
The markets reacted like they always do to Fed decisions: like clockwork.
>>5 Stocks Set to Soar on Bullish Earnings
Yellen's surprisingly hawkish interest rate speech basically called a top in the S&P 500 in the middle of March -- and the backpedaling a week later give the big index one final push higher before jobs numbers yanked the floor out at the start of this month. But if you think that Mr. Market's reactions to the Fed's public-facing comments were just side effects, think again. The Fed is using every carefully calculated comment it delivers as a powerful market-shaping tool in its arsenal.
But when words fail to get things done, there's always more quantitative easing. And the there's one chart that's been a spectacular indicator of the Fed's stimulus plans. No, it's not stock prices, jobs numbers or any of the other economic stats that most investors are fixated on right now.
It's inflation.
Or, more specifically, the Fed is targeting a pretty narrow definition of inflation: a 2.2% minimum in a metric the Fed calls its five-year forward inflation rate.
Since 2008, every time five-year forward inflation has slipped below that 2.2% line in the sand, the Fed has announced a major stimulus package. Take a look:
Put a different way, the chart above has never crossed the 2.2% mark without the Fed's immediately announcing a far-reaching QE initiative. In my view, that makes the chart above pretty important to investors.
And right now, that QE-meter is closer to that critical 2.2% level than it's been in a year.
>>3 Stocks Spiking on Big Volume
That chart says a lot about the Fed's strategy right now. In 2012, the Fed suddenly got more aggressive with its stimulus programs, announcing QE3 and QE4 before rates fully pulled back to the 2.2% line. Then, last summer, the Fed's taper announcement proved that a surprising press release could have a bigger effect on inflation than $85 billion a month in bond purchases. Who'd have thunk it?
With that context, Yellen's surprise rate-hike talk in March makes a lot more sense. Talk is cheap, but QE isn't -- so the Fed was trying to give rates a boost with a positive spin on the economy. Thing is, our chart shows that it didn't work.
Inflation is the Holy Grail for central bankers because deflation is a terrifying prospect for a heavily indebted economy. No economist wants to be at the helm when the U.S. slips into deflation. That's why Ben Bernanke fought to aggressively to keep five-year forward inflation above 2.2%, and it's why you can count on Janet Yellen to do the same.
Don't confuse what I'm telling you with some kind of political or moral statement. I'm not championing the Fed here. Not even close.
Too many investors worry about what the Fed should do, when the only way to make money is to focus on what they will do. We're on a collision course with the exact same signal that's brought us big QE programs every other time it's triggered/ That makes QE5 look forthcoming.
>>Side-Step the Selling With These 5 Big Trades
Even if you have a problem with what's going on in Washington right now, don't fight the Fed's moves unless you don't mind getting your portfolio steamrolled.
Positioning for QE5
So how do you position yourself for QE5? Simple: Buy stocks.
Despite all of the bearish cases that keep getting brought up in 2014, I'll fall back on the exact same argument I've been making for more than a year here:
Stocks are still the most attractive asset class out there by virtue of the fact that investors have no other choice. Thats not the most exciting driver of a rally, but its reality. Broad market ETFs such as the SPDR S&P 500 ETF (SPY) and the PowerShares QQQ Trust (QQQ) remain some of the most attractive ways to get exposure to the trend right now. But this is still a stock pickers market. Names with increasing relative strength will continue to be the best way to buy stocks in the near-and-long term.
Yes, the market is correcting right now. That means that it pays to be tactical about your entry into equities. But tune out the deafening noise about crash risk in this market, and the biggest takeaway is the fact that the primary trend is still up. We're still indisputably in a textbook "buy the dips market." The tough part is having the guts to buy those dips in 2014.
Another tough trade is staying away from betting on an interest rate hike.
>>3 Big Stocks on Traders' Radars
If you'd asked a room full of professional investors where rates were heading in 2009, almost ever guy in the room have said, "Up!" Where else could they go? But five years later, rates are basically unchanged. In fact, fixed income has been one of the best-performing asset classes in 2014.
If a Fed action is really as imminent as it appears, going short bonds (or betting against rate-sensitive stocks such as REITs, MLPs and utilities) is probably the worst thing you could do. The assets that have worked best in the last five years are the ones you should keep buying 2014. Nothing has changed here.
And that's exactly what we've seen over the course of the most recent correction in stocks. March and April weren't the "flight to quality" that so many market professionals think they were. Instead, the correction was a "flight to yield." That's why assets such as emerging market bonds, munis and high-yielding stocks have been some of the best-performing asset classes year-to-date.
None of those are synonymous with safety.
Instead, enough "high quality" stocks pay big dividends that everyone is confusing this yield rally for a blue chip rally. The distinction may be blurry in some cases, but it's absolutely there. That's why the most fundamentally unsound high-yield stocks have participated in upside alongside the blue chips. That distinction is critical in keeping your portfolio safe this year: Income-generating names are still the place to be when anxiety ramps back up in 2014.
What's in a Name?
Don't get fixated on "QE5" as the name for the next round of stimulus from the Fed. With the Fed's newfound marketing fixation, I expect it'll actually get a name without the negative connotations that previous stimulus packages have. In fact, maybe they'll avoid naming it altogether and just call it "more QE3."
My point is that the name doesn't matter. All that matters is the Fed action and the market result. Quantitative easing by any other name would smell just as sweet for investors in 2014.
The data indicates that rate hikes are much further out than the Fed would have you believe.
-- Written by Jonas Elmerraji in Baltimore.
RELATED LINKS:
>>2 Biotech Stocks to Trade (or Not)
>>5 Stocks Under $10 Ready to Explode
>>5 Financial Stocks to Trade for Gains
Follow Stockpickr on Twitter and become a fan on Facebook.
At the time of publication, author had no positions in stocks mentioned. Jonas Elmerraji, CMT, is a senior market analyst at Agora Financial in Baltimore and a contributor to TheStreet. Before that, he managed a portfolio of stocks for an investment advisory returned 15% in 2008. He has been featured in Forbes , Investor's Business Daily, and on CNBC.com. Jonas holds a degree in financial economics from UMBC and the Chartered Market Technician designation. Follow Jonas on Twitter @JonasElmerraji