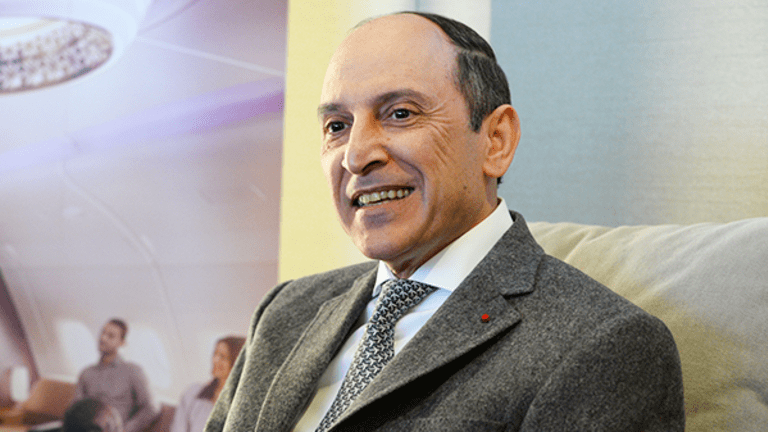 Qatar Airways to American Airlines: Why Can't We Be Friends?
American Airlines might want to think about making a deal with Qatar Airways, which is battling a blockade by the UAE, home of Emirates and Etihad.
From the perspective of Qatar Airways CEO Akbar al-Baker, this must be a very good time to invest in American Airlines Group Inc. (AAL) - Get Report .
Al-Baker may not be the most popular person in the airline industry, but it seems safe to say he has become more appealing as he battles the mean-spirited, ill-conceived air space blockade of his country by neighbors United Arab Emirates, Saudi Arabia, Bahrain and Egypt.
His new image: Blockade runner, mounting the Doha Airlift to feed the hungry of Qatar.
Perhaps he believes the improved image might enable him to move ahead on the American Airlines investment he has likely envisioned for years.
Qatar Airways is already closely involved with three of American's closest partners.
Like American, Qatar Airways is a Oneworld member. It owns 20% of International Consolidated Airlines Group SA, owner of British Airways and Iberia. It also owns 10% of South America's Latam Airlines Group SA.
American has a trans-Atlantic joint venture with British Airways and Iberia -- the trio share revenue, aircraft, decisions and information regarding trans-Atlantic flights. Moreover, American is exploring a joint venture in Latin America with Latam.
Al-Baker made clear last week, in a revealing interview with Al-Jazeera, that he sees the world's view as turning in his favor.
At one point, he properly challenged his interviewer's question, "Do you not surely, as a businessman, fear now that your brand could be slightly toxic?"
Al-Baker responded, "I think your view on this is misplaced.
"There is a huge international sympathy by people on the state of Qatar," he said. "Everybody knows that Qatar is being bullied.
"I am glad that more and more people are now coming on the side of Qatar because of this illegal act imposed on my country," he said.
Perhaps al-Baker thinks American might even be willing to come to some agreement on that other matter -- you know, the one regarding the billions of dollars in subsidies that Qatar and the United Arab Emirates provide to Qatar Airways, Etihad and Emirates, in violation of the Open Skies agreements that have enabled the carriers to expand rapidly in the U.S.
Clearly, Qatar was put off by the early, harsh response to the revelation of its offer Thursday, June 22. American, which later elaborated, didn't seem particularly thrilled in its filing with the Securities and Exchange Commission. Then, shortly before 9 a.m. ET, TheStreet reported that the Allied Pilots Association, which represents American pilots, said the offer "has got to be stopped.
"This is an action of aggression by the Qatar government and we take strong offense to that," said APA spokesman Dennis Tajer.
Qatar is "flush with cash because the government is subsidizing them," Tajer said. "Now they want to come into our house and start buying the furniture."
Ninety minutes later, Qatar issued a statement that clarified and softened its position.
"Qatar Airways believes in American Airlines' fundamentals and intends to build a passive position in the company with no involvement in management, operations or governance," the carrier said. "Qatar Airways has long considered American Airlines to be a good Oneworld Alliance partner and looks forward to continuing this relationship."
It is not impossible to envision that Qatar Airways would back away from the entire subsidized airline/U.S. expansion mess it has put itself in, or at the least, it would agree to a deal with American. The truth is the Middle East carriers are already pulling back U.S. flights.
American CEO Doug Parker said last September that the main thing American, Delta Air Lines Inc. (DAL) - Get Report and United Continental Holdings Inc. (UAL) - Get Report really want is assurances that the Middle East carriers won't operate flights, known as fifth-freedom flights, from third countries.
Of the Middle East Three, only Emirates operates U.S.-bound fifth-freedom flights, one from Milan to New York and one from Athens to New York.
Might Qatar, with no fifth-freedom flights to the U.S., deal out Emirates? Where does the line form?
Then there is Etihad, the third Middle East carrier, which also likes to invest in foreign airlines. Sadly, it invests heavily in the wrong ones - Alitalia and Air Berlin PLC. It has reportedly lost $1.9 billion in the former and $382 million in the latter.
Now comes al-Baker, investing in an airline that actually makes money.
Wouldn't al-Baker have a ball if he could outmaneuver two airlines from United Arab Emirates, one of the very countries that has somehow convinced itself that blockading Qatar makes sense?
Al-Baker to American: The enemy of my enemies is my friend.
This article is commentary by an independent contributor. At the time of publication, the author held no positions in the stocks mentioned.