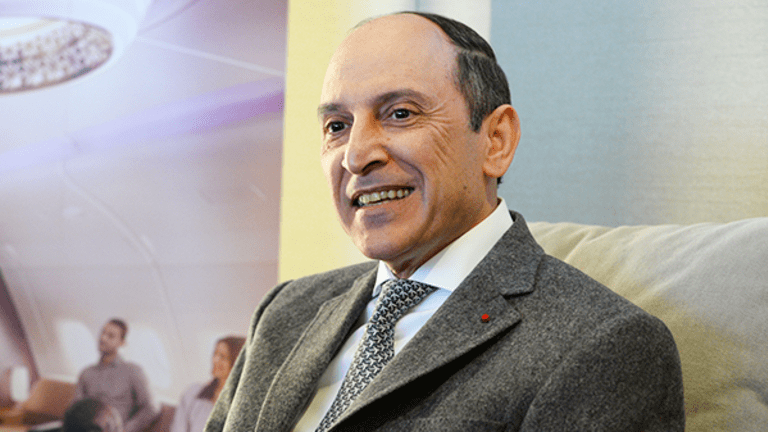 Qatar Airways Battles American Airlines but Also Owns Stakes in Its Partners
Qatar Airways battles American Airlines on subsidies to Middle East carriers, but it also owns big shares of American partners British Airways and LATAM.
Qatar Airways CEO Akbar Al Baker is a shrewd, provocative man who is battling American Airlines Group Inc.  (AAL) - Get Report with one hand while the other hand owns significant stakes in its closest partners.
And so at a time when his airline has become his country's lifeline as it fights a blockade by neighbors, Al Baker launched a bid to acquire 10% of American, the world's biggest airline.
The bid comes at a time when Qatar is also engaged in a less severe conflict with American over rapid U.S. expansion by the subsidized Gulf carriers.
Yet on another level, Al Baker is already allied with American.
Qatar has a 20% stake in IAG SA, the owner of British Airways and Iberia, who are partners with American not only in the Oneworld Alliance but also in a trans-Atlantic joint venture that allows the carriers to jointly discuss pricing and schedules. Qatar also owns 10% of South America's LATAM Airlines Group, also a Oneworld member.
The conflict over subsidies has been public since early 2015, when American, Delta Air Lines Inc. (DAL) - Get Report and United Continental Holdings Inc. (UAL) - Get Report released results of a study showing that the governments of Qatar and the United Arab Emirates subsidize the Emirates, Etihad and Qatar in violation of the Open Skies agreements.
The Gulf carriers have interpreted those agreements in a way that has enabled them to open multiple U.S. routes not only from their hubs but also, in the case of Emirates, from Athens and Milan.
When Qatar started service on the Doha-Atlanta route in June 2016, the outspoken Al Baker declared the route "would rub salt in the wounds" of Delta, which four months earlier had ended its Atlanta-Dubai service, due to an inability to compete profitably with subsidized carriers flying to region from multiple U.S. cities.
So far, despite the U.S. carrier's efforts, the U.S. government has not blocked the expansion, apparently due at least partially to the role of the UAE and Qatar as strategic allies in the Middle East.
In a Securities and Exchange Commission filing on Thursday, American said the Qatar bid doesn't alter its "conviction on the need to enforce the Open Skies agreements with the United Arab Emirates and the nation of Qatar and ensure fair competition with Gulf carriers, including Qatar Airways.
"American Airlines continues to believe that the president and his administration will stand up to foreign governments to end massive carrier subsidies that threaten the U.S. aviation industry and that threaten American jobs," the carrier said.
This month, Al Baker's ire has been directed at three neighbors who refuse to allow Qatar Airways to use its airspace. The neighbors include the UAE, home of Emirates and Etihad.
Al Baker told The Associated Press that the blockade "will leave a lasting wound."
"People will not forget," he told the AP this week at the Paris Air Show. "People will have long, long memories."
Despite the blockade, the airline has operated smoothly, even though many flights have had to take longer routes over Iranian airspace. Al Baker has, in fact, called the situation "business as usual" and said in interviews last week that Qatar Airways continues to plan global expansion.
More of What's Trending on TheStreet:
This article is commentary by an independent contributor. At the time of publication, the author held no positions in the stocks mentioned.