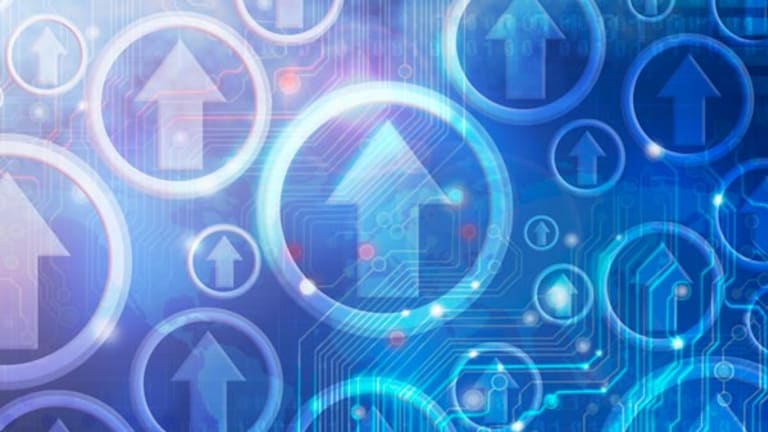 Publish date:
Putting a Future Value on Apple
Don't expect its phenomenal growth to continue, but try this analysis.
Don't expect its phenomenal growth to continue, but try this analysis.
This commentary originally appeared Dec. 22 on RealMoney -- the popular investors' source for comprehensive financial coverage and insightful analysis. Click here to learn more.
NEW YORK (
) --
Apple
(AAPL) - Get Report
may be the most widely held security among the investing public today, and for good reason. Year to date, shares are up nearly 25%, while the
Nasdaq
is roughly even.
Google
(GOOG) - Get Report
, another widely held name, is up less than 10% year to date.
Since 2008, Apple shares are up over 100%, while the
Nasdaq
is up around 5%. The further back you go in time, the greater the return Apple has delivered for its investors. Shares in Apple have single-handedly saved many a portfolio. Yet despite the phenomenal past performance, the stock is likely not done delivering for shareholders.
However, from here, Apple will not continue to generate that same rate of return. And no stock goes up forever. At some point, the growth curve flattens, and the stock price performance follows. Since investing is all about opportunity cost -- placing investment capital in areas that are likely to generate the highest rate of return with the lowest probability of loss of capital -- an real investment in Apple occurs only when it can be bought significantly below intrinsic value.
While headlines tout that Apple shares are worth $600, $800 or $1,000, investors can arrive at their own figures by performing a discounted cash flow model. In fiscal 2006, ended Sept. 30, 2006, Apple earned $2 billion. In fiscal 2011, Apple's net income was around $26 billion, an annualized growth rate of nearly 70%.
Over the next five years, Apple's growth rate will not come close to 70%. But even off of $26 billion, I believe Apple can grow its net income by 20% over the next five years, but even that rate can easily be hurt by any product mishaps. I will discount those earnings by 10% and assume Apple's residual business value is worth 15x 2016 free cash flow discounted back to the present.
>>Learn about this premium service that hands investors investment strategies from veteran Wall Street pros.
The above chart shows Apple's intrinsic value to be $718 billion on the basis of the present value of the company's estimated future cash flows, given the following assumptions. For the past four years, Apple's cash balance has averaged around $22 billion; this is excess cash that the company does not use in its business and should be added into the intrinsic value calculation, for a total value of $740 billion. Over the past five years, shares outstanding have increased from 850 million to 930 million. If we assume another 10% increase over the next five years, shares outstanding would be 1.2 billion, for an intrinsic value of $617. Today, Apple shares trade for $400.
If you are looking for a 50% margin of safety, Apple shares should be bought at around $300. However, with the company firing on all cylinders, some investors may feel comfortable with a smaller safety margin, given the quality of this company.
At the time of publication, Gad had no positions in stocks mentioned.
Sham Gad is the managing partner of
, a value-focused investment firm based in Athens, Ga. Gad has written extensively for
The Motley Fool
and was a securities analyst for UAS Asset Management, a small value investment fund in New York City, in 2007. From 2002-2005, Gad managed assets for the Gad Investment Group.
Additionally, Gad has just released a new book,
The Business of Value Investing: Six Essential Elements to Buying Companies Like Warren Buffett
. He earned his BBA and MBA at the University of Georgia. Gad appreciates your feedback;
to send him an email.