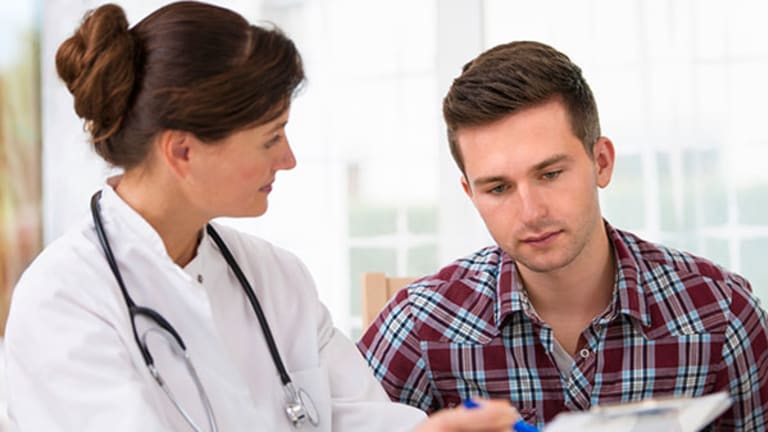 Put Health Care Stocks on Your Shopping List
With the market overdue for some volatility, put together a shopping list, starting with health care stocks. Beginning with the As, consider Amgen, ANI Pharmaceuticals and Agenus.
 NEW YORK (Real Money Pro) -- After spending all last week in a remarkably narrow trading range, stocks began this holiday-shortened week on a decidedly down note. Major indices posted their worst one-day decline since April on Tuesday as a rapidly strengthening dollar, falling oil prices and the latest game of chicken being played in Greece took their toll.
The market is overdue for at least a temporary bout of increasing volatility and a chance of a correction in some parts of the market. Even smiling Jim Paulsen, who can be counted on for a consistently optimistic view about the equity markets, believes stocks have formed a major top. Investors may face their first real adversity since the opening weeks of 2015.
This can mean only one thing: It's time to put together a shopping list should the summer bring lower entry points to investors who have some "dry powder" to deploy. A good place to start is with health care stocks that still can show good growth even in a tepid global economy. Let's start with the As.
Begin with biotech pioneer Amgen (AMGN) , whose shares are down almost $15 from recent highs. The stock has had good technical support all year at just under the $155-a-share level. I would love to add to my current position if the stock pulls back another $5 or so. The company is showing solid growth in revenues and earnings, sells in line with the overall market multiple and yields 2% as well.
Off the radar, ANI Pharmaceuticals (ANIP) also makes the list. The small-cap generic drugmaker is already down some $20 a share from recent highs due mainly to conservative guidance issued along with its latest quarterly results. The stock has some technical support just below current levels as well.
Earnings are tracking so that they may more than double this year and current projections see just under 50% growth in fiscal 2016. With the recent pullback, the stock is trading at just over 13 times next year's profit projections and the company also sports a solid balance sheet. I recently bought an initial stake in ANIP, but would not mind adding to it if the stock pulled back another 5% or so.
Finally, going out on the risk scale, I would love to see a better entry point on small biotech Agenus (AGEN) . The shares have managed to go up despite a recent announcement of a secondary offering. The company's checkpoint inhibitor technology has drawn co-development partnership deals from the likes of Merck (MRK)  and Incyte (INCY) .
Agenus also has an adjuvant used in developing a variety of potential vaccines. This includes for malaria and shingles in conjunction with global heavyweight GlaxoSmithKline (GSK) . Both of these vaccines should hit the market within the next 12 months after stellar results in Phase III trials.
To summarize, it looks like the near-term direction for stocks is likely to be down over the next few months. On the bright side, those prepared with their shopping list can look forward to deploying new capital at lower entry points. Happy hunting.
Editor's Note: This article was originally published on Real Money Pro on Wednesday, May 27, at 12 p.m. EDT.
This article is commentary by an independent contributor. At the time of publication, Jensen was long AGEN, AMGN and ANIP, although positions may change at any time.