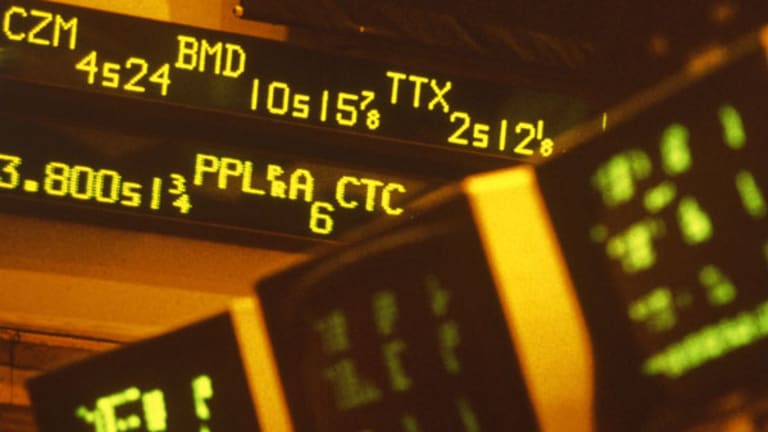 Put EMC on Your Watch List
While expensive, the data-storage company is at the forefront of a technology revolution.
NEW YORK (
) -- We look for the technology sector to be a strong performer this year.
At the moment, we are not looking to add any additional technology names. However, one that is very interesting and is on our farm team (our high-priority watch list) is
EMC
(EMC)
. The company is the leader in high-performance storage solutions, an area of continued rapid growth for technology investments, as more data and transactions need to be processed, analyzed and ultimately stored.
Historically, the biggest knock on owning this stock has been its valuation. EMC has always traded at a significant premium to the market at 20 to 30 times earnings. What adds complexity to the valuation is that EMC is a heavy user of options and also owns 80% of
VMware
(VMW) - Get Free Report
.
This article originally appeared on March 22, 2013, on RealMoney. To read more content like this + see inside Jim Cramer's $3 million portfolio for FREE, Click Here NOW.
Options dilution reduced reported earnings by $0.38 in 2012. Instead of reporting $1.69 in EPS for 2012, the actual EPS was $1.31. EMC is one of the last holdouts of the options craze of the pre-2000 tech bubble.
Additionally, EMC's numbers get convoluted by the company's stake in VMware, the leading virtualization software company. EMC's VMware stake is worth $27.5 billion, which is over 50% of the value of EMC's total market capitalization of $51.6 billion. Investors have to make various adjustments to financial statements to get to the true value of EMC.
Once investors get a handle on these valuation-related nuances, the EMC business franchise is quite simple and compelling. EMC is the leading provider of high-performance storage products, software and services, and its 40%-plus market share continues to grow.
With VMware, EMC is making further inroads into software-driven storage, data processing and networking. This is a critically important direction toward which the overall IT industry is trending: the gathering, processing, analyzing, storage and backup of all of the data being generated over the various Web feeds and transactions. EMC is at the center of this revolution, offering important technologies and securing leading market share.
The company recently held its annual investor day. Management outlined the various products, markets and strategies. In general, investors came away with the feeling that EMC is in the right place at the right time, with the right technologies. Management outlined a clear case for both solid double-digit revenue and profit growth in the coming years. The growth will also occur with high 24% operating margins. Most of the analysts and investors believe that EMC should be able to report revenue growth of 10%-plus and earnings-per-share growth of 15%-plus over the next several years.
EMC should be a winner in the upcoming technology cycle, and at the right price, the stock should be a good investment. The valuation is interesting, using EMC's operating income (13.7 times earnings), but less compelling when adjusted for options, at 18 times-plus times earnings. While we are wary of the dilution resulting from options, for those who are less price sensitive in their quest to buy a higher growth technology company, EMC warrants a closer look.