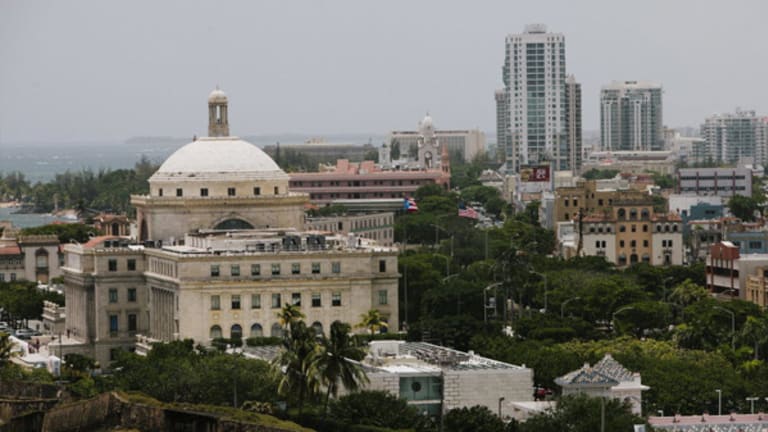 Puerto Rico Board Approves $1 Billion for Hurricane Maria Response
The approval to reallocate funds in the $9.6 billion budget comes as Maria left Puerto Rico devastated and entirely without power.
As much as $1 billion will be reallocated in Puerto Rico's $9.6 billion budget to fund emergency relief efforts, as Hurricane Maria's devastating effects left the entire island without power Thursday.
The Oversight Board of Puerto Rico, appointed to monitor the bankrupt commonwealth's finances as it works to restructure more than $70 billion in debt, issued a letter to the governor Thursday afternoon stating that the board was "approving whatever modifications or reprogramming to the allocations in the Territory Budget that you or your designee determine, in good faith, are necessary, up to an aggregate amount of $1 billion."
Additionally, the board said it would approve further increases if deemed necessary to respond to the hurricane and will look to aid Puerto Rico in seeking FEMA and other federal funding for its reconstruction.
The devastation from natural disasters in Puerto Rico comes as the U.S. commonwealth also faces a financial crisis that's weakened its infrastructure and hurt the country's ability to respond.
For fiscal year 2018, the country is running on a $9.6 billion budget that allocates roughly $400 million to debt service payments that require almost $3.5 billion annually. Prior to Hurricane Irma's landfall in early September, Gov. Ricardo Rossello said the country had $15 million in emergency funds.
This permission from the oversight board gives the commonwealth much greater flexibility to respond to a storm that the governor has called the most devastating in a century.
The approval comes as all of Puerto Rico's 3.4 million residents are facing 155 mile per hour winds, extreme flooding and no power. Puerto Rico's electric utility is also in a bankruptcy proceeding, owing $9 billion to bondholders.
When Hurricane Irma made landfall on Sept. 6, it battered the northeast portion of the island, knocking out power to many. Under the weight of Irma, Ricardo Ramos, the head of Puerto Rico's electric utility, predicted that it would be months before power was restored. However, much of island had power again by the time Hurricane Maria neared.
Then, beginning Wednesday, Hurricane Maria headed on a more direct path toward the island, which was still recovering and wasn't prepared for a second hit.
The New York Times reported that Ramos told CNN that the Puerto Rico had been "destroyed" and that residents would need to get used to a new way of life.  
Gov. Rossello has imposed a curfew and asked residents to stay inside. President Donald Trump declared a disaster zone throughout the commonwealth -- a decree that will ultimately help Puerto Rico access federal recovery funds.