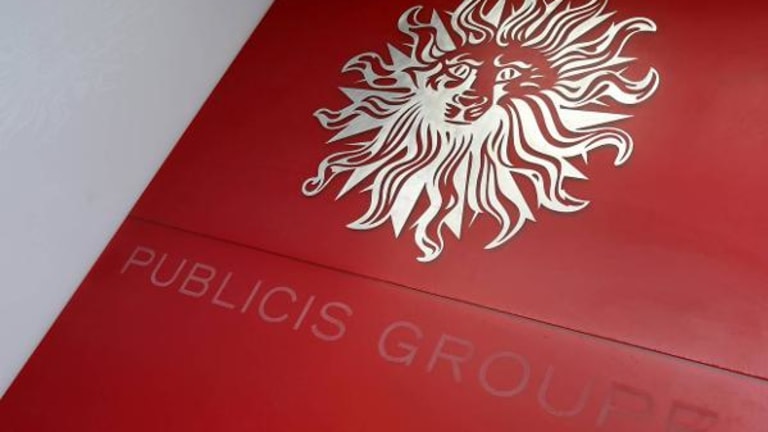 Publicis (PUBGY)  shares surged to the top of the market in France and a three-month high after the world's third-largest advertising group said first quarter revenues slowed but topped analysts forecasts. 
Sales for the first three months of the year shrunk 1.2% on an organic basis to €2.33 billion ($2.5 billion), the company said, beating analysts' expectations of a decline of 1.9% and slowing the rate of loss posted in the final quarter of last year.
"Our first quarter figures send out faint but encouraging signals," said Chairman and CEO Maurice Levy in a statement. "We expect Q2 (revenue growth) to remain in negative territory, but to show an improvement compared with the first quarter." 
Shares in the group rose nearly 3% in Paris trading to change hands at a three-month high of €65.70 each by mid-day.
Publicis North American unit undercut the group's growth after it suffered significant account losses, including Proctor & Gamble and Wal-Mart, leaving revenues for the region down 5% on an organic basis for the quarter. European revenues were 5.5% higher than in the same quarter last year, boosted by an almost 12% gain in France and a 9.1% increase in the U.K. 
"We view the in-line performance in North America as reassuring given (OMC) - Get Omnicom Group Inc Report 's (Omnicom's) miss earlier this week (1.1% vs consensus: 2.1%), although the company does note further weakness in the FMCG sector," noted Goldman Sachs analyst Lisa Yang. We estimate the underlying growth ex-account losses at around 1%."
Publicis warned that "instability in the international environment" coupled with rapid changes in technology and consumer behavior will continue to weigh on advertising spending as clients reassessed their business models and marketing budgets.
Levy, who has led Publicis for more than 30 years, will step down as the operational head of the group in June and take up a role as Chairman of the supervisory board. He will be replaced by Arthur Sadoun, the group's creative chief.
Goldman Sachs rates Publicis a buy and has a 12-month price target of €82, based on a multiplie of 15.7x 2018 forecast earnings per share. The company currently trades at about 12 times is forecast 2018 earnings, an about 20% discount to its rival Omnicom.