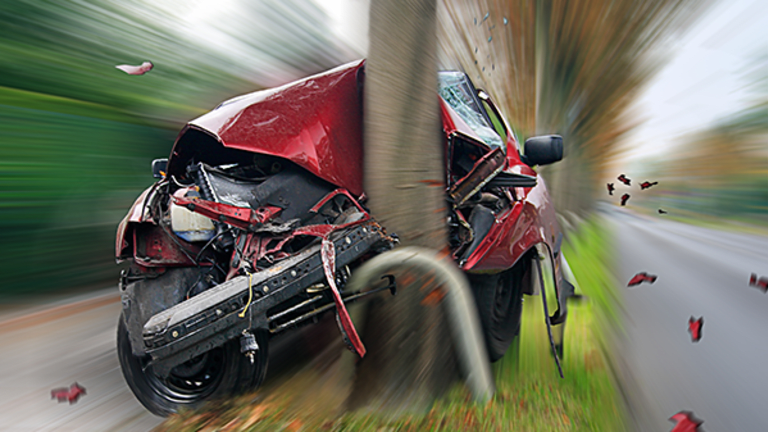 Why Provident Financial's Devastating Day Won't Bring Down Rivals
The British loan provider plunged 75% after withdrawing its dividend and ousting its CEO. But it plans to survive.
(Editor's note: An earlier version of this article erroneously referred to Provident Financial as "Prudential Financial" in one paragraph. That is incorrect. Prudential Financial is a separate company and is completely unrelated to Provident.)
Subprime loan provider Provident Financial (FPLPY) 's dizzying 75% plunge in the first four hours of trading Tuesday was one of the worst performances by any FTSE100 company in many years. The company announced its second profit warning in seven weeks, withdrew a previously announced dividend, revealed a regulatory probe that had been underway for the past 18 months and kicked out its CEO, Peter Crook. No wonder shareholders headed for the hills.
Provident Financial's car-crash could so easily have turned into a multiple pile up of the whole sector. Yet the company's listed competitors—the likes of Morses Club, International Personal Finance (IPFPF) , or Non-Standard Finance—did not follow it down. International Personal and Morses Club actually rose during the course of Tuesday's trading.
This was no car-crash to compare with, say, the collapse of some systemically important bank. Nor was it precipitated by a regulatory clampdown on the non-standard loan sector as a whole.
But a poorly executed switch to a new business model in the consumer credit division was enough to bring the whole company up against a tree. Despite the crumple zones provided by other, better performing divisions, Provident Financial will require months of major repair work by Manjit Wolstenholme, hastily promoted from non-executive to executive chairwoman to cope with the crisis.
Companies like Provident Financial provide short-term credit to people who do not meet the loan criteria of mainstream banks, and run a team of agents to sell so-called doorstep loans, getting to know their clients and collecting weekly repayments at customers' homes.
A source familiar with the situation insisted these agents are not bullying or intimidating bailiffs, but people from their clients' own communities, many of them women and some also former customers themselves. Nevertheless, the loans are not cheap. A representative annual percentage rate for a home credit product from Provident Financial would be around 535% for a 26-week loan.
Provident Financial decided earlier this year to distinguish itself from its peers, by switching from self-employed agents, paid commission for sales and collections, to a workforce of full-time "customer experience managers," paid a salary and incentivized with a performance-related bonus.
"It certainly wasn't because of any regulatory pressure," the source said. "If there had been any pressure the whole industry would have been doing this. But the others are sticking with the model they know."
Be that as it may, Provident Financial argued that the change would increase efficiency, using technology to plan representatives' schedules and routes centrally and serve the needs of its customers better too.
It didn't work out that way. Fewer than expected part-timers seem to have been happy with the new working hours and those that stayed or joined the full-time staff achieved what the company described as "reduced agent effectiveness" on collections-performance and sales.
"The primary objectives set for the third quarter of 2017 were to embed the new operating model and to progressively restore customer service and collections performance to acceptable levels in preparation for the seasonal peak in lending during the fourth quarter," the company said in this morning's badly-taken management update. "The rate of progress being made is too weak and the business is now falling a long way short of achieving these objectives. Collections performance and sales are both showing substantial underperformance against the comparable period in 2016."
Even after the dust settled, Tuesday, the share closed down 66.22%, although this was likely less a reaction to the long-term outlook than to the withdrawal of the interim dividend and the company's warning there will likely be no dividend at the end of the year either.
But the decision not to pay a dividend is expected to ensure the company does remain adequately capitalized for the coming months, while Wolstenholme fulfils her pledge to make it her priority "to lead the turnaround of the home credit business."
This stock market bear thinks the broader market is due for a crash, too. 
The investigation by the Financial Conduct Authority is into another part of the company, Vanquis Bank, a credit card provider to generally less vulnerable clients than the home credit division, which is nonetheless still functioning. By not paying the dividend, Wolstenholme said, the company expects to maintain both the Vanquis and other valuable businesses within the group.
As the source familiar with the situation insisted. "This is not a problem with the company's own credit. It's not a credit or liquidity event. It's a problem of execution.
"When the chairwoman was asked how long it will take to get this right, she said it would be months, not years."
Don't miss these top stories on TheStreet:
This Is Where McDonald's Is Closing a Lot of Restaurants
Amazon, Netflix, Tesla Crash Into Correction Territory -- Now What?
Apple iPhone 8's 'Crown Jewel' Has Everything to Do With Your Face
Goldman Sachs Gets Approval to Trade Stocks in This Kingdom