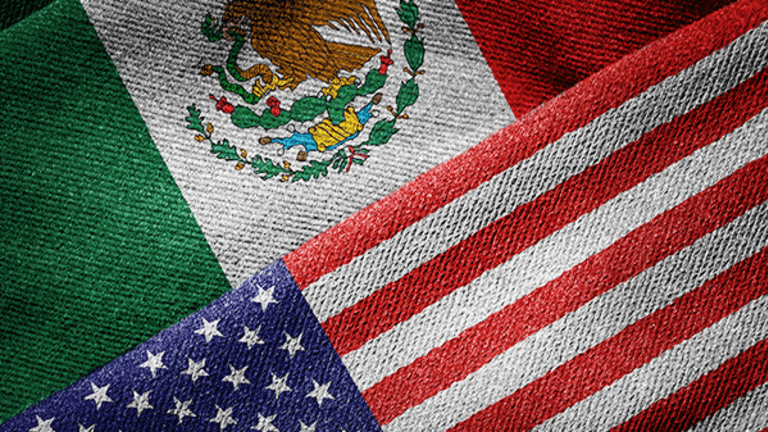 Proposed Trump Tax on Mexico Would Cost Some U.S. Drivers Dearly
President Trump's proposed 20% border import taxes on Mexico would hurt U.S. drivers as America's southern neighbor is one of the top sources for petroleum products in the U.S.
President Trump's promise to make America energy independent was put on the fast track following his proposal to impose a 20% tax on all imports to pay for the border wall.
While the president is primarily focused on preventing drugs and criminals from entering the U.S., Mexico is one of the America's top five sources of crude oil, according to the U.S. Energy Information Administration (EIA). Crude and other petroleum imports from Mexico have been declining since 2006, but the U.S. still imported approximately $14 billion from Mexico in 2015, the Office of the U.S. Trade Representative reported.
If the president were to implement a tax on imports, however, it would be American drivers who would feel cost burden.
"Gasoline is already taxed to death, the last thing you need is a tax on crude," says Stephens analyst Matthew Marietta, adding that it "wouldn't make sense to squeeze the lower and middle-class workers through the pump."
Currently, the gasoline tax averages 49.44 cents per gallon. Economic consulting firm PKVerleger's president Phil Verleger expects gasoline prices to rise 30 cents per gallon if the 20% tax on imports is imposed, he told Bloomberg recently.
The U.S. doesn't produce a heavy crude oil like Mexican's flagship Maya grade. That means the US imports headed to the gulf Gulf Coast for processing cost the refiners more. They would be left with the choice of increasing prices at the pump or living with thinner refining margins.
There's also the possibility that they would look elsewhere for a heavy crude source, including Canada. But our northern neighbor's recent federal carbon tax could hurt oil investment there in the longer term, according to S&P Global Platts.
Domestic oil and gas producers could see the import tax as a signal to produce more, which is perhaps what President Trump envisions with his "America First Energy Plan." He has promised to "embrace the shale oil and gas revolution" by opening up more federal lands for production.
"[An import tax] would be a net positive for U.S. producers because WTI would be more attractive," says Marietta, "But it's a gamble to guess on Trump."
U.S. production is already spiking, however. Producers started pushing production shortly after OPEC and non-OPEC producers agreed to curb production for the first half of 2017. Oil and gas producers have been quickly adding rigs, bringing more than 50 rigs online in the past two weeks alone, per oilfield services giant Baker Hughes BHI.
Crude inventories are also near the upper limit for the average range this time of year, according to the EIA.
Regardless, if the president follows through on his import tax plan, it "is really going to hurt lower and middle-class earners," Marietta concluded.
Employees of TheStreet are restricted from trading individual securities.