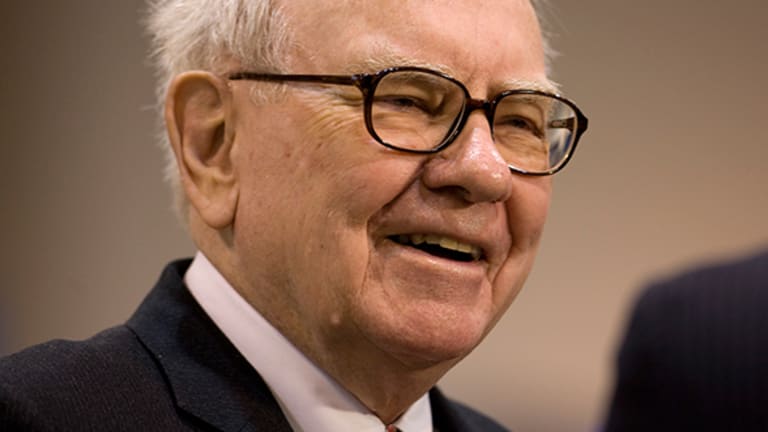 Profit Slides at Buffett's Berkshire Hathaway Amid Mounting Insurance Claims
Warren Buffett's Berkshire Hathaway posted a 10% decline in operating profit as insurance claims mounted for a second straight quarter at car-insurer GEICO.
NEW YORK (TheStreet) -- Warren Buffett's Berkshire Hathaway (BRK.A) - Get BRK.A Report posted a 10% decline in operating profit as insurance claims mounted for a second straight quarter at GEICO, the car insurer known for commercials featuring a talking gecko.
Net income fell 37% to $4.01 billion, or $2,442 a share, the Omaha, Neb.-based conglomerate said in a regulatory filing. That trailed the average estimate of $3,038 from analysts in a Bloomberg survey.
"This quarter to me looked weak, and it was an insurance-driven weakness," Cathy Seifert, an analyst with S&P Capital IQ, said in a phone interview on Friday evening. "In the first quarter, they had mentioned there were some adverse claim trends. These continued into the second quarter. It's offset by some strength in the non-insurance results, which posted double-digit operating earnings growth."
Undewriting profit at GEICO plummeted 87% to $53 million as payouts to settle claims by clients surged 21% to $4. billion. Claims frequencies increased in the first half of the year in all major policy areas, including collision policies, which were up about 4%, and property damage and bodily injury policies, up 6%, Berkshire Hathaway said. Across all its insurance businesses, Berkshire reported a $38 million underwriting loss, compared with a $411 million profit in the same period last year.
GEICO faced many obstacles in the quarter, according to Meyer Shields, an equity analyst with Keefe Bruyette & Woods. Low gas prices and promising employment numbers suggested many more people would be on the roads, increasing the likelihood of accidents and costs tied to insurance claims.
Companywide, revenue climbed climbed 3.2% to $51.4 billion, with $5.4 billion from Burlington Northern, the railroad that Buffett bought in 2010 as an "all-in" bet on the U.S. economy. Profit at the business increase 4% to $963 million as the company invested billions in line expansion, new equipment and additional hiring after a lackluster 2014 when customers complained of missed deadlines. "Overall, our average train speeds and our on-time performance in 2015 improved considerably over 2014," Berkshire said in the filing.
Berkshire stock has declined 5% this year, which is unusual for Buffett, known as the "Oracle of Omaha" for his legendary track record of producing steady growth numbers. One of the major questions now on analysts' minds is when Buffett, 84, and longtime partner Charlie Munger, 91, plan to retire and whom they will name as their successors, Shields said.
"People have an affinity to Berkshire Hathaway through Warren Buffet," he said. "Without him there, things could change dramatically. Also, he has the loyalty of upper management. And how much more skeptical will the press be without Warren Buffett? Investors have a lot of reasons to be skeptical."
Keefe Bruyette & Woods maintains a "neutral" rating on Berkshire Hathaway with a price target of $218,970.