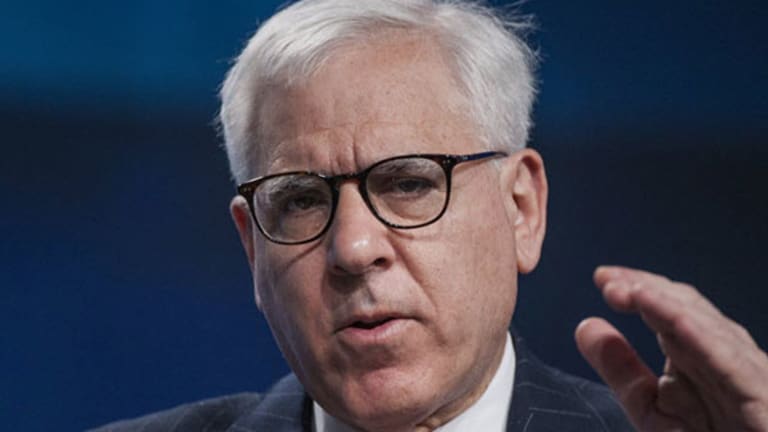 Private Equity Kingpin Pessimistic About Tax Reform Approval
TheStreet caught up with Rubenstein to ask his opinion about whether raising taxes on private equity managers would help drive tax reform.
Carlyle Group co-founder David Rubenstein told hedge fund managers on Thursday that he was not optimistic about Congress passing broad tax reform legislation any time soon.
"I don't' think you will see a lot of tax reform or a lot of healthcare reform," Rubenstein told hedge fund managers and buyout shop executives at the SALT conference in Las Vegas.
Rubenstein raised a number of congressional problems associated with approving the tax reform legislation, noting that Republicans will not be able to get a filibuster-proof 60 votes to approve legislation the traditional way because Democrats oppose it.
In addition, Rubenstein was skeptical that Republicans could avoid Democrats in the Senate in passing tax reform by using the obscure budget reconciliation process, created by the Congressional Budget Act of 1974, which would only need 51 votes in the Senate. Republicans currently have 52 seats. However, Rubenstein said that to use that mechanism, as Republicans plan to do with healthcare reform, Congress would need to approve a fiscal year 2018 budget first, which is extremely unlikely because the two parties won't find common ground on the budget.
Finally, even if a budget could be agreed to, there still wouldn't be agreement on how to raise the revenue needed to pass tax reform, based on Congressional Budget Office estimates. He said ideas to raise revenue, such as requiring income taxes on health benefits employees receive from employers or eliminating the mortgage tax reduction won't be approved. "That's sacrosanct," he said.
TheStreet caught up with Rubenstein after he addressed the conference to ask if he agreed with some observers that getting rid of the so-called "carried interest provision," which would raise taxes on private equity managers like those that work at Carlyle, would significant add tax revenue. "I don't know about that," he said. "I have a plane to catch."
However, he said that some tax reform measures could be attached as amendments to legislation expected to be approved in the Fall to approve a debt ceiling extension. "You could attach certain things that otherwise couldn't pass without Democrat support," Rubenstein said. "You could get some infrastructure and tax cut legislation there."
In addition, Rubenstein said he doesn't expect any major results soon from investigations into whether there were any connections between President Trump's campaign and Russian officials. "This will go on for somewhere between six to 12 months," he said.