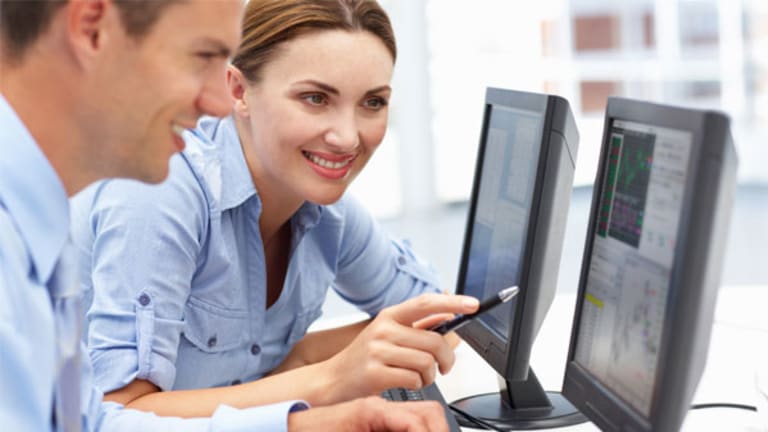 Price War Ravages AMD
Bearish notes and a lower stock postearnings reflect margin woes.
The brutal price war between Intel (INTC) - Get Report and Advanced Micro Devices (AMD) - Get Report may be coming to an end.
But AMD investors are not throwing their hats in the air.
AMD revealed on Wednesday just how ravaged its profit margins have become, and many on the Street don't expect a recovery anytime soon.
In midday trading Thursday, shares of the company were down 11.6%, or $2.81, at $21.42, as Wall Street analysts cranked out a barrage of bearish notes, with JP Morgan downgrading AMD from neutral to underweight.
JP Morgan analyst Christopher Danely predicted that AMD's margins could fall below the 50% level in the first half of 2007, despite management's contention that the third quarter's 51.4% gross margin was a one-time dip. AMD has been a JP Morgan client in the past 12 months.
AMD's third-quarter margin massacre trumped an otherwise decent quarter, in which its total microprocessor unit shipments increased 18%. Notebook sales surged more than 50%, suggesting that AMD took market share in a category that has traditionally been its weak spot.
And while AMD's 27 cents of EPS was boosted by a better-than-expected tax benefit, the chipmaker legitimately beat the Street on the top line, with sales of $1.33 billion, a 32% increase year over year.
In a conference call with analysts Wednesday, AMD's top brass stressed that the company believes it can push gross margins back up to the 55%-60% zone, as it moves to more advanced manufacturing techniques and improves its operational efficiencies.
Moreover, in their respective earnings calls, Intel and AMD suggested that average selling prices for microprocessors already have begun to perk up, suggesting a détente in the price war that began earlier this year.
AMD Chief Sales and Marketing Officer Henri Richard said that the most intense pricing pressure was at the beginning of the third quarter, with AMD seeing "some stabilization of the marketplace" about halfway through the summer.
This more benign pricing environment, along with AMD's new-found strength in high-margin notebook processors and better overall execution, should lead to a quick recovery in margins, says Citigroup's Glen Yeung. Citigroup makes a market in AMD, and has provided AMD with investment and noninvestment banking services within the past 12 months.
The OEM Factor
But according to some analysts, the price war is only one of the problems weighing on AMD's margins.
"Though the company believes that it can improve gross margin in near term, we believe that gross margin structure for the company shall remain altered for foreseeable future," Jefferies & Company analyst John Lau wrote in a note to investors. Jefferies makes a market in AMD securities and has provided AMD with non-investment banking services in the past 12 months.
One reason for this, he said, was AMD's increased exposure to OEMs -- the large, multinational PC vendors such as
Dell
(DELL) - Get Report
and
Hewlett-Packard
(HPQ) - Get Report
, which now account for more than 50% of AMD's business.
AMD acknowledged that part of its gross-margin hit in the third quarter owed to a learning curve, as it misjudged demand from OEM customers for notebook processors. AMD says it learned from its mistake, but that doesn't imply that further unforeseen challenges don't lie ahead as the chipmaker adapts to the changing nature of its business.
The favorable pricing that OEM customers receive because of the large orders they place is also pressuring margins. AMD has traditionally made more money per processor by doing business with smaller, so-called channel customers.
Ideally, of course, the increased volume of sales to OEM customers should offset the lower prices.
"Now that we have got a focused Intel, AMD becomes more of a show-me stock," says Becker Capital Management's Pat Becker Jr., whose firm owns Intel.
AMD is banking on its transition to advanced manufacturing techniques as a key to better margins. As AMD moves from producing chips with 90-nanometer circuitry to 65-nanometer circuitry, the company can pack more transistors on each chip and lower its costs.
AMD CEO Hector Ruiz said Wednesday that the company is on track to begin revenue shipments of 65-nanometer chips in the current quarter, and plans to have its total output largely converted to 65-nanometer by the summer of 2007.
But any kinks in the transition will reverberate in AMD's margins.
"Getting these plants to run volume at the geometries is not easy," says Becker.
And with Intel planning to begin 45-nanometer chip production in the second half of 2007, AMD may continue to be at a cost disadvantage.
Meanwhile, AMD and Intel are both taking steps to boost their manufacturing capacity. This added production, along with rising inventory levels at both companies, could presage future price cuts, according to some analysts.
Thus, even if the two chipmakers have called off the price war for now, an inventory glut could trigger more price cuts in the future.