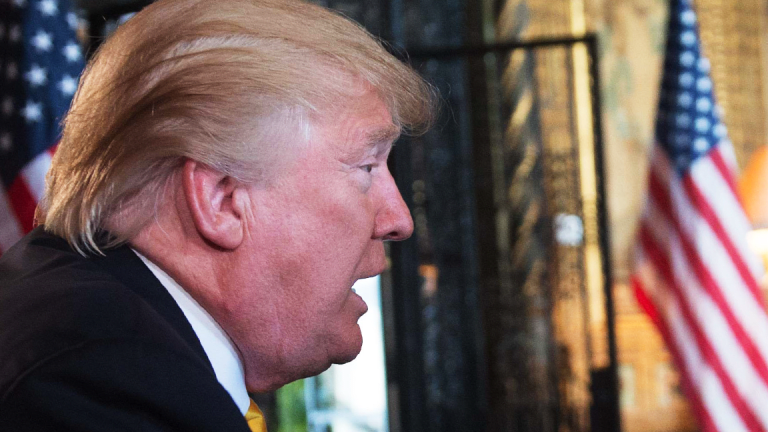 President Trump Sticks to 'America First' Plan in Davos Speech on Trade, Taxes
Speaking from the World Economic Forum, President Trump says he's willing to negotiate the TPP, details tax-related windfalls and touts stock market gains.
"America is open for business and we are competitive once again," President Donald Trump said in his keynote address at the World Economic Forum in Davos, Switzerland, on Friday, Jan. 26.
In a roughly 15-minute address that stuck to a prepared script, Trump detailed recent tax cuts, deregulation, trade negotiation and anti-terrorist initiatives. 
Trade Negotiation
"We support free trade but it needs to be fair and it needs to be reciprocal," Trump said. "The United States will no longer turn a blind eye to unfair economic practice including massive intellectual property theft, industrial subsidies and pervasive state-led economic planning."
The details Trump outlined from his "America First" speech came following a rocky week for U.S. economic policy that included tariffs on Chinese and South Korean imported goods, threats to the North American Free Trade Agreement and a possible reversal of the "strong dollar" policy.
Trump said he plans to "enforce trade laws and restore integrity to our trading system," adding that the U.S. is prepared to negotiate the Trans-Pacific Partnership with other member countries either individually or in a group if it "is in the interest of all."
The president's message was one of fair trade, not free trade. 
Tax Reform Details
Trump called the tax legislation passed in December "the most significant tax cuts and reform in American history."
He noted the recent spate of tax reform-related bonuses and wage increases, highlighting specifically that of Apple Inc. (AAPL) - Get Report .
"The world's largest company, Apple, announced it plans to bring $245 billion in profits home to America. Their total investment into the United States economy will be more than $350 billion over the next five years," Trump said.
Trump said in questions following his remarks that he told Apple CEO Tim Cook that he would never consider "this great run that we have made complete until you start building plants in the U.S."
Trump added, "I will tell you, this moved up very substantially, but when I heard $350 billion I thought they were talking $350 million. That is a nice size plant, not the greatest, but not bad. They said, no, sir, it is $350 billion. I said, that is something."
Apple is a holding in Jim Cramer's Action Alerts PLUS Charitable Trust Portfolio. Want to be alerted before Cramer buys or sells AAPL? Learn more now.
"Now is the time to bring your business, your jobs and your investments to the United States," he said. 
Trump also pointed to AT&T Inc. (T) - Get Report , noting that once one large company announced a tax-related bonus or wage hike, others followed suit.
"It became like a waterfall," Trump said. "A big beautiful waterfall."
Anti-Terrorism Specs
Trump's foreign policy portion of the speech ranged from North Korea to the Middle East.
"My administration is proud to have led historic efforts at the United Nations Security Council and all around the world, to unite all civilized nations in our campaign of maximum pressure to de-nuke the Korean peninsula," Trump said. 
"We continue to call on partners to confront Iran's support for terrorists and to block their path to a nuclear weapon. We are working with partners to destroy jihadist organizations such as ISIS, and successfully so," he said. 
"The United States is leading a broad coalition to deny terrorists control of their territory and populations, cut off their funding, and discredit their wicked ideology. I am pleased to report that the coalition to defeat ISIS has retaken almost 100% of the territory once held by these killers in Iraq and Syria."
But Trump added "there is still more fighting and work to be done."
Market Gains
Trump touted stock market gains, economic expansion, consumer confidence and business and manufacturer confidence. He also pointed to low unemployment rates, both broadly and specifically among African-Americans, women and Hispanic Americans.
"We have set 84 records since my election," Trump said.
He noted that his administration is committed to "helping every American find their path to the American Dream -- the dream of a great job, a safe home and a better life for their children."
"America is the place to do business so come to America where you can innovate, create, and build. I believe in America. As president of the United States, I will always put America first, just like the leaders of other countries should put their country first also," Trump said.
"We are lifting people from dependence to independence because we know the single best anti-poverty program is a very simple and very beautiful paycheck. To be successful, it is not enough to invest in our economy. We must invest in our people. When people are forgotten, the world becomes fractured."
Regulatory Rollback
Regulation was also in the crosshairs for the president. 
"Regulation is stealth taxation," he said. Trump noted that his administration has cut 22 "burdensome regulations" for every one new rule.
"We are freeing our workers so they can thrive and flourish as never before. We are creating an environment that attracts capital, invites investment, and rewards production," he said.
But in questions, he said, "There's nothing wrong with rules and regulation, you need them. But we've cut more than any administration in the history of our country, and we still have a ways to go."
After Trump took center stage, the U.S. stock market responded positively. The Dow Jones Industrial Average gained 80 points, or 0.3%, the S&P 500 rallied 0.4% and the Nasdaq pushed higher 0.5% after the opening bell Friday morning. 
More of What's Trending on TheStreet: