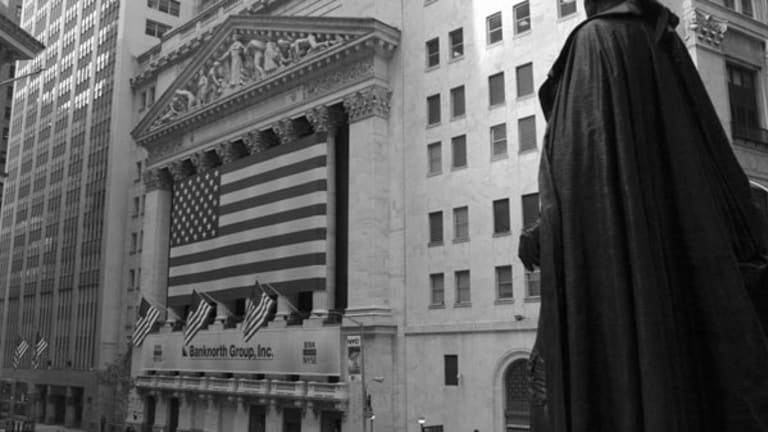 Precision, Smith Lead Large-Cap Stocks
Precision Castparts and Smith International lead off this week's list of top-rated companies.
Each weekday, TheStreet.com Ratings compiles a list of the top five stocks in five categories -- fast-growth, all-around value, large-cap, mid-cap and small-cap -- and publishes these lists in the
Ratings section of our Web site.
This list, updated daily, is based on data from the close of the previous trading session. Today, large-cap stocks are in the spotlight. These are stocks of companies with market capitalizations of over $10 billion that rank near the top of all stocks rated by our proprietary quantitative model, which looks at more than 60 factors.
In addition, the stocks must be followed by at least one financial analyst who posts estimates on the Institutional Brokers' Estimate System. The stocks are ordered by their potential to appreciate.
Note that no provision is made for off-balance-sheet assets such as unrealized appreciation/depreciation of investments, market value of real estate or contingent liabilities that might affect book value. This could be material for some companies with large underfunded pension plans.
Today leads off with
Precision Castparts
(PCP)
, a manufacturer of complex metal components and products for the aerospace and industrial gas turbine industries. It has had a buy rating since June 2005.
The company has completed recent acquisitions to expand its casting, forging and fastener product offerings, and that should fuel revenue growth. Precision also shows net income increases resulting from margin expansion and higher income from continued operations (which were partially offset by higher interest expense and taxes).
Since Precision depends on the aerospace industry for its top-line growth, any slowdown in that industry could lead to reduced demand for its products. Any fluctuations in the prices of basic materials or any unseen difficulty in integrating recent acquisitions could also be concerns.
Smith International
( SII), which provides products and services to oil and gas exploration and production, has been rated a buy since May 2006. The company reported impressive financial results for the first quarter of the year: Revenue increased 25.3%, and net income shot up almost 50% compared with the same period the previous year.
Smith's performance depends on the level of oil and natural gas exploration and development activities, which are cyclical in nature. There has been a rise in oil prices in the past two years, which might lead to either a decline in demand or increased use of alternatives, which may ultimately result in the lowering of demand for oil.
Investment management firm
T. Rowe Price
(TROW) - Get Report
has been rated a buy since June 2005. The company saw record assets under management of $349.9 billion at the end of the first quarter of 2007, with an inflow of nearly $9.6 billion during the period. Its initiatives in Europe, Asia and the Middle East have expanded its client base to more than 20 countries. Return-on-equity increased 93 basis points to 21.8% at the end of the period compared with the same quarter last year, and the company is in the midst of a share repurchase program, which could result in further return-on-equity improvement.
Any unexpected downturn in the securities markets and the economy in general, any deterioration in the relative investment performance, or any adverse regulatory developments could pose a risk to the buy rating.
Southern Copper
( PCU) mines, smelts and refines copper in southern Peru. PCU has earned a buy rating since May 2005. The company's stock price surged over 107% in the 12 months prior to May 22, and although any stock can fall in a broad market decline, its stock price should continue to escalate despite having already enjoyed a very nice gain in the past year.
The company has shown strong EPS growth and net income growth that has significantly outperformed the
S&P 500
and exceeded that of the metals and mining industry average. In addition, its debt-to-equity ratio is below the industry average, implying that there has been successful management of debt levels.
While the company may harbor a few minor weaknesses, they are unlikely to hurt results.
Global integrated energy company
Chevron
(CVX) - Get Report
has been rated a buy since May 2005. TheStreet.com Ratings' recommendation is based on the company's higher net income and earnings per share and expanding margins, as well as new reserve discoveries and greater production volumes. One example is its new start-up, the Bibiyana natural gas field, is expected to increase from its current 200 million cubic feet per day to a maximum of 500 million cubic feet per day by 2010.
Risks to the buy rating depend on the future movement of crude oil and natural gas prices, as well as the efficiency in production from new discoveries.