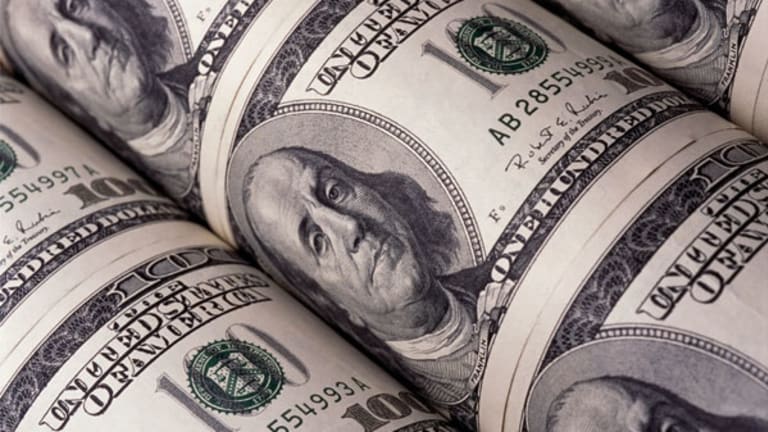 PPG Is Spot-On; The Hazards of Skepticism: Jim Cramer's Best Blogs
Catch up on Jim Cramer's thinking over the last week about PPG's Mexico deal and the market's amazing run.
NEW YORK (TheStreet) -- Jim Cramer fills his blog on RealMoney every day with his up-to-the-minute reactions to what's happening in the market and his legendary ahead-of-the-crowd ideas. This week he blogged on:
PPG's Mexico deal, and
The market's amazing run.
Click here for information on RealMoney, where you can see all the blogs, including Jim Cramer's -- and reader comments -- in real time.
PPG Is Spot-On With Its Mexico Deal
Posted at 7:02 p.m. EDT on Tuesday, Nov. 18, 2014
You can only own so many industrials, because they carry worldwide economic risk, execution risk, and sector risk. You portfolio cannot consist only of 3M (MMM) - Get 3M Company Report , Honeywell (HON) - Get Honeywell International Inc. Report , Dow Chemical (DOW) - Get Dow Inc. Report , United Technologies (UTX) - Get n.a. Report , and PPG Industries (PPG) - Get PPG Industries Inc. Report . I pick these stocks because they are regarded as deep-value industrials with terrific buybacks, growing dividends, and fantastic management teams. In the case of Dow, activist investor Dan Loeb disagrees with my view, despite the outperformance of the stock.
Consider what Chuck Bunch is doing as the CEO at PPG. He is manufacturing almost 100% value-added products: the dominant play in coatings.
I felt strongly for the company, after interviewing him about the prospects for PPG's Mexican acquisition, Comex. This deal has made his company the largest paint company in North America. This chain of 3,800 paint stores is going to be a huge profit driver in an already tight market, where prices are rising and raw costs are falling.
Chuck Bunch is almost unlike any other executives I have spoken with. He recognizes that Mexico might be the cheapest place on earth to manufacture things. The country's cheap labor, relatively loose environmental controls, and state-provided health care contribute to its attractiveness.
Mexico's economy is a growth economy that's the hub of on-shoring. A Mexican worker costs you well below the $7.50-per-hour that Chinese workers require.
The stock has had a terrific run off the worldwide slowdown and the Ebola scare from October. After talking to Bunch, I am confident that this company could exceed the $11.17 earnings-per-share estimates for next year. The stock deserves 20x multiple for its superior growth characteristics, huge buyback, terrific dividend and excellent management.
I pushed this stock hard in the $180s, when the company reported the quarter. The stock traded down immediately, before people realized that the macro environment was not bad, and was in fact improving. Many were worried about Europe, but North America is doing well, and Asia is still strong.
PPG's stock trades quite poorly. It offers a terrific opportunity during some extraneous selling program. I would consider buying it when that selling happens. 

At the time of publication, Action Alerts PLUS, which Cramer co-manages as a charitable trust, was long DOW and UTX.
The Hazards of Skepticism
Posted at 4:04 p.m. EDT on Tuesday, Nov. 18, 2014
On days like today I want to be negative. I really do. The market has run so much. We have not received new data points of any consequence. We are simply paying more and more for the same news and same insights.

Yet it doesn't seem to matter. Your negativity isn't rewarded except in a handful of situations, like the funk in social media or the endless pain in the autos and the relentless decline in the mineral stocks and the offshore oil drillers.
It's downright amazing. The market's even punishing what I regard as healthy skepticism.
Let me give you some concrete examples of what I am talking about. This morning on "Squawk on the Street" I started talking about how buoyant the market was, how resiliently bullish things are. Exhibit A: The continued run in Actavis (ACT) - Get Enact Holdings Inc. Report , the acquisitive drug company that is paying a huge premium for Allergan (AGN) - Get Allergan plc Report , $219, even though that price is widely acknowledged as being way too expensive by most traditional standards. This is a $66 billion dollar deal with a lot of stock involved and you would think, given the massive issuance, that there would be some pressure shares of Actavis.
Heaven knows there has been a lot written about how the moniker of Merger Monday, which is so richly deserved after the $100 billion in deals that were done yesterday. They include, of course, the astounding bid by the second largest oil service company, Halliburton (HAL) - Get Halliburton Company Report , to buy the third largest, Baker Hughes (BHI) , which has to signal some sort of top. You just don't get these dramatic overpays vs. where stocks were a short time ago without wondering about the wisdom of these acquisitions.
A New York Times article put the skepticism best: "Yet there are some dark corners in the dazzling successes of Wall Street's deal makers. Even as companies spend on mergers and acquisitions they are not spending in other areas. Wage growth is sluggish and hiring is growing only moderately." Moreover, the article continued with: "Whether mergers are even positive for the economy -- and for the companies striking them -- remains a subject of debate."
But Actavis has now rallied 23 points, or 10%, since announcing the deal just yesterday. If you stay skeptical, you lose -- at least in the short term. However, though, in the long-term, who cares? We who invest are not necessarily in the business of making long-term decisions about how a merger works. We are in the business of capturing legal points where they can be had. If you thumbed your nose at Actavis on the deal, or if you dismissed the possibility of $25 in earnings power for Actavis a couple of years ago (which Brent Saunders, the talented CEO of Actavis says the combined companies aspire to), what did you accomplish besides missing a terrific opportunity? Are you supposed to be proud of that? I can't be.
It takes years for some stocks to make moves like that. If I can claim the benefits now, why wouldn't I? And if I miss them in the name of prudence and cynicism, what have I really succeeded in doing other than making less money? When you put it like that, you have to question your questioning, don't you?
It's funny, even as I was asking my morning partners if I am too bullish in describing the positive reaction to Actavis buying Allergan, the stock climbed relentlessly. It went from being a question I needed answered to a rhetorical one in about 10 minutes flat.
Here is a second example: David Faber pointed out that Blackstone Group (BX) - Get Blackstone Inc. Report , which had been an incredibly shrewd buyer of real estate during the Great Recession now seems to be selling off properties left and right -- including the just-announced disposal of a Manhattan office tower for $2.25 billion. That is an astounding price tag that may be slated to produce very low returns given that purchase price. I immediately chimed in that Blackstone announced that it is selling 20 million shares of Pinnacle Foods (PF) , a company that it had cobble together and then brought public not all that long ago. This is the private equity firm' s second tranche of sales, as Pinnacle failed to sell itself to Hillshire Brands not that long ago. These two dispositions come right after the sale of $2.6 billion dollars in Hilton (HLT) - Get Hilton Worldwide Holdings Inc. Report  stock (Hilton is a publicly traded company controlled by Blackstone), and the nearly $2 billion sale of the storied Waldorf Astoria, a Hilton property, to a Chinese insurance company.
David wondered aloud how you have to give pause when you hear about a really smart buyer who is now offloading properties for what he must believe is a return too good to pass up. I found myself saying that I regarded that as a worrisome sign. But is it? Isn't Blackstone's job to buy and sell stock properties? Maybe the non-cynical takeaway is to just go and buy the stock of Blackstone, which I have been recommending for ages.
My third example about the hazards of skepticism concerns the airlines. There was a moment, in the height of the Ebola scare, where the airlines could do nothing right despite the decline in fuel costs. Now, though, they can do nothing wrong, and a dollar decline in oil immediately translates to gigantic gains in all of the stocks. You know I have been a huge fan of this group, but I thought it was worth expressing a bit of a jaundiced eye about the Virgin America (VA)  initial public offering brought to you by professional showman Richard Branson. I wanted you to stick with my faves, notably American Airlines (AAL) - Get American Airlines Group Inc. Report  and SpiritAirlines (SAVE) - Get Spirit Airlines Inc. Report . Hmm. How did that work? Given that VA was priced at $23, immediately went to $27 at the opening and now trades at $36, my jaundiced eye's got nothing but a sharp stick in it to show for my prudence.
However, lest you think aha, stay critical of the oil stocks, they are enjoying a very strong rebound. Frankly, even as I can be a stock contortionist, I have no explanation whatsoever about why stocks these are running except to say that this is what happens when you are in this phase of the bull market.
Over the last few days of backing and filling in this market, we saw a couple of real stall-outs in some hot areas: health insurance companies, international manufacturers and biotechs. Typically, one could say, that the waning of momentum in these three groups means we should look out below. I have seen time and again that the biggest rollovers start just like that. Instead, what happens? They explode higher all at once -- three groups that usually trade in very different directions.
I reiterate that I remain fond of United Health (UEEC)  and WellPoint (WLP) , see plenty to like in 3M (MMM) - Get 3M Company Report , Honeywell (HON) - Get Honeywell International Inc. Report  and United Technologies (UTX) - Get n.a. Report  and remain devout in support of Celgene (CELG) - Get Celgene Corporation Report  and Regeneron (REGN) - Get Regeneron Pharmaceuticals Inc. Report , just to name a few gravity-defying examples. But I wish I had data points to explain their surge today. I don't.
Finally, there is the wretched excess brigade. Shorts have been all over GoPro (GPRO) - Get GoPro Inc. Report  for so long that it is hard to believe it hasn't choked them to death yet. But they were in their glory last week when the company announced that 10 million shares, from insiders and the company itself, were filed for sale in a long-awaited secondary. Usually, that depresses a stock. What happened this time? How about a non-stop run as word gets around that the offering is well-spoken for before it even occurs. That's why the stock's been moving up. That and early word that holiday sales are very encouraging for the most expensive of the new GoPro models. I would like to put a GoPro on the heads of the researchers who suggested shorting this one to their bosses -- if only to watch the pummeling that comes from being on the wrong side of a trade.
Of course, there is an obvious takeaway from this screed: When someone decries being too skeptical, that defines the top. I say, go ahead, use me as a foil. Nevertheless, know that I want to be more questioning and more critical of this market. But, then again, that's like being skeptical of the damage that an 18-wheeler going 70 miles an hour can do to you as you stand in the middle of I-95. I think I would rather take my chances jumping to the shoulder rather than just take one for the skeptical team.
At the time of publication, Action Alerts PLUS, which Cramer co-manages as a charitable trust, was long UTX.