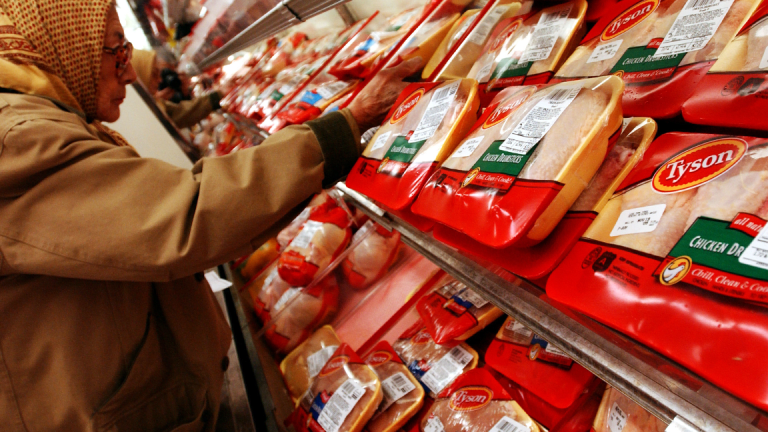 U.S. Poultry Giants Take Wing as China Lifts Ban
The move by China to lift the ban, which sends the stock prices of the big U.S. poultry giants soaring, comes as part of a broader trade deal taking shape with the United States.
Shares of the nation's biggest poultry producers flew higher Thursday after U.S. trade officials confirmed China has lifted its ban on chicken imports.
Sanderson Farms (SAFM) - Get Sanderson Farms Inc. Report led the way up, with its stock price rising 4.01% to $166.28 a share after the Office of the U.S. Trade Representative announced the end of China's ban on sales of poultry produced by American farmers.
Tyson Foods (TSN) - Get Tyson Foods Inc. Report rose 2.93% to $91.47 a share, while Pilgrim's Pride (PPC) - Get Pilgrim's Pride Corporation Report jumped 1.72% to $32.50.
The move by China to lift the ban comes as part of a broader trade deal taking shape with the United States, which has agreed, in turn, to green light imports of cooked chicken and seafood from China.
In addition, China is scrambling to fill the void created by the loss of a large swath of the nation's hogs after a devasting outbreak of the African swine fever.
The poultry ban itself dates to 2015, when China stopped importing poultry from the U.S. after an outbreak of the avian flu.
The announcement by the USTR comes after reports began circulating a week ago that China had lifted the poultry ban, news that caused an earlier flurry of stock price increases among the big poultry producers.
American farmers exported more than $500 million in poultry products to China in 2013, one of the last years prior to the import ban. The U.S. exports more than $4.3 billion worth of poultry products a year, making it the second largest chicken exporter in the world.
U.S. trade officials are now hoping to see poultry exports to China hit the $1 billion mark, or double the old level.
"After being shut out of the market for years, U.S. poultry producers and exporters welcome the reopening of China's market to their products," U.S. Secretary of Agriculture Sonny Perdue said in a statement.