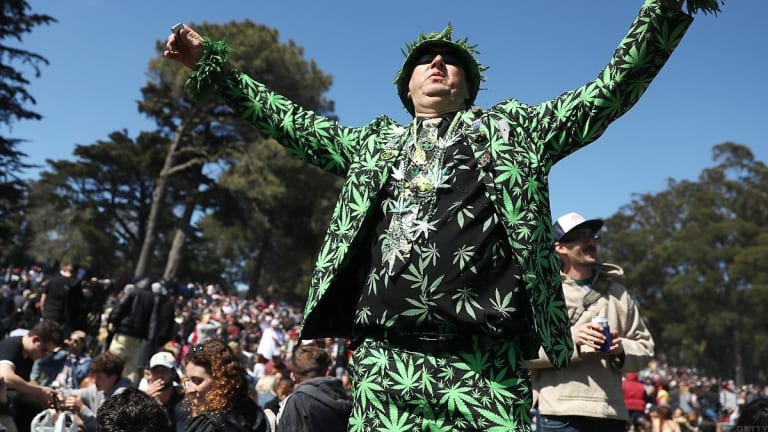 Pot Sales Expected to Light Up Annual 420 Bash
This year's annual 420 bash is expected to ring up more than $1 billion in sales for marijuana retailers, with festivals and events planned from San Francisco to Miami.
Carl's Jr. is rolling out a CBD-infused burger in Denver in honor of 420, while an "interactive installment" based on Cheech & Chong's "Up in Smoke" will be a highlight of a downtown Phoenix 420 festival.
April 20 is the biggest day of the year for the fast-budding cannabis industry, a celebration of pot legalization that has morphed into a combination of Black Friday, Christmas, Easter and the Fourth of July all wrapped into one.
Known simply as 420, it has become the biggest sales day of the year for the growing number of cannabis companies scrambling to serve the fast-growing medical and recreational pot sectors.
From Miami to Michigan and many spots in between, cannabis fans will light up - and munch and sip away on pot edible and drinks - at festivals, galas and parties, many of them sponsored by local dispensaries and recreational pot stores.
Cannabis recreational shops and dispensaries are poised to sell more than $1.17 billion in pot products on 420, USA Today noted, citing LeafLink. The firm has also found a growing shift toward edibles, which are expected to be especially popular in the various 420 celebrations.
"As the cannabis industry continues to grow, so does the importance of its biggest holiday," noted Headset, a cannabis industry data and consulting firm, in a new report. "Our data shows that year after year, cannabis consumers respond extremely strongly to 4/20."
Headset estimated that sales of cannabis products of all types double on 420, with an expected surge as well this year on 420-eve, which fell on a Friday, already the strongest day of the week for pot retailers.
As the popularity of the holiday has grown, so have sales. If last year's 420 celebrations are any indication, pot dispensaries and recreational stores should anticipate a big haul from the 2019 edition of 420.
California pot shops saw a 103% increase last 420 over a typical day, while Colorado, Nevada and Washington saw sales surge by 128%, 110% and 100%, respectively.
Helping sponsor the fun - and ring up sales - are local operators like the Urban Greenhouse Dispensary in Phoenix, which is putting on a patient appreciation event called 420 Fest.
Along with games and a live glass blowing, there will also be a "munchie cart" and freebies for the first 420 customers to walk through the doors.
Denver is a hotbed of 420 events this year, with tens of thousands of cannabis lovers in town from across the country.
Among the attractions are 420 bus tours, a Mile High 420 Festival featuring Lil Wayne and Lil Jon, and three day music festival/block party, 420 on the Block, put on by Green Solution, which owns 16 marijuana stores.
Las Vegas is also going full out for 420 this year. There will be a three-day "Love In" Craig Ranch Regional Park that will include music, art and education about cannabis, while The Source, a medical pot dispensary, will put on a block party with product specials and other attractions.
As many as 20,000 people are expected to converge on Hippie Hill in San Francisco for the annual 420 bash, while in Chicago, as many as 3,000 people are expected for a giant 420 block party called Waldos Forever Fest, after the rebellious California teens who sparked the 420 movement years ago.
Still interested in that Carl Jr.s' CBD burger? Better hurry, the chain's Rocky Mountain High: CheeseBurger Delight will be available for one day only - 420 - at one of the chain's Denver restaurants.
Along with two beef patties, waffle fries, pepper jack choose and pickled pickled jalapenos, Carl's new cheeseburger is topped with a very special Santa Fe Sauce, one that includes 5 milligrams of a hemp-derived CBD extract.
The price? $4.20 of course.