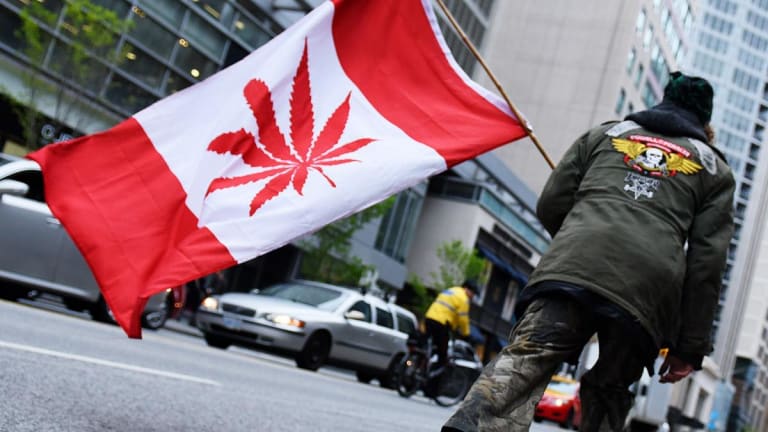 Pot Companies Aleafia and Emblem to Merge
Aleafia Health offers a 27% premium to Emblem shareholders in another Canadian pot-merger transaction.
In another Canadian pot-stock merger, Aleafia Health Inc. (ALEAF) on Wednesday said it agreed to buy Emblem Corp. (EMMBF) in an all-share transaction valued at approximately C$173.2 million.
Under the agreement, Emblem shareholders will receive 0.8377 for each Aleafia common share, representing a premium of 27%, or the equivalent of C$1.21 per Emblem share, based on Tuesday's closing prices.
The new company combined will oversee Canada's largest national clinic network, with annual capacity of approximately 138,000 kg (including committed supply agreements), Canadian and expanded global distribution, and a robust branding and product development platform.
Aleafia intends to capitalize on high growth opportunities and leverage international expansion across four verticals: cannabis production, health and wellness, cannabis education and what it calls "the consumer experience."
"It is difficult to overstate the significance of securing the highest quality medicine for our patients and Aleafia," said Aleafia Health CEO Geoffrey Benic. "Emblem's product leadership in the medical and adult-use sectors and highly coveted supply agreements will perfectly complement Aleafia's cannabis production and clinic operations."
"The combination of the companies will form a fully integrated market leader in the medical cannabis sector, with industry leading patient counts, and the ability to immediately capitalize on full revenue potential," said Emblem CEO Nick Dean.
Passed into law on Oct. 17, 2018, the Cannabis Act allows adults aged 18 or older to legally purchase, possess and grow small amounts of marijuana. Canadian provinces and territories were allowed to impose their own age restrictions, with the majority having set 19 as the legal age.