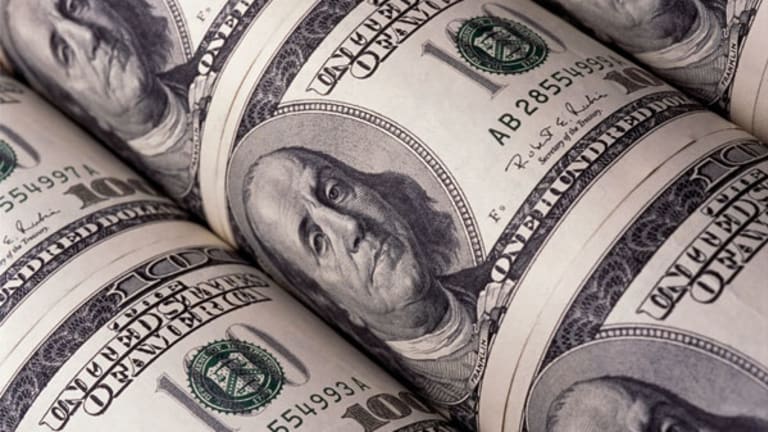 Post Script; Takeaways and Observations: Doug Kass' Views
Doug Kass shares his thoughts on Treasury notes and bonds, and offers some other observations.
Doug Kass shares his views every day on RealMoneyPro. Click here for a real-time look at his insights and musings.
Post Script

Originally published May 15 at 5:27 p.m. EST
Importantly, non U.S. investors in March finally got interested again in U.S. Treasury notes and bonds.
Buying totaled a net $24.4 billion, the most since March of last year and follows a steady stream of selling that saw net liquidations of $326 billion in 2016 and $20.5 billion in the first two months of this year. This follows net selling of $20.3 billion in 2015. Most of the swing came from the Japanese who stepped up with $31.2 billion of buying of notes and bonds after seven straight months of selling. The Chinese were net sellers of notes and bonds but still increased their total holdings of US Treasuries by $28.0 billion due to the purchases of short term bills which is really only a short term parking of cash. Russia also added to its holdings by the most since 2014.
While March began with the 10-year yield at 2.39% and ended at the same yield (!), intra month the yield did spike to 2.63% in the heart of the reflation Trumponomics trade. Perhaps the selloff in mid-month was enough to bring back foreign buying.
Of note too, it got cheaper to hedge out the U.S. dollar exposure for yen based buyers as the yen cross currency basis swap went from -45 bps to -33 bps. (The high cost of hedging is a subject I have discussed in the past -- which led me to reduce the relative importance of negative European bond yields). It got as expensive as -90 bps last November. So far the large amount of foreign selling hasn't mattered since the end of 2014 in part because of Fed QE reinvestments, the blind search for yield from many and an economy that really can't break out of its 2% growth range.
Thus, a real test will be, assuming foreign selling continues to be the trend scenario, what happens when the Fed begins quantitative tightening after another few rate hikes (assuming they follow through) and whether Trumponomics can overcome that.
I would add to that all the Treasury supply that is going to be building in the years to come as we approach again $1 Trillion budget deficits.
Interesting times!
Position: None .
Takeaways and Observations
Originally published May 15 at 3:49 p.m. EST
The market held up from the start to the flag (or at least until I wrote this at about 3PM. At the hour some slippage seen with 60 minutes of trading to go. The close will, as always, be governed by the Last Program Standing.
First bottom fish (for me) in retail--hopefully its a Macy's Parade!
"Trade of the Week"--Long XLE. I am a scale buyer, lower.
Real estate maven Mark Hanson parses the data.
From medium sized to none at all on Twitter,and here.
Chart of the Day--Bricks and Mortar versus Amazon.
Dwyerama loves 'em. And I love Tony!

Divine Being Divine-- a nuanced gem!
At 215PM... not so Ludacris.
Cray cray! and even more so.
* The US Dollar weakened.
* The price of crude oil rose by +$1.25 to $49.10.
* Gold is +$2.30, but off the best of the day. So far, so good on my recent $116 purchase of GLD.
* Ag commodities: wheat -9, corn -2.50, soybean +3.50 and oats -10.50 (an outside loss).
* Lumber +9.30 (an outsized gain).
* Bonds got hit and yields rose by about two basis points.
* The 2s/10s curve was flattish at 104 basis points.
* Municipals flat lined.
* High yield bonds continue to rally. Not junky with (HYG) - Get Free Report plus two bits and (JNK) - Get Free Report up a dime.
* (BGB) - Get Free Report lost five cents. I would be out in light of my higher interest rates and widening spread (to Treasuries) assumptions.
* Banks forged higher. Some, like (C) - Get Free Report , are near highs.
* Insurance rallied but (HIG) - Get Free Report disappointing on a relative basis. I continue to add.
* Brokerages strong, led by (MS) - Get Free Report and (GS) - Get Free Report after weeks of poor performance.
* Retail seems to be trying to bottom. I was a medium sized buyer of (M) - Get Free Report --my average cost is about $23.60.
* Old media better on gains at (CSCO) - Get Free Report and (IBM) - Get Free Report .
* Oil stocks rallied with the commodity.

* Big Pharma mixed--though (JNJ) - Get Free Report the "world's fair."
* Biotech was flat though speculative biotech caught a bid.
* Autos off the bottom.
* Ag equipment better. I am no longer short (CAT) - Get Free Report , as chronicled in the last few weeks.
* Rails were mixed. (UNP) - Get Free Report +, (CSX) - Get Free Report -.
* Media was mixed.
* Consumer staples caught a bid.
* (T)FAANG looking tired? (TSLA) - Get Free Report , (FB) - Get Free Report , (AMZN) - Get Free Report , (NFLX) - Get Free Report and (AAPL) - Get Free Report lower.
Here are some value added contributions on our site today:
1. Jim "El Captain" Cramer gives his view on oil stocks--sell on strength if the commodity rises in the weeks ahead.
2. "Dandy" Dan Dicker on the " last chance to buy cheap oil stocks."
3. "Meet" Bret Jensen on biotech strategies.
4. Bobby Lang on selling premium in a low volatility backdrop.
5. Ed Ponsi "Scheme" on four charts he likes!
Position: Long HIG large HIG calls SDS large SDS calls SQQQ XLE M GLD Short SPY small QQQ small AAPL small.
Action Alerts PLUS, which Cramer manages as a charitable trust, is long AAPL, FB, CSCO and C.