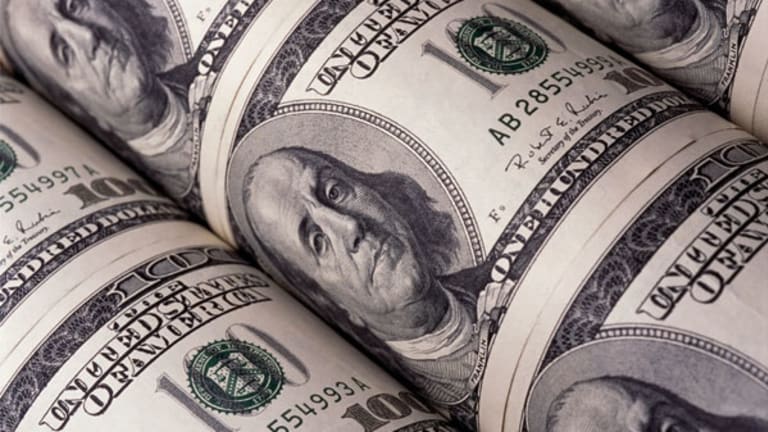 Politicians Are a Losing Cause; Why Isn't the Market Up More?: Jim Cramer's Best Blogs
Catch up on Jim Cramer's thinking over the past week, including the government's huge mishap and why the market hasn't gone up.
NEW YORK (
) --
fills his blog on
RealMoney
every day with his up-to-the-minute reactions to what's happening in the market and his legendary ahead-of-the-crowd ideas. This week he blogged on:
the huge governmental mishap and
reasons why the market hasn't gone up.
for information on
RealMoney
, where you can see all the blogs, including Jim Cramer's -- and reader comments -- in real time.
Politicians Are a Losing Cause
Posted at 2:38 p.m. EDT on Thursday, Oct. 17
Terrific, we get a reprieve from the government running out of money until Jan. 15. I feel better already.
Let's face it. The deal was a total disgrace for all sides. There turned out to be no point to it whatsoever. Nothing was gained. Much was lost. We are a laughing stock globally and it takes two to create a laughing stock, or, more accurately, three: the Democrats led by our president, the old-line Republicans led by John Boehner and the Tea Party rejectionists or patriots or whatever you want to call them, nominally led by Sen. Ted Cruz, but actually led by no one.
Nobody has clean hands. The rejectionists raised the cost of borrowing money for the U.S. government, perhaps permanently, in the name of lowering borrowing. I sympathize with any desire to cut taxes and cut spending, but you don't teach people a lesson by forcing them to break their word and we gave a promise to the nation's borrowers that we would make good on those bonds even if we hate doing so.
The old-line Republicans demonstrated a shocking inability to lead their party, once again embracing stances that are both anti-large business and anti-small business. These guys talk a huge game about the job creators and they hail the small business people, but have they ever talked to any?
Read: Jim Cramer: It's a Shame About Washington
If they did, they'd realize that they have become the enemy of big and small business people all over the country -- except for those who are so rich that they don't even care and just want to win at all costs.
Meanwhile, the Democrats were either totally hands off, like the president, or scornful and belligerent, like Sen. Harry Reid. They, too, talk a big game about trying to get more jobs created, but the way to get more jobs created is to stop the anger and the vitriol and to start making deals.
Look, it's been done. Go read "Tip and the Gipper" by
MSNBC
's Chris Matthews. The ultra-liberal Tip O'Neill and the ultra-conservative Ronald Reagan didn't like each other, but they respected each other. Each man felt the other was dead wrong about how to make the country better, but they learned how to compromise and make politics work.
I know what some people are saying in the end: The fact that we didn't default meant perhaps there was victory after all. I don't know about that.
If I were the Chinese or the Japanese, both of whom have more than a trillion dollars in our bonds, I would be working day and night to try to figure out an alternative to keeping money with us. I would never own our bonds after this fiasco if I were the leader of one of those nations. We don't deserve their money and the fact that we came so close to sticking it to them in the name of solvency is ludicrous.
Read: Despite Washington, S&P Hits Another Record Closing High
Those who think that we're fine on this score remind me of the people who ruled Britannia and could never imagine that any country would ever desert pound sterling. But the United Kingdom got over-extended, it stopped growing, and its currency and power never recovered. That was an amazing empire. Believe me, it could happen here too.
Many of us at
CNBC
proudly urged politicians to rise above politics last year when we were about to go over the fiscal cliff. They obviously didn't hear us. I am happy to dust off the button, roll up the sleeves and try it again. But, you know what, it's a losing cause and I don't like to back losing causes. The interests of the country, the interests of the people and the interests of its leaders have radically diverged. I just want them to get away from our markets and let people save and work in peace. After this bruising, that's about all there is to hope for.
Why Isn't the Market Up More?
Posted at 2:47 p.m. EDT on Wednesday, Oct. 16
Someone just asked me why the market isn't up more in the face of the debt deal that's been reached. Let me offer four reasons.
First, we don't know if a deal's been reached yet. What happens if House Majority Leader Eric Cantor says he can't live with the deal and tells House Speaker John Boehner that Boehner's out if he brings the compromise to the floor? What happens if Boehner says that his conscience dictates that he has to change his mind and go against the deal?
Read: Securities Regulator Targets Broker Conflicts of Interest
Second, we have to deal with earnings, and while they were largely good today, the numbers from
Stanley Black & Decker
(SWK)
took our collective breath away and drove down many industrial companies, even as the weakness was in its security division and not in its hand tools line. Don't forget how much the government shutdown has hurt outfits like
Dell
(DELL)
and
Cisco
(CSCO)
, both of which sell a huge amount of equipment to the government.
Third, once we get through this morass we are going to start hearing about the
Fed
no longer needing to buy back a lot of bonds, in part because the main reason it didn't taper was because Chairman Ben Bernanke saw this disaster in Washington coming. The reasoning is he feared he would need the mandate to buy all the bonds that could be sold by companies that couldn't own them if the U.S. defaulted.
Finally, Tuesday's sell-off snapped a four-day win streak. The market had gone up on the backs of buyers who smelled a deal even if there wasn't one initially. They were right and now they are taking profits. Business as usual.
At the time of publication, Action Alerts PLUS, which Cramer co-manages as a charitable trust, is long CSCO.