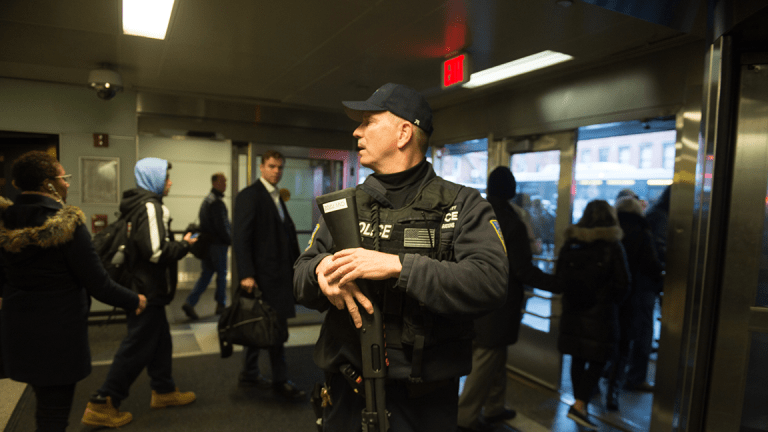 Suspect in Custody After 'Attempted Terrorist Attack' Near NYC's Port Authority
Police have named Akayed Ullah as the suspect in an attempted terror attack near Times Square.
Police have named Akayed Ullah as the suspect in an attempted terror attack near Times Square.
The New York City Police Department confirmed Monday that an explosion at the Port Authority in New York was a "terror-related incident."
The explosion, around 7:20 a.m. ET by 42nd Street and 8th Avenue near Times Square, forced officials to evacuate the A, C and E subway lines. Police said the suspect, who has been named as 27-year-old Akayed Ullah, sustained injuries including burns and wounds on his body related to setting off a bomb. Four others who were nearby at the time of the explosion sustained minor injuries.
Ullah was transported to Bellevue Hospital and remains in police custody. There were no specific or credible threats against New York City, officials said. 
Police said the bomb was "improvised" and "low-tech" and strapped to the suspect's body using Velcro and zip ties. It was based on the makeup of a pipe bomb, said NYPD Commissioner James O'Neill.
Both New York Gov. Andrew Cuomo and New York Mayor Bill De Blasio reiterated that New York is a target by many. Cuomo said in a press briefing on Monday that an attack on the subway system is "in many ways one of our worst nightmares."
This incident is being investigated as a terror attack. 
Ullah is said to have come to the U.S. on a F-4 visa from Bangladesh about seven years ago and had been living in Brooklyn, according to a report from the Associated Press citing unnamed sources. The suspect reportedly made the bomb in his basement and was inspired by the Islamic State, though he apparently had no contact with the group and is believed to have acted alone.
According to a report from CNN, a law enforcement source said Ullah told investigators he carried out the attack because of recent Israeli actions in Gaza.
CNN also reported that one law enforcement official with direct knowledge of the investigation said that in conversations with authorities, Ullah pledged allegiance to ISIS. CNN also reported Ullah held a Taxi & Limousine Commission license from March 2012 to March 2015, after which the license was not renewed.
The explosion took place in a subway tunnel connecting 42nd Street and 8th Avenue with 42nd Street and 7th Avenue. The Port Authority station is the busiest in New York. 
After initial delays in the area, most public transportation has returned to normal operations, officials said. All transportation is expected to run as planned by the evening rush hour.
After earlier saying three were injured in the blast, the New York Fire Department reported four people were injured in addition to the suspect.
Prior to the opening of trading on Wall Street, futures came off highs as reports of the explosion surfaced. But stocks were trading well into the green after stocks began trading.
TheStreet's Shawn Elias was live on the scene. 
As was The Deal's Eric Shakun.
President Donald Trump has been briefed, said press secretary Sarah Huckabee Sanders. 
The Port Authority bus terminal had been closed due to heavy police activity, but reopened around 10:30 a.m. EST.
Police reiterated multiple times that law enforcement presence will be greater than usual Monday.
This is a developing story. 
More of What's Trending on TheStreet: