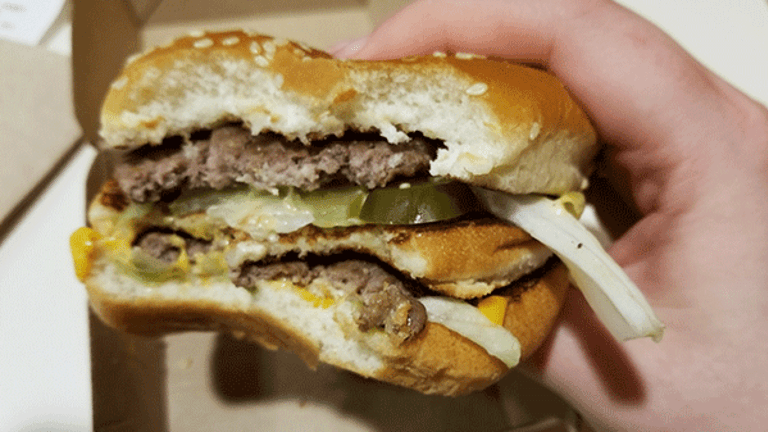 McDonald's Sales Are Getting Fatter and I Just Don't Understand Why
I don't understand how McDonald's is putting up these quarters.
Maybe it's the heat burning a hole through my head, but I have no clue how McDonald's (MCD) - Get McDonald's Corporation Report is putting up these quarters.
Global same-store sales rose 6.6% in the second quarter. U.S. sales increased 3.9%. Traffic coming back to life. CEO Steve Easterbrook coming out of his shell to drop bullish comments on the press release.
What we are seeing with McDonald's for any number of reasons:
The company is still a brand not playing in the healthy-eating trend that has embedded itself in the culture of America. I don't give a darn what healthy McNugget commercials they are running on TV, McDonald's sells fattening, salt-laden caloric bombs.
Most consumers still can't notice the changes McDonald's has made to its food. Execs are touting them, but it's not like the Big Mac is suddenly this amazing new sandwich with a reinvented sauce.
The company doesn't have build-your-own burger kiosks in all of its restaurants, meaning the impact to overall sales is still minimal.
It's McDonald's.
What McDonald's has done very well is cut costs amid its move to franchise its restaurants. Hat tip to Easterbrook and his team to lure people in during the second quarter with $1 sodas and cheap coffee (wonder how that Dunkin' Brands (DNKN) - Get Dunkin' Brands Group, Inc. Report quarter will play out...). Buy or sell the now pricey Dow stock you ask? No clue -- just don't buy Chipotle (CMG) - Get Chipotle Mexican Grill, Inc. Report , at least McDonald's is operationally sound.
What's HOT On TheStreet
One big story in fact by TheStreet's personal finance team.
Three out of every 1,000 people in the world are held in slavery. They are the victims of human trafficking, at once one of the world's most high-profile and under-reported crimes.
Over the weekend authorities announced deaths of nine people who were found, along with approximately 30 others, locked in a truck outside of a San Antonio Walmart (WMT) - Get Walmart Inc. Report . According to law enforcement all were victims of a human smuggling ring with suspected links to labor trafficking.
These victims are the tip of a very large iceberg, TheStreet reports. Human trafficking is not a problem for the developing world or a niche issue. It is real and it affects hundreds of thousands of people right here in the United States.
(This article originally appeared at on Real Money, our premium site for active traders. Click here to get great columns like this from Brian Sozzi, Jim Cramer and other writers even earlier in the trading day.)
More of What's Trending on TheStreet
Department Stores Are Dying -- Michael Kors Declares War on Coach With Big Jimmy Choo Deal
Walmart Looks Like It's Beating Back This Ruthless German Grocery With Some Success
Employees of TheStreet are restricted from trading individual securities.