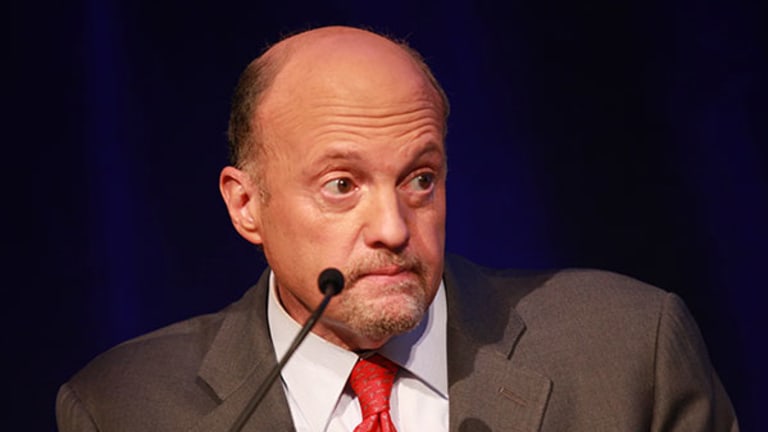 Pleasantly Shocking Team-Up; Best Background for Stocks: Jim Cramer's Best Blogs
Catch up on Jim Cramer's thinking over the past week about the Microsoft-Salesforce partnership and the benefits of a good, not booming, economy.
Catch up on Jim Cramer's thinking over the past week about the Microsoft-Salesforce partnership and the benefits of a good, not booming, economy.
NEW YORK (TheStreet) -- Jim Cramer fills his blog on RealMoney every day with his up-to-the-minute reactions to what's happening in the market and his legendary ahead-of-the-crowd ideas. This week he blogged on:
The Microsoft-Salesforce partnership, and
The benefits of a good, not booming, economy.
Click here for information on RealMoney, where you can see all the blogs, including Jim Cramer's -- and reader comments -- in real time.
A Pleasantly Shocking Team-Up

Posted at 11:44 a.m. EST on Friday, May 30, 2014
Old tech vs. new tech? Which will win out in this titanic struggle as we head into the final month of a new quarter?
Many individuals who are new to the market may not understand that portfolio managers look at huge­ technology through a bifurcated prism. On the one hand, there are the companies they grew up with -- Intel (INTC) - Get Report, Microsoft (MSFT) - Get Report, Micron (MU) - Get Report, Oracle (ORCL) - Get Report, Seagate (STX) - Get Report, Western Digital (WDC) - Get Report, Texas Instruments (TXN) - Get Report andHewlett-Packard (HPQ) - Get Report, IBM (IBM) - Get Report and, of course, Apple (AAPL) - Get Report.
Then there are all of the companies that have sprung up in what some consider Internet 2.0, but which I believe just represent new-wave technology -- companies that recognize that the future lies in your handheld and all that can be accomplished on it. Many of these companies go by the rubric of software-as-a-service, and among these are such names as Concur Technologies (CNQR) , Workday (WDAY) - Get Report and Salesforce.com (CRM) - Get Report. Others are e-commerce-enabled companies, like Yelp (YELP) - Get Report or Zillow (Z) - Get Report. Still others, like Tableau (DATA) - Get Report and Splunk (SPLK) - Get Report, analyze big data.
Right now, at this very moment, the big hedge funds, after taking a bath on the shares of the latter companies, are keying in on old tech as the place to be.
I think that, after a precipitous fall in many new-tech companies' shares, there's been a terrific bounce that the opportunistic among you have been able to play. These stocks now seem extended to me. Meanwhile, old tech just keeps plodding along. While the stocks in that area have certainly been strong, they have strong fundamental underpinnings -- including big profits and, in many cases, outsized dividends and gigantic share buybacks.
[Read: Cutting Landon Donovan Lost Sponsors for World Cup]
Perhaps nowhere is this tug of war playing out more viscerally than in the shocking team-up announced Thursday night between Microsoft and Salesforce.com, which will see the integration of the latter company's platform with many of the strongest functions of Mr. Softee. I say this one's shocking because Marc Benioff, the terrific CEO of Salesforce.com, has often chided Microsoft as being the evil empire.
But the Microsoft that's run by Satya Nadella is a kinder, gentler and more cooperative Microsoft than the one that had been run by former CEO Steve Ballmer. It's not winner-take-all, loser-take-none, as it had been with Steve.
I think that Salesforce.com is the real winner in this cloud-based tie-up, because it can now get the most out of its buyout of Microsoft-based ExactTarget, a very fine customer-acquisition software company that Salesforce purchased almost one year ago. Anything that allows for easy porting among systems is more of a win for a smaller company than it is for a large one, although it's very clear that Microsoft just got a lot more cloudy -­- something Nadella emphasized as being incredibly important to Microsoft in his first earnings conference call. The cloud is distinctly 2.0.
Right now it looks as if the market's judgment is that new tech has indeed run too far. Salesforce.com shares, after rising last night, have given up that gain and then some. Microsoft, however, is powering higher on the back of the tie-up. I think this move says more about the soul of the tech-stock world than it does about the actual needle-moving gains that might accrue to Salesforce.
[Read: Is Google Crazy for Selling a Desktop PC at $350? Definitely Not]
A lot of that could have more to do with the bizarre non-disappointment disappointment involving Splunk, a big-data analytics company. Splunk had a huge quarter, but it wasn't huge enough to keep the stock from sinking after its own bounce back. Splunk shows you that new tech is, in the end, far more vulnerable to old tech, and that's how you get such a hammering. It's why I favor the old over the new.
Speaking of the old, I don't think this Salesforce.com-Microsoft partnership could have ever been inked under Steve Ballmer's regime. Steve is a competitor writ large, and I believe he viewed Salesforce as an enemy that had to be vanquished if Microsoft was to prosper in the cloud.
On a different note, I always say that it's not about friends -- it's about money -- but some friendships, like the one I have with Steve, precede and transcend my mantra. That is why I am so thrilled that, after many years at Microsoft, Steve's buying the NBA Clippers from the Sterling family. Let's just say that's a nice step up in ethics from the disgraced former owner. I wish Steve the best of luck in his new life and, at the same time, I congratulate Satya for engaging in coopetition. It will be good both for Salesforce and for the now-Ballmer-less Microsoft.
 At the time of publication, Action Alerts PLUS, which Cramer co-manages as a charitable trust, was long AAPL.
The Best Background for Stocks

Posted at 7:26 a.m. EST on Thursday, May 29, 2014
So often we forget what outlook makes for a good stock market. For example, as soft and cushy as life support is -- the operative way the market struggled out of Great Recession -- we would vastly prefer a healthier economy with a market that generated profits that could be returned to shareholders or reinvested in fast-growing businesses.
At the same time, we don't want the economy to be so red hot that the Fed has no choice but to raise rates. Any of us who have owned stocks during a period of high short-term rates knows all you do is sit there and hope the economy simmers because it is really bad for most equities.
That is why I found the words of Jack Koraleski, the CEO of Union Pacific (UNP) - Get Report, so soothing when I spoke to him yesterday. First, he's got a pulse on everything that moves. His rail handles traffic that comes from Mexico. He handles goods destined for China via California ports and vice versa. He's got a huge agricultural business and a gigantic chemicals business. The company hauls oil in the absence of pipelines and hauls pipe to build the pipelines. It takes fracking sand to where wells need to be drilled. It has a huge auto business and it has plenty of coal, of course. Intermodal, the cheaper way to send trucks from one destination to another, is a fast-growing part of the mosaic, as are building materials.
And how is Union Pacific doing? In a word, "good." That's right, business is good. I like that. You don't want to hear "booming" because with a cross-section of business like that you are going to have way too much pressure on the Fed to raise rates.
[Read: College Graduates May Be in Danger of Losing Their Health Insurance]
So many people have come into the market since the millennium began who have never experienced periods where business was just plain, old good, where some companies did better than others and some stocks were bargains because business was about to get better. That's just as you want it if the market's going to go higher.
Now, Koraleski is not an economist. He's better than that. He's a freight predictor with real money on the line. He didn't need to open up a new $400 million facility to handle business going from Texas to California and back, with a large component of it imports from Mexico. He would just otherwise return the cash to shareholders through bigger dividends and larger buybacks. He doesn't want to do that, though, because he sees the demand, particularly for intermodal, and he wants more of it for his company. It's the same reason why he's ordering more capital stock.
In other words, if you step away from all of the Fed chatter here or tax chatter there, if you get away from the endless polemical battles about the size of government and what it is or isn't doing, you find a vibrant private sector that's eager to invest and take advantage of a good business environment. For the 36 years I have been buying and selling stocks, that's been the best backdrop for stocks. No wonder they're doing so well.
 At the time of publication, Action Alerts PLUS, which Cramer co-manages as a charitable trust, had no positions in the stocks mentioned.