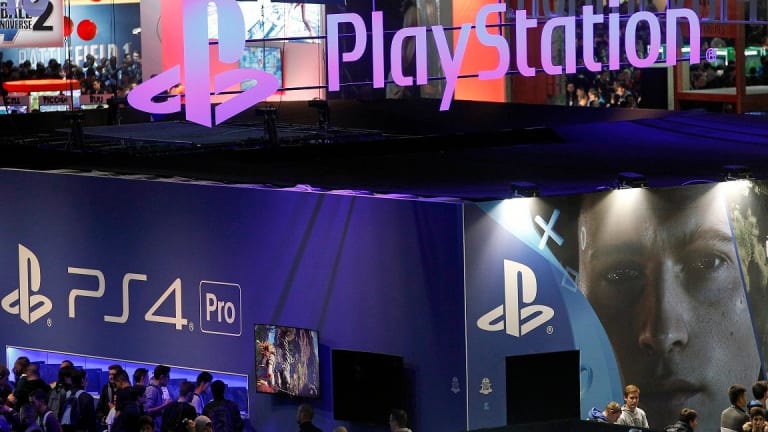 Latest PlayStation 5 Details Are Encouraging for Sony and AMD
Sony has shared additional information about the AMD processor that will power the PlayStation 5, as well as about improvements enabled by its use of solid-state drives.
The new details that Sony  undefined just shared about the PlayStation 5 are encouraging for both Sony and AMD (AMD) - Get Free Report . And to some extent, they're encouraging for solid-state drive (SSD) makers as well.
On Tuesday, Sony confirmed that its next-gen game console will (as expected) be called the PlayStation 5 and be available by the 2020 holiday season. More interestingly, the company disclosed -- five months after reaching a licensing deal with haptic tech developer Immersion (IMMR) - Get Free Report -- that the PS5's controllers will replace the "rumble" technology used by the PS4's controllers with actual haptic feedback.
"With haptics, you truly feel a broader range of feedback, so crashing into a wall in a race car feels much different than making a tackle on the football field," Sony said. The company also noted the trigger buttons on the PS5's controller can be programmed by game developers "so that you feel the tactile sensation of drawing a bow and arrow or accelerating an off-road vehicle through rocky terrain." However, as CNET observed, it remains to be seen whether developers embrace these features, given that they haven't always embraced technologies built into PlayStation controllers.
Separately, Wired shared additional details about the PS5 following a meeting with Sony execs. Notably, it reported that the PS5's use of solid-state drives (SSDs) rather than hard drives will enable a slew of gameplay and user experience improvements.
Aside from enabling faster game-loading times and smoother gameplay, SSDs will eliminate game asset duplication that needs to be carried out when a hard drive is used, and help deliver a more flexible approach to how game components are installed and removed. In addition, the head of an indie game studio suggested that the use of SSDs will eliminate the need for "gameplay hacks" meant to slow players because a console can't keep up with their activity.
Wired also confirmed that a custom AMD processor will be powering the PS5 -- it contains an 8-core Ryzen CPU and a GPU based on AMD's recently-launched Navi architecture -- and that it will support hardware-accelerated ray-tracing. Unlike many of Nvidia's (NVDA) - Get Free Report Turing-architecture gaming GPUs, AMD's first Navi PC gaming GPUs that launched this summer don't feature specialized cores meant to accelerate ray-tracing, which can help create photorealistic game scenes.
But the story appears to be different for the PS5's GPU -- and the same appears to hold for the GPU set to power Microsoft's (MSFT) - Get Free Report next-gen Xbox, which is also expected by the 2020 holiday season.
Microsoft, like Sony, has already confirmed that its next console (codenamed Scarlett) will be powered by an AMD processor with an 8-core CPU and Navi GPU. Also like Sony, Microsoft has said its next console will support real-time ray-tracing and, provided one has an 8K TV set or monitor, 8K-resolution gaming. It will also use SSDs rather than hard drives.
Nvidia and Microsoft are holdings in Jim Cramer's Action Alerts PLUS member club. Want to be alerted before Jim Cramer buys or sells NVDA or MSFT? Learn more now.
A more powerful processor naturally spells a higher average selling price (ASP) for AMD. Meanwhile, the capabilities of the processors powering the PS5 and the next-gen Xbox, together with the gameplay and user experience improvements delivered by their use of SSDs, could help drive strong early demand for the systems.
With regards to SSDs, the fact that all next-gen PlayStations and Xboxes will have them could go a long ways towards delivering a superior experience. While SSDs are now widely used by PC gamers, the fact that some gamers playing a particular title will inevitably rely on hard drives means that game developers have to write a PC title so that it works well with both types of storage. With next-gen consoles, they won't have to make that compromise.
PCs have been defining the cutting edge for gaming, and when it comes to the sheer processing power that a gaming system can deliver, this will continue to be the case. But from the looks of things, the ability of Sony and Microsoft to control just what kind of hardware console game developers need to support could allow the experiences delivered by their next-gen consoles to be differentiated from PC gaming experiences in some notable ways.