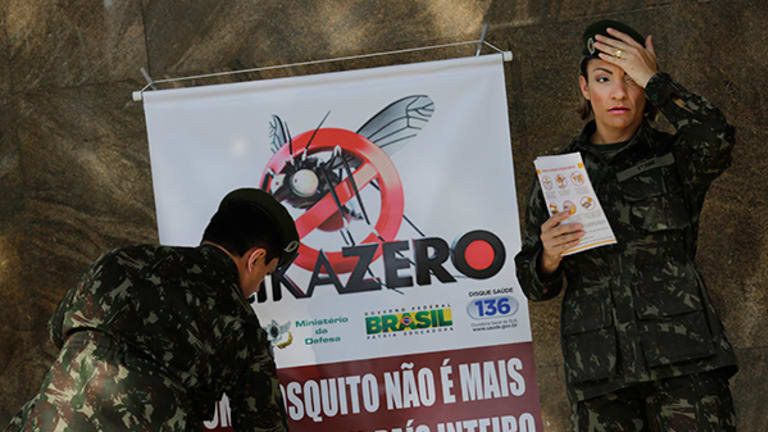 Play the 'Zika Effect' With These 2 Absurdly Cheap Airline Stocks
Zika virus fears are beating down these two intrinsically strong airline stocks. Now's the time to buy them, before these temporary anxieties subside.
If you're a value investor looking for bargains in an overbought market, consider fear as your friend.
Worries over new Zika outbreaks have contributed to a gradual slowdown in an airline industry that only a few months ago was enjoying a resurgence. The Zika anxiety has been exacerbated by recent terrorist attacks.
Despite the global economic recovery and the rise of a travel-hungry middle class in emerging markets, the U.S. Global Jets ETF (JETS) - Get U.S. Global Jets ETF Report , the benchmark for the airline industry, is down 8.71% year to date.
But while travelers bite their nails with fear, you should be licking your chops with greed. Statistically, the chances of getting harmed by a Zika outbreak remain tiny, which means these concerns should soon fade. Inexpensive fuel costs and robust consumer spending will help lift quality airline stocks again, because their underlying fundamentals remain attractive. The Zika virus is a genuine health concern, but don't let the temporary media frenzy over the mosquito-borne illness alter your perception of a stock's potential value.
When the investment herd behaves irrationally, it's your cue to make money from the market imbalance. And right now, you can pick up the best airline stocks for inflight peanuts.
The time is particularly ripe to buy Southwest Airlines (LUV) - Get Southwest Airlines Co. Report and Ryanair (RYAAY) - Get Ryanair Holdings Plc Report , two inherently strong investments that are even more attractive now, thanks to their absurdly low valuations. If you're looking for steady gains over the next 12 months, you should put your money in these high-caliber stocks. They're on a flight path for sustained growth.
Southwest Airlines is the country's largest carrier in terms of originating domestic passengers boarded. Now in its 46th year of service, Southwest controls lucrative, well-traveled routes and enjoys resilient brand loyalty.
After fuel, labor is the most expensive cost for airlines. Carriers have historically grappled with restive labor unions, putting pressure on already thin profit margins. But Southwest recently made peace with its unionized workforce, which should prove a huge plus.
Until recently, Southwest had been trying to quell crew problems that threatened to get out of hand. Those labor worries are now over. Just days after an accord with its pilots, Southwest cemented an agreement in principle on Sept. 1 with its facilities maintenance technicians. These labor deals will remove management distractions and allow the airline to focus on operating efficiently and profitably.
What's more, Southwest's customer-friendly policy of "bags fly free'" has been a massive hit. Betting against the baggage fee policies of all major airlines, the company allows its travelers to check up to two bags for free. This pro-consumer stance is showing results in greater customer satisfaction.
The fear-induced slowdown in air traffic has been priced into the stock, but analysts seem to be giving short shrift to the many positives.
The airline over the past two years has racked up consistent revenue and profit gains, a feat that most other airlines haven't been able to match. LUV's earnings growth over the next five years is projected at nearly 14% per year, helping boost free cash flow. Southwest's 12-month levered free cash flow of $2.65 billion far exceeds that of rivals Hawaiian Holdings (HA) - Get Hawaiian Holdings, Inc. Report , JetBlue (JBLU) - Get JetBlue Airways Corporation Report , SkyWest (SKYW) - Get SkyWest, Inc Report , Spirit Airlines (SAVE) - Get Spirit Airlines, Inc. Report and Alaska Air Group (ALK) - Get Alaska Air Group, Inc. Report .
And finally, given that shares are down 15% YTD, the stock at a forward price-to-earnings ratio (P/E) of 9.38 is a tantalizing proposition. Analysts offering 12-month price forecasts for Southwest Airlines have a median target of $48, implying an upside of over 30% from current levels.
Irish Disruptor
Irish budget carrier Ryanair is an industry disruptor, if ever there was one.
The airline (primarily focused on European operations) is confident of clocking its highest-ever profits this year, even as rivals struggle with Brexit-driven uncertainties. It's worth noting that direct competitor easyJet (EJTTF) (ESYJY) was unable to offer an earnings forecast.
Ryanair is working on a plan to pivot its growth away from U.K. airports, to concentrate on EU airports. Analysts also see the airline as accelerating its earnings per share (EPS) growth. Over the previous five years, the highly aggressive and competitive Ryanair had pushed its EPS by 4.5% per year. This run-rate is on track to nearly double to 8.35% in the next five years, even as the carrier maintains respectable revenue growth rates. Ryanair is also well-positioned to cater to lower fares while simultaneously boosting traffic.
Ryanair is preparing for continued growth by seeking to buy more Boeing (BA) - Get Boeing Company Report 737s in 2017 and 2018. Incremental traffic movements haven't been a problem for RYAAY, with June and July exhibiting great metrics.
The value opportunity in Ryanair's stock arises out of the 14.12% share price drop in 2016 so far. Investors could gain upward of 12% in the next 12 months. At a forward P/E valuation of less than 11.5 times, Ryanair is a steady growth engine now at bargain prices. Once the clouds of a weak sterling and likely Brexit challenges dissipate, the stock could hit the stratosphere.
As we've just explained, Southwest and Ryanair are smart value plays now. If you're looking for other growth opportunities, we've found a genius trader who turned $50,000 into $5 million by using his proprietary trading method. For a limited time, he's guaranteeing you $67,548 per year in profitable trades if you follow his simple step-by-step process. Click here now for details.
John Persinos is an editorial manager and investment analyst at Investing Daily. At the time of publication, he owned stock in Boeing. Persinos appears as a regular commentator on the financial television show "Small Cap Nation." Follow him on Twitter.