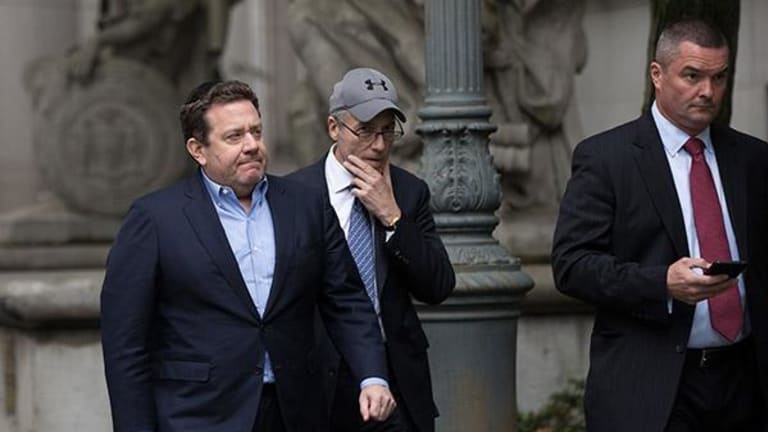 Platinum Partners Hedge Fund Investigation Reportedly Widens
Platinum Partners is shutting down its $1.7 billion hedge fund after kickback allegations involving a longtime associate. Now the firm itself is reportedly under investigation.
The Platinum Partners saga may have further twists in store.
The New York-based hedge fund has begun liquidating its funds, after the firm's longtime associate Murray Huberfeld was accused last month of arranging for a $60,000 kickback to be delivered -- in a Salvatore Ferragamo bag -- to a correctional officers' union official in exchange for directing the union's retirement fund investments to Platinum.
Now, Platinum and its chief investment officer, Mark Nordlicht, may face scrutiny as the probe widens, according to a report from the Wall Street Journal.
Platinum's woes began with the June 8 announcement of bribery charges against Huberfeld and Norman Seabrook, president of the New York City Correction Officers Benevolent Association.
Prosecutors say that Huberfeld, through an intermediary, arranged for the delivery of the kickback to Seabrook after the union official directed $20 million in union investments into the Platinum Partners Value Arbitrage Fund. Huberfeld then arranged for the hedge fund to reimburse the intermediary for the kickback using a fraudulent invoice for the purchase of New York Knicks basketball tickets, the U.S. Attorney's Office said. Both Seabrook and Huberfeld pleaded not guilty to the charges on Friday.
The fund itself had not been implicated in the criminal case against Huberfeld, whom prosecutors describe as a co-founder and manager at Platinum, claiming he was not listed on the firm's registration documents to avoid scrutiny. Huberfeld has been previously fined by the Securities and Exchange Commission.
Federal agents raided Platinum's office in late June, after the charges were announced, as part of an investigation that's reportedly separate from the bribery case. And there are other rumblings of wider fallout.
Since its founding in 2003, Platinum Partners has appeared to be one of the world's best-performing hedge funds, claiming a 17% annual return for its main fund as of last fall. But the firm has made investments in assets that are potentially hard to value or liquidate, such as private placements in a distressed company's debt. These are known in accounting parlance as "Level 3" assets, which have significant "unobservable" value inputs. Nearly all of Platinum's investments are Level 3, according to the Wall Street Journal.
Among the illiquid investments are several that have raised eyebrows. In 2007, according to SEC investigators, Platinum created a subsidiary called BDL Group for the purpose of investing in variable annuities for hospice patients, which paid out a bonus when the patient died. Several involved in the plan agreed to pay settlement fines to the SEC, but Platinum and Nordlicht were not accused of wrongdoing.
Other Platinum investments include financing for payday lenders, which offer short-term loans at the equivalent of a 400% annual rate or higher. The industry has long been the target of regulatory crackdowns.
Platinum's payday borrowers include CashCall, according to Bloomberg. CashCall has been sued by the Consumer Financial Protection Bureau for allegedly charging interest in excess of what state laws allow; the company contests those claims and the case is pending in federal court in Los Angeles.
All of this adds up to signals that, at best, it may take Platinum some time to liquidate its funds, a subject that was already making some investors antsy. Two prominent investors reported Platinum to the SEC in November for non-payment of redemptions, according toThe Observer.
The Wall Street Journal, citing sources, now says that the investigation into Platinum is examining whether it overstated the value of its holdings, or paid out exiting investors from new investments or borrowings. A Platinum spokesperson rejected those claims in a statement to the Journal.
Last week, seeking to quell anxieties, Platinum Partners brought on Bart Schwartz to oversee the liquidation of its hedge funds. A former criminal division chief of the U.S. Attorney's Office for the Southern District of New York, Schwartz is perhaps best known for overseeing the receivership for victims of Bernard Madoff's Ponzi scheme.