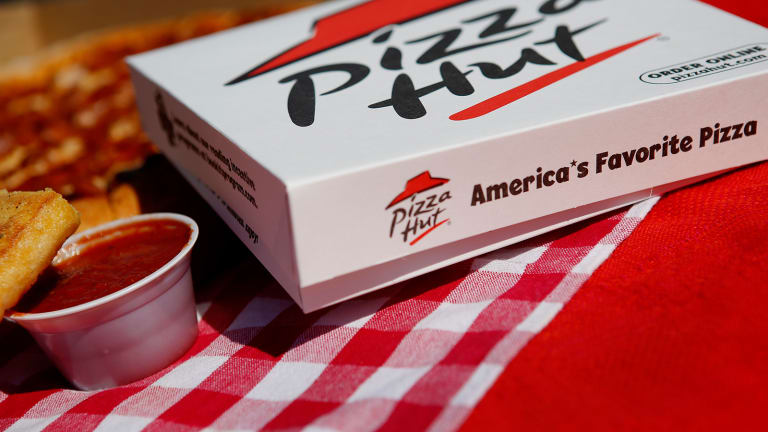 Pizza Hut Launches Bizarre New Product in Bid to Revive Sales
Pizza Hut is now selling hot dogs...on pizza.
NEW YORK (TheStreet) -- Want a beefy hot dog with spicy mustard on the side of your piping hot pizza?
Strange as it sounds, that's precisely what Yum! Brands (YUM) - Get Free Report Pizza Hut, which first introduced the stuffed crust pizza in 1995, is hoping will excite consumers in its latest bid to ignite sales.
Beginning on June 18, one of Pizza Hut's large one-topping pizzas will feature 28 hot dog bites baked into the crust that can be pulled off and shared. Served with a side of French's mustard for $11.99, the new "Hot Dog Bites Pizza" (pictured below) essentially gives a customer two meals in one.
"We create a lot of pizza all around the world, and sometimes they cross the pond and get attention here -- no pizza has been requested more by fans here in the U.S. than the hot dog pizza," said Pizza Hut spokesman Doug Terfehr in a phone interview. Terfehr added, "Outside the U.S., people love this idea of American foods, and they are willing to mash those up and try those things together."
Pizza Hut is not alone in trying some unusual combinations. In May, Carl's Jr. unveiled its "Most American Thickburger," a burger loaded with cheese and potato chips, and topped with a hot dog sliced in half.
The Hot Dog Bites Pizza's odd-look plays to the millennial crowd, who are apt to snap pics to brag about their experience with the pie on Twitter and Instagram. Tempting millennials is part of Pizza Hut's strategy to boost its lagging sales, after a menu revamp earlier in the year that included healthier artisanal pizzas was met with little enthusiasm.
The Pizza Hut division, which represents roughly 60% of Yum's 13,000 plus total units, served up a meager 1% same-restaurant sales decline in the first quarter, while same-store sales last year fell 3%. Execs say they believe sales at Pizza Hut "could remain soft" in the near-term.
Jonathan Blum, a Yum! Brands spokesman, said in April the company plans to address Pizza Hut's lagging performance this year with improved digital marketing and online ordering capabilities. But he  conceded, "we've got work to do." Part of that work appears to be introducing attention-grabbing and sometimes bizarre new pizzas.
"Unfortunately, we haven't been as effective as we'd like with our marketing," said Blum. "Frankly, our competitors have just done a better job at differentiating themselves and their offerings."
This article is commentary by an independent contributor. At the time of publication, the author held no positions in the stocks mentioned.