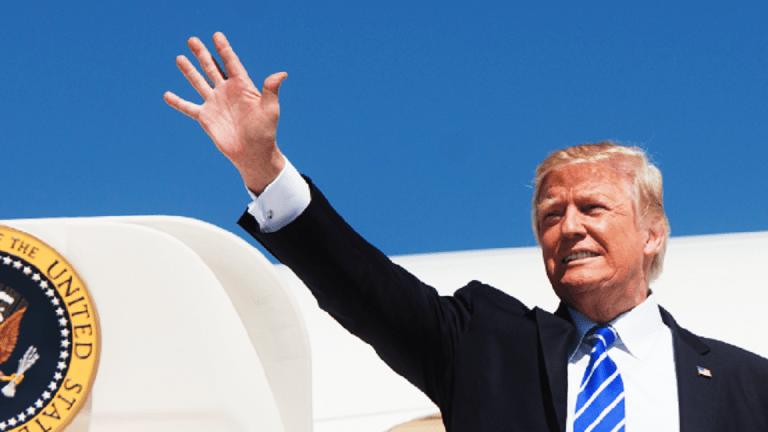 Trump Trade 2018: Real Money Columnists Make Their Picks
The pharmaceutical sector and a company that rents industrial equipment are seen as potential winners.
The pharmaceutical sector and a company that rents industrial equipment are seen as potential winners.
It has been a year since Donald Trump was elected president, and the stock market has been on a steady climb ever since. Real Money columnists Ed Ponsi and Stephen Guilfoyle say what sectors/stocks will stand to gain as Trump trades in the New Year.
Ed Ponsi: Pharmaceuticals Should Be Easy Pill to Swallow
If President Trump's corporate tax reform plan becomes a reality, I'd look to the pharmaceutical sector to outperform the market in 2018. There is a ton of potential unlocked value in this sector that could be unleashed by a lower corporate tax rate.
It's very likely that mergers, spinoffs and restructurings are already in the planning stages. However, these companies can't move forward until they have clarity regarding new tax regulations. Once the rules are made clear, I'd expect to see some activity in this sector.
You might recall that the pharma sector was a hotbed of merger activity, often involving tax avoidance strategies, such as corporate tax inversions. Several additional mergers were spiked when that loophole was closed in 2016. While it's unlikely any company actually pays the full 35% federal corporate tax rate due to deductions and loopholes, a lower tax rate would make such tax dodges unnecessary.
The SPDR S&P Pharmaceuticals ETF (XPH) - Get Report , shown in the chart below in green, has badly underperformed the SPDR S&P 500 ETF (SPY) - Get Report , shown in red, since the start of the year. The pharmaceuticals have underperformed the market in 2017, but if tax reform becomes a reality, I'm looking for that to turn around in 2018.
S&P Pharmaceuticals ETF (XPH) - Get Report vs. S&P 500 ETF (SPY) - Get Report

View Chart »View in New Window »
Stephen Guilfoyle: United Rentals Would Benefit From Rebuild
I have invested in several "Trump trades" this year. Many worked well very quickly, and kept it up for most of the year, such as our longs across the defense and aerospace industry. Others have sputtered at times, and only meandered in the right direction when other non-Trumpian conditions helped push them along. Think the banks.
My favorite Trump trade right now is one that I originally missed out on. I am currently long United Rentals (URI) - Get Report . I got long in this name in response to the storm damage that was spread across Texas, Louisiana, Florida, Puerto Rico and the U.S. Virgin Islands.
That trade has worked in spectacular fashion in that short timeframe, but as a stand-alone trade, the stock has leveled off. It would now be time to count the money. As the possibilities for tax reform bounce around Congress, the Trump agenda must again be considered. Remember the infrastructure rebuild? Will there be room in the budget for much of this, on top of an increase in military spending? Perhaps so. What this firm does, for those not in the know, is rent and lease out construction and industrial equipment. 
Guts and Glory
Everything is not perfect here. There's a lot of debt. The Quick Ratio is 0.88. The Current Ratio stands at 0.85. You know I'd like to see those ratios rise above 1 just to show me that the firm will not have a problem meeting both short- and long-term obligations. On top of that, URI does not pay a dividend ... so the only possible benefit here is a rising stock price. You are going to need growth. I believe URI can deliver that.
First off, operating cash flow is not a problem. In 2016, the firm earned $8.65 a share. That number is projected at $10.39 this year, and expected to be $12.15 for 2018. As for revenue, the firm put $5.76 billion to the tape for 2016, with full-year 2017 projections at $6.6 billion and 2018 looking to be $7.5 billion. You understand that this means the analyst community expects to see sustained year-over-year sales growth of roughly 14% for this firm. 
Why the Trade Is Done
On this two-month chart, it becomes visible that the MACD has turned bearish, and the money has flowed away from this stock over the past week or so. You can also see that relative strength has started showing weakness. If I were still looking at this simply as a trade ... sold to you. 
A Trump Trade Investment
Now we'll step back and take a look at a two-year chart. You can easily see the trend was in place prior to the election last November. This firm was already showing an ability to grow. Twice, the trend showed signs of breaking down. First, the response to the election put the train back on the rails. Then, as confidence in the president's agenda waned midyear, the necessary response to the hurricanes put this stock back on track.
You can see even now as markets digest this stock's giant upside moves earlier this fall that several factors are still in decent shape. Money flow is still OK. Relative strength no longer displays an overbought condition, but has not gone negative. The MACD has gotten a little sloppy, but I would fully expect that after such a run. This stock is on trend, and any perceived legislative victories for the administration would keep it that way. 
Normal target price: $172 
Year-end 2018 target price: $205 (based on favorable legislation) 
Panic point: $120 
(These articles originally appeared Monday on Real Money, our premium site for active traders. Click here to get great columns like this from Jim Cramer and other writers even earlier in the trading day.)
More of What's Trending on TheStreet:
At the time of publication, Ponsi was long XPH and Guilfoyle was long URI, although positions may change at any time.