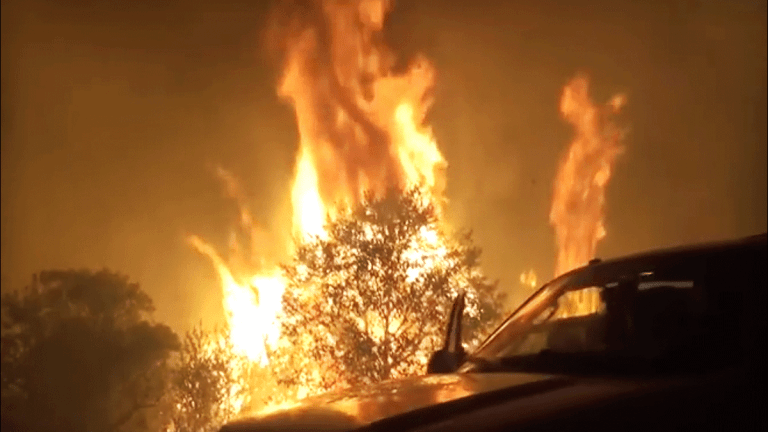 PG&E Shares Tumbles as Fast-Moving Wildfire Rages in California's Wine Country
PG&E transmission line malfunctioned in area where fire began Wednesday evening, according to filing with state utility regulators.
Shares of PG&E Corp. (PCG) - Get PG&E Corporation Report fell sharply Thursday as a wind-whipped wildfire burned homes and scorched more than 10,000 acres in rugged terrain near Geyserville, Calif., about 80 miles north of San Francisco.
The stock ended off $1, or 12.2%, at $7.20.
The cause of the Kincade fire, which started late Wednesday, is still under investigation.
PG&E filed a report with the state public utility commission Thursday saying it "became aware of a transmission level outage" on a 230,000 volt line in the area where the fire started around 9:20 p.m. Wednesday. On Thursday morning, Cal Fire personnel showed a PG&E employee "what appeared to be a broken jumper" at the base of a transmission tower in the area, according to the filing. 
PG&E had shut down local electric distribution lines in the area but not its high voltage transmission lines used to move power around the state, according to a published report in the San Francisco Chronicle.
Public safety officials ordered the evacuation of the entire town of Geyserville, whose population is about 1,000 people.
More than 300 firefighters and 50 fire engines are fighting the blaze, which was still at 0% containment Thursday morning.
Published reports and photos on Twitter show burned out buildings and homes in the region.
Deadly wildfires in Northern California in 2017 and 2018, blamed on PG&E, killed scores of people and caused billions of dollars in damage. The utility ultimately sought bankruptcy protection under the weight of huge fire liabilities.
Earlier this fall, the company began imposing deeply unpopular public safety power shut downs during dry and windy conditions in an effort to reduce fire risks. 
Dry and windy conditions are forecast through the weekend in Northern California.