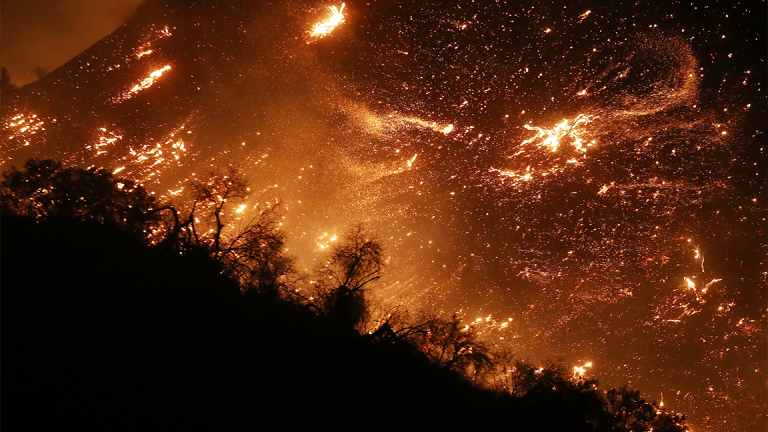 PG&E Shares Slump Following CPUC Allegations
California Public Utilities Commission says it will to pursue 'vigorous action' over purported rule violations.
Shares of Pacific Gas and Electric Co. (PCG) - Get Report dropped more than 5% on Monday, Dec. 17, after the California Public Utilities Commission said it would pursue vigorous action for what it says were violations of rules to prevent damage to natural gas pipelines during excavation.
PG&E's stock was down $1.45, or 5.57%, at $24.57 in mid-morning trading on the New York Stock Exchange.
A CPUC Safety and Enforcement Division staff investigation report released on Friday alleged that PG&E falsified locate-and-mark records from 2012 to 2017. Among the report's findings:
That PG&E lacked sufficient staffing to locate and mark natural gas pipelines in compliance with law;
That it pressured supervisors and locators to complete the work, resulting in PG&E staff falsifying data so requests for pipeline locating and marking would not appear as late;
That the utility had common knowledge among its supervisors that locators falsified data;
and that it received input from external parties that there were discrepancies in its late locate and mark reporting.
"Utility falsification of safety related records is a serious violation of law and diminishes our trust in the utility's reports on their progress," CPUC President Michael Picker said in a statement. "These findings are another example of why we are investigating PG&E's safety culture."
California law requires utilities to timely locate and mark natural gas pipelines to ensure that third-party construction excavation does not damage pipes and other components and thus diminish safety.
PG&E's shares have declined more than 50% in the past six weeks since hitting $48.80 on Nov. 7 amid concerns of the utility's potential liability related to the recent California wildfires.