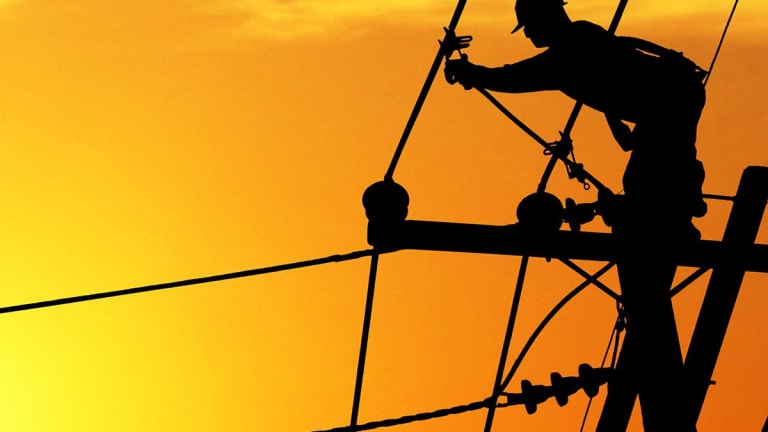 PG&E Plunges on Unfavorable Bankruptcy Court Ruling
PG&E plunges after a U.S. bankruptcy court judge pulls the plug on the company's exclusive control over its reorganization process.
Shares of embattled California utility giant PG&E  (PCG) - Get Free Report plunged nearly 30% Thursday after a U.S. bankruptcy court judge pulled the plug on the power company's exclusive control over its own reorganization process, allowing other parties to offer up their own plans.
U.S. Bankruptcy Judge Dennis Montali late Wednesday ruled that PG&E bondholders including Pacific Investment Management and Elliott Management will be allowed to submit their own restructuring plans on how to deal with an estimated $30 billion in wildfire liabilities. 
Montali had ruled in August that PG&E should retain exclusive control over its restructuring and said last week that the group led by Pimco and Elliott would have to explain "what has changed in such a short period of time to justify reversing course."
In Wednesday's ruling, however, Montali wrote that the creditors, including the fire victims, have "spoken loudly and clearly" that they want their proposal to be considered. While PG&E's plan is "on track as well as can be expected," so are other competing versions, Montali wrote.
The ruling came as PG&E began intentionally shutting off power to hundreds of thousands of customers across Northern California, including the heavily populated San Francisco Bay Area, in an attempt to avoid sparking another wildfire.
The damages, tied to blazes that its equipment ignited, forced the utility to file for Chapter 11 at the end of January.
Shares of PG&E were down 28.69% at $7.83 in trading on Thursday. They closed up 6 cents at $10.98 on Wednesday.