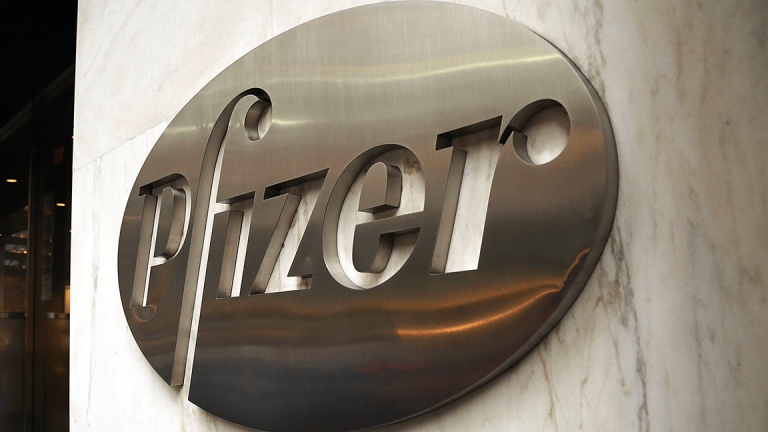 Pfizer Gets FDA Approval for $225,000 Heart Disease Drug
The FDA approves Pfizer's treatment for a rare form of heart disease.
Pfizer (PFE)  said Monday the U.S. Food and Drug Administration approved the pharmaceutical company's drug tafamidis for treatment of a rare form of heart disease.
Shares rose slightly to $41.44.
The oral drug will be sold under the brand name Vyndaqel for treatment of transthyretin amyloid cardiomyopathy, which is a buildup of abnormal deposits of misfolded protein called amyloid in the heart and is defined by restrictive cardiomyopathy and progressive heart failure.
Pfizer said it is the first approved medicine for the disease in the United States and it set a list price of $225,000 for the drug. The company said that estimates put the prevalence of ATTR-CM at about 100,000 people in the U.S. and only 1% to 2% of those patients are diagnosed today. Analysts are projecting annual sales to exceed $1 billion in 2024.
The FDA also approved another oral formulation of tafamidis under the brand name Vyndamax, with a recommended dose of either Vyndaqel 80 mg once-daily, taken as four 20 mg capsules or Vyndamax 61 mg once-daily, taken as a single capsule.
Reuters reported that in 2012 tafamidis was rejected by the FDA as treatment for a rare, progressive and fatal neurodegenerative disease called familial amyloid polyneuropathy (FAP). But it is approved in 40 other countries for that disease, Reuters said.
"This milestone is a gamechanger for patients, who until today had no approved medicines for this rare, debilitating and fatal disease," Paul Levesque, global president of rare disease at Pfizer, said in a statement.