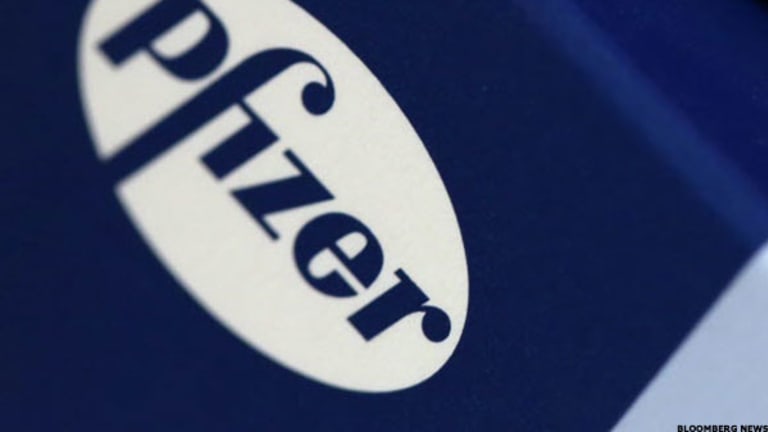 Pfizer Acquisition Of Allergan Seen As Doable, Accelerating Growth
After The Wall Street Journal reported last night Pfizer and Allergan are in early stage talks regarding a potential deal, analysts around the Street have weighed in with their takes...
After The Wall Street Journal reported last night that Pfizer (PFE) - Get Pfizer Inc. Report approached Allergan (AGN) - Get Allergan plc Report about a merger and the companies are in early stage talks regarding a potential deal, analysts around the Street have weighed in with their takes on whether such a deal gets done and what its implications would be for the companies involved, as well as naming a peer that might be an alternate target.
DEAL DOABLE: Deutsche Bank analyst Gregg Gilbert sees a potential Pfizer acquisition of Allergan at a premium as doable. A premium could be justified by "significant" cost and tax synergies, and potentially some revenue synergies, Gilbert told investors in a research note. Pfizer, by becoming an Irish-domiciled company, could also "enjoy enhanced access" to its ongoing cash flows going forward, the analyst point out. Gilbert, who has a Buy rating on both stocks, also thinks investors may consider Allergan CEO Brent Saunders as a successor to Pfizer CEO Ian Read.
ACCELERATES GROWTH: JPMorgan analyst Chris Schott says an acquisition of Allergan would accelerate Pfizer's' growth profile, generate "meaningful" operating synergies, likely allow an inversion, and potentially drive "significant" accretion. Assuming a 20% inversion with a 60%/40% cash and stock deal at a price of $375-$400 per Allergan share, an acquisition could drive high-single-digit to low-double-digit accretion for Pfizer, Schott estimates. The analyst has an Overweight rating on Pfizer with a $40 price target and an Overweight rating on Allergan with a $400 price target.
ALLERGAN VERSUS GLAXO: Jefferies analyst Jeffrey Holford says that GlaxoSmithKline (GSK) - Get GSK plc American Depositary Shares (Each representing two) Report may be a more difficult acquisition target than Allergan for Pfizer, it could drive more operational synergies. GSK is often passed over by investors in favor of Allergan, said the analyst, who sees merit in Pfizer "overpaying" for GSK in the form of a 45% premium in order to achieve a 60:40 "full inversion." Such a move would give the combined company a lower tax rate from day one, immediate access to Pfizer's offshore cash and reduced risk of further Treasury Notices, Holford argues. Paying a 30% premium could be up to 24.7% accretive by 2020 while the 45% premium could be 23.9% accretive in 2020 and 30% by 2025, the analyst estimates. He admits though that Allergan is a more likely deal for Pfizer. Holford still thinks an inversion, a split, tax reform or a combination of the three could generate "substantial upside" for Pfizer shares over the next three years. Citi analyst Liav Abraham also views Allergan and GlaxoSmithKline as likely targets for Pfizer in order for the company to attain a more competitive tax domicile, but said a deal with Allergan is likely more "pragmatic from a political perspective." The analyst added that the "overreaching takeaway" from Pfizer's earnings call yesterday was that its M&A strategy centers around a more competitive tax rate. He has a Buy rating on Allergan with a $360 price target.
PRICE ACTION: In pre-market trading, Pfizer rose 1% to $35.77, Allergan jumped 10% to $315.75 and GlaxoSmithKline shares trading in New York slid 1.7% to $42.82.
The Fly
is a leading digital publisher of real-time financial news. Our financial market experts understand that news impacting stock prices can originate from anywhere, at any time. The Fly team scours all sources of company news, from mainstream to cutting-edge, then filters out the noise to deliver short-form stories consisting of only market moving content. Follow @theflynews on Twitter. For a free trial, click