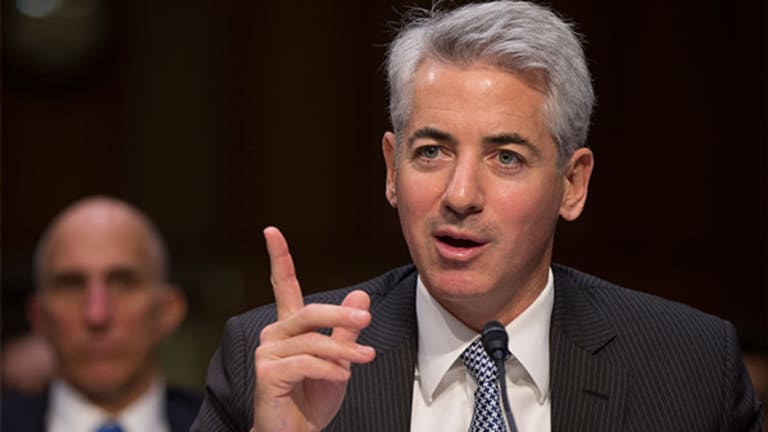 Bill Ackman Details Missteps With Valeant Investment
The embattled activist talked about his troubled investment in Valeant, his efforts at Chipotle and what he'd like to see the Trump Administration focus its energy on.
Embattled activist industry Bill Ackman on Thursday told hedge fund managers that his single biggest mistake with a particularly troubling large investment in Valeant Pharmaceuticals (VRX) was to rely on management at the drug company. 
"We don't need to rely on management with the vast majority of our investments to get a good outcome," Ackman told hedge fund managers at the SALT conference at the Bellagio Hotel in Las Vegas. "Our biggest mistake at Valeant was that [our investment] was incredibly dependent on management judgement. We made a big mistake."
Ackman, who sought to restore his once bright reputation as a hedge fund superstar, said that the Valeant investment represented a disproportionately large amount of time and resources and he decided to sell it and realize a large tax loss. The activist accumulated a stake over time and accumulated even more as the drug company's shares dropped significantly. The stake was a big reason why Ackman's fund, Pershing Square Capital Management, reported an abysmal loss of 20.5% net of fees for 2015 and a loss of 12.1% after fees for 2016, even as the post-Trump stock market rally helped bolster other Pershing Square investments.
Nevertheless, Ackman tried to make the investment a teachable moment. "The most successful people i know are people who had a great run but at some point hit a difficult moment in time and the successful ones are the ones that deal with the difficult times correctly," he said. 
Alternatively, Ackman preferred to discuss his investment and campaign at Chipotle Mexican Grill (CMG) - Get Chipotle Mexican Grill, Inc. Report  , noting that Pershing Square accumulated a stake when the company's shares were artificially depressed due to a mini-crisis at the company due to a E. Coli and Salmonella outbreak at the burrito chain.
However, he describe his campaign at Chipotle, which included the recent installation of four new directors on the company's board including two dissident directors, as collaborative, adding that he and the company's CEO, Steve Ells, have the same goals. Nevertheless, a co-CEO along with Ells, Monty Moran, left the company in the wake of Ackman's campaign, which was launched in September.
"We think he's [Ellis] an outstanding CEO," Ackman said. "It's such a successful concept but so many things they have not yet done. Chipotle does not have breakfast, it does not have late hours, does not have desert, it doesn't have a catering delivery mobile app."
He added that the Chipotle investment is a core type of investment for Ackman. "When you can get control for free or discount that's a competitive advantage," Ackman said.
In response to a question about what an activist campaign against the U.S. government would look like, Acman said he would focus on moving a massive infrastructure program, which has bipartisan support and could be a "win" for him. Ackman said the Trump Administration should then follow that up with a narrowly focused tax bill, concentrating just on lowering corporate taxes, leaving any changes to personal taxes for later.
Editor's pick: This article was originally published at 9:03 pm May 18
Read More Trending Articles:
Why Dying Sears Has Lost Nearly $300 Million in Value Inside of Nine Days
Over on Real Money Jim Cramer give advice to investors looking at how to play the Trump Trade. Get his insights or analysis with a free trial subscription to Real Money.