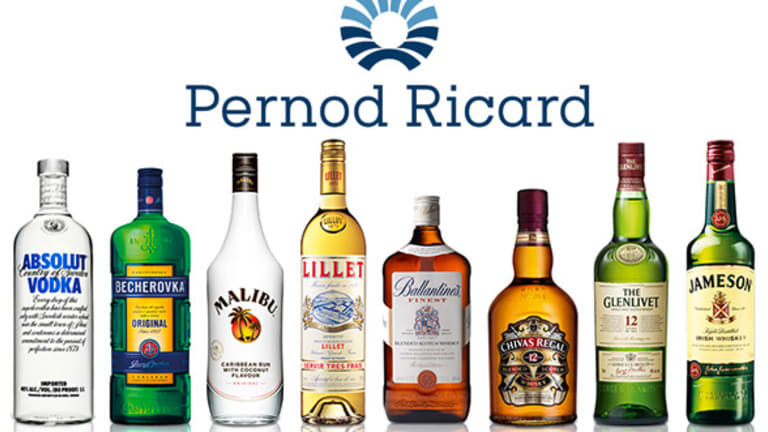 Pernod Ricard Full-Year Profit Rises as Americas Sales Growth Doubles
The maker of Jameson whiskey remains confident of achieving 4% to 5% medium-term sales growth.
Pernod Ricard (PDRDF) said it's confident of achieving 4% to 5% sales growth in the medium term after the maker of Jameson whiskey and Absolut vodka posted full-year profit that met expectations.
The world's second-based drinks maker after Diageo (DEO) said that profit from recurring operations rose 2% to just under €2.28 billion ($2.54 billion) in the fiscal year ended June. It attributed the rise to tight management of resources and operational efficiency initiatives.
On an organic basis, sales rose 2% to €8.68 billion in fiscal 2016, as growth in the Americas picked up momentum particularly in the U.S. Sales in the Americas grew by 4%, up from a 2% growth rate the year before.
In Asia and the rest of the world, double-digit growth in India and Africa and the Middle East offset difficulties in China, Korea and travel retail, while in Europe the company reported "encouraging" growth in most markets, led by Spain.
The exception was its home turf of France, which the company attributed to a technical issue involving shipments brought forward before a back-office coordination program.
Zooming in on brands, strong performances of Jameson, Ballantines, Perrier-Jouet and Indian whiskies outshone  Chivas and Absolut, where the company said it experienced difficulties but with improving year-on-year underlying trends in the U.S.
Pernod Richard shares were up 1.8% at €104.70 in early trading.