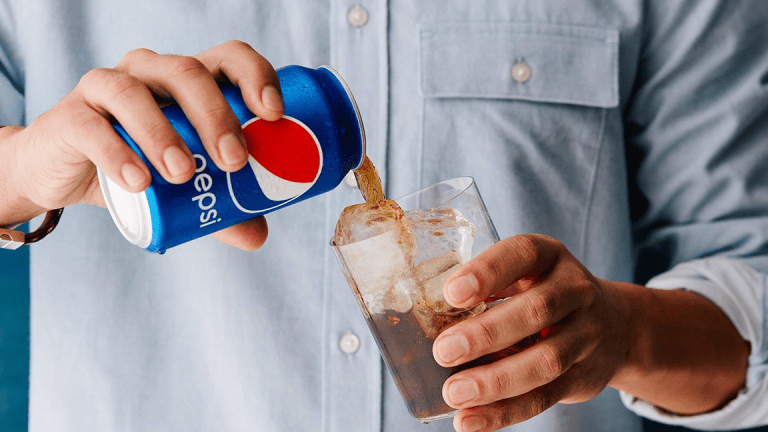 PepsiCo Declares War on Coca-Cola
PepsiCo admits it needs to ramp up its marketing to regain market share in soda from rival Coca-Cola. Let the cola wars begin.
The cola wars have returned, and PepsiCo (PEP) - Get PepsiCo Inc. Report is reloading its ammo after being ambushed by Coca-Cola (KO) - Get Coca-Cola Company (The) Report .
Amid Coke's aggressive marketing of its trademark soda and revamped diet product, PepsiCo Chief Financial Officer Hugh Johnston concedes the company has lost some market share. PepsiCo plans to respond accordingly with its own marketing assault in coming quarters.
"Most recently in the last one to two years, our primary competitor has been investing heavily in colas and it has had an implication on our market share. We really started to see it in the latter half of last year and then into the first quarter of this year," Johnston explained to TheStreet, adding that PepsiCo increased its advertising spending by a double-digit percentage in the first quarter. "In some ways it goes to prove that advertising is still a potent lever in the marketing mix along with innovation and pricing and distribution," Johnston added when asked if he was surprised by the consumer  response to his competitor's ad strategy.  
First Quarter Overview
With PepsiCo shares down 14% year to date and rival Coca-Cola (KO) - Get Coca-Cola Company (The) Report fresh off a solid quarter, Thursday's financial report card had to deliver on several fronts. At first blush, it's unclear if PepsiCo's start to the year will stabilize investor sentiment. 
PepsiCo is a holding in Jim Cramer's Action Alerts PLUS.
Some crib notes:
CEO commentary: A touch on the bearish side. CEO Indra Nooyi acknowledged the company must invest more in its core carbonated beverage business, which continued to struggle in the first-quarter. North American beverage volume fell 3% and the segment's core operating profits dropped 22%. "Although we continued to face challenges in North America Beverages, the sector had sequential improvement in top line momentum since the fourth quarter of 2017.  We continued investing in and growing share in a number of faster-growing, future-facing categories.  However, competitively we recognize the need to step up investments in core carbonated soft drinks, which we intend to responsibly do.  We believe our plans will drive further improvement as the year progresses," Nooyi said in a statement.
By the numbers: Short-term bullish, signaling the bears may have taken down PepsiCo's numbers too far. Sales topped Wall Street estimates by $200 million. Earnings beat forecasts by 3 cents, helped by a lower tax rate and share repurchases. The company also had good profit showings internationally, with growth in all regions excluding the impact of volatile currency exchange rates. 
Outlook: PepsiCo reiterated its full year sales and profit outlooks. The latter is no small achievement given cost pressure rippling through the packaged goods space. Bullish indicator.