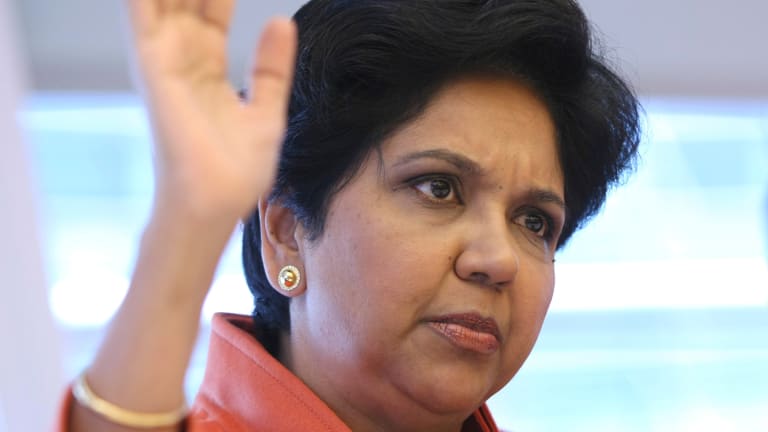 PepsiCo CEO Indra Nooyi Passes the CEO Baton at Crucial Time
PepsiCo CEO Indra Nooyi said Monday she will step aside as CEO after a successful 12-year run.
It's a drop the mic moment for PepsiCo (PEP) - Get Report CEO Indra Nooyi. 
After a 12-year stint leading the beverage and snack maker, PepsiCo announced Monday that Nooyi would step down as CEO on Oct. 3. Nooyi will remain chairman until early 2019. Taking her spot will be company insider Ramon Laguarta, who ran the company's Europe Sub-Saharan Africa division before being elevated to president last year. 
The appointment of Laguarta suggests well-regarded PepsiCo Chief Financial Officer Hugh Johnston was passed over for the top job. Johnston was elevated to the vice chairman role in 2015. 
Nooyi, a frequent name on "Most Powerful Women in Business" lists, in many respects created a PepsiCo fit for modern day food trends. During a 22-year stint with the company, Nooyi helped engineer the purchase of Quaker Foods for $13.4 billion in 2000. The purchase brought PepsiCo sports drink market share leader Gatorade. More recently, Nooyi has pushed PepsiCo's product portfolio of drinks and snacks towards healthier options, or as she calls them "better for you."
But with PepsiCo shares lagging the S&P 500 I:GSPC since Nov. 2017 amid a series of mixed quarters, Nooyi may have felt the time was right to pass the CEO baton. 
Case in point is the second quarter.
The beverage and snacks giant smashed analyst profit forecasts by nine cents a share, posting adjusted earnings of $1.61 a share on the back of cost cuts in its various divisions. At $16.1 billion, net revenue was slightly ahead of consensus estimates. Organic revenue, which reflects the core operations of PepsiCo and excludes currency fluctuations, rose a modest 2.6%.
While PepsiCo defied Wall Street's thinking, the challenges of operating a global packaged food company right now were on display. Volume in PepsiCo's North American beverage business fell 2% from a year earlier, with the division's operating profit falling by 15%. The business continues to be plagued by Coca-Cola's Co.'s (KO) - Get Report comeback in the soda business, supported by aggressive marketing campaigns for diet soda.
Laguarta's plate will be full of big tasks from the get go. For one, Laguarta must devise a blueprint to jump-start PepsiCo's beverage volume. And secondarily, he will have to decide whether to re-franchise PepsiCo's bottling operations to re-ignite profits. Rival Coke is fresh off a multi-year re-franchising effort that has padded its bottom line. 
"With new leadership at the helm - will Pepsi begin to consider more strategic options? We think the answer could be yes - and that this transition could open a wider door to Pepsi considering a variety of potential alternatives, including stepped up refranchising (which we believe Pepsi has already started in some territories as a way of determining if this is the best course of action) or even potentially splitting up the company," said Wells Fargo analyst Bonnie Herzog. "However, we continue to believe that strategic change isn't without execution risk and will take time."
Here's why Jim Cramer's Action Alerts PLUS is bullish on PepsiCo.