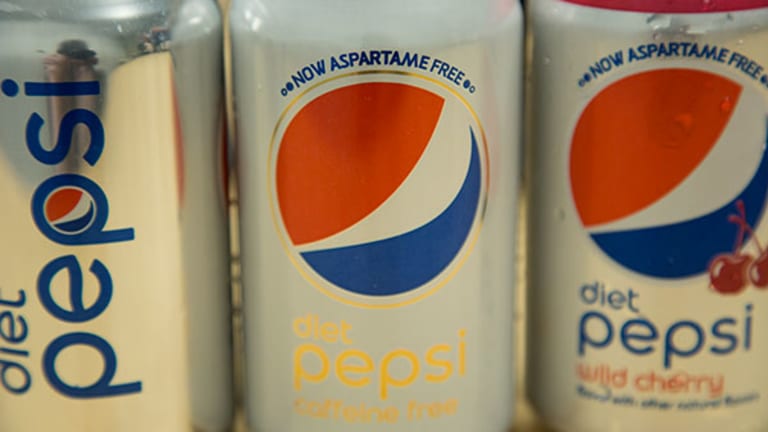 Pepsi Goes Whole Nine Yards on Super Bowl 50 Marketing
Are you ready for some Pepsi products? You will be.
The kickoff for Super Bowl 50 is just a few weeks away, and by the time the first touchdown is scored PepsiCo (PEP) - Get Report , Anheuser-Busch's (BUD) - Get Report Budweiser and Coca-Cola (KO) - Get Report will have already begun aggressively marketing their beverages to those folks holding Super Bowl parties. 
PepsiCo, which also owns snacks maker Frito-Lay, is leaving no stone unturned in trying to get consumers to buy its products for the big game. Pop music star Beyoncé will join Coldplay for performances at the Super Bowl 50 halftime show, which is being sponsored by PepsiCo. PepsiCo will also have multiple TV ads during the game, one featuring Scrubs star Donald Faison. 
Want more? Leading up to the Super Bowl, the company has partnered with DirecTV to host concerts with Dave Matthews Band and Pharrell Williams. "This is the biggest Super Bowl ever, celebrating the past 50 years; and our activations in stores are bigger than ever, and what we are putting out to engage with the consumers, in my mind, is more exciting than ever," Seth Kaufman, PepsiCo's chief marketing officer for North American Beverages told TheStreet. Kaufman declined to comment on whether PepsiCo is spending more this year on Super Bowl marketing versus last year.
Meanwhile, PepsiCo enters the typical Super Bowl marketing blitz with arch nemesis Coca-Cola having recently unveiled an entirely new approach to its marketing. Coined "Taste the Feeling," Coke's new global ad campaign showcases all of the company's Coca-Cola sodas in one TV commercial.  In the past, each product such as trademark Coke and Diet Coke were advertised separately. 
"A lot of the stuff PepsiCo has done in the past two years has been about bringing all of the brands together. There are still moments where you want to lean into one product or the other to deliver a specific product message," said Kaufman on whether PepsiCo would alter its marketing strategy this year in response to Coke's moves. Kaufman added that a couple of years ago Pepsi "went to a master brand approach where we realized a lot of what we are doing on Pepsi connects across Diet Pepsi, Pepsi Max, regular Pepsi."  
Regarding Diet Pepsi, which debuted a version free of controversial sweetener aspartame in August, Kaufman was non-committal on whether marketing messages will be tweaked in 2016 following some outrage by consumers on the taste of new Diet Pepsi on social media. Explained Kaufman, "The U.S. consumer wanted a diet cola that didn't have aspartame, we were excited to deliver against that need. While it's still too early to tell where this all ends up, we are really encouraged by the signs we are seeing -- loyal consumers are re-engaging with the brand, and lapsed users are coming back in to try it again." According to Kaufman, PepsiCo marketing will continue to reinforce that Diet Pepsi is now free of aspartame.