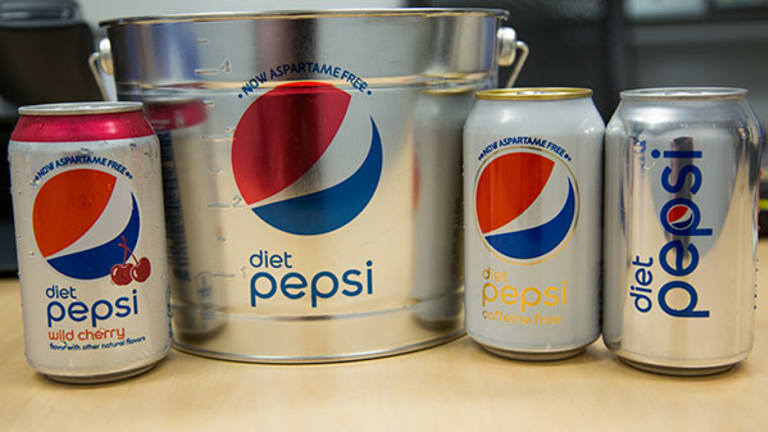 Pepsi Challenge: Will the All-New Diet Pepsi Steal Fans of Old Diet Coke?
The new Diet Pepsi is about to hit store shelves. And that could mean good news to PepsiCo's bottom line, much to the dismay of rival Coca-Cola.
NEW YORK (TheStreet) -- It's out with the old Diet Pepsi and in with the new for PepsiCo (PEP) - Get PepsiCo, Inc. Report and, in the process, possibly sweeter sales of the zero calorie brown fizz. 
This month, PepsiCo began the soft rollout of Diet Pepsi with an all-new sweetener, an effort that took about two years of testing and development to bring to fruition. Diet Pepsi, Caffeine-Free Diet Pepsi and Wild Cherry Diet Pepsi in the U.S. are now sweetened with a blend of sucralose and acesulfame potassium as opposed to the long-used aspartame. Aspartame has been linked to cancer in lab mice, among other potential health risks that have caused more health conscious consumers to abandon diet colas from PepsiCo and arch rival Coca-Cola (KO) - Get Coca-Cola Company Report in recent years.
"There is one product in our portfolio that our consumers were in an uproar about in that they wanted this ingredient out --- now it's out," said Seth Kaufman, SVP, Pepsi and Flavors Portfolio in an interview at TheStreet's New York City headquarters. Over the next few weeks, explained Kaufman, as the old Diet Pepsi sweetened with aspartame is sold out at retailers across the country, the new Diet Pepsi will be stocked on shelves.  The new silver Diet Pepsi cans say "now aspartame free" above the Pepsi logo. 
To get the word out and drive interest in a product that many folks have abandoned, PepsiCo will make use of new signage in major retailers, ramp up in-store sampling and utilize the power of social media. Further, the company will place extra emphasis of the new Diet Pepsi in its marketing with key partner the National Football League, whose season kicks off shortly.
In one blind taste test with TheStreet's newsroom, the difference between new and old Diet Pepsi wasn't not so readily apparent. A majority of those in the taste test guessed wrong as to which blue Solo cup (pictured above) contained the new Diet Pepsi. That type of response could be good news for the company as it tries to maintain its loyal Diet Pepsi base that enjoys the flavor of aspartame. 
Those who liked the flavor of new Diet Pepsi in the test noted it tasted more "refreshing" and lacking in the chemical smell and aftertaste inherent to most aspartame-flavored drinks. Responses such as that by the wider population could help to attract defectors (due to aspartame concerns) back to the Diet Pepsi brand, while catching the attention of Diet Coke drinkers that may want to finally abandon controversial aspartame.
Nailing the flavor profile was critical, said Kaufman.
As for the second blind taste test, TheStreet's newsroom sought to tap into a bit of cola wars nostalgia: the Pepsi Challenge. Starting in the mid 1970s at malls and other public locations, a Pepsi representative would set up a table with two unmarked cups: one containing Pepsi and one with Coca-Cola. Folks were encouraged to taste both colas, and then select which drink they preferred.  
Using this process, TheStreet pitted Diet Pepsi against existing Diet Coke, the category leader that continues to be sweetened with aspartame.  A 2:1 ratio of those tested chose new Diet Pepsi over aspartame sweetened Diet Coke.  The most common responses were that new Diet Pepsi tasted fresher and fizzier, whereas Diet Coke had a flatter, more chemical taste and smell.  
The ball is now in the court of PepsiCo's arch nemesis Coca-Cola to respond with a reformulated Diet Coke to defend its turf. So far, the market share leader in the diet cola business has not showed its hand a great deal.  "We are looking at multiple projects in the diet business, as well as adjacent innovation," said Coca-Cola North America president Sandy Douglas on a July 22 earnings call with analysts.
Any change to the ingredients in Diet Coke may be off into the distance, however.
"Product reformulations are not the holy grail," said Coca-Cola Chairman and CEO Muhtar Kent in response to a question by TheStreet on July 22 regarding the company's appetite to alter ingredients to meet growing preferences in the U.S. for healthier products.
Kent explained it's just as important to give consumers what they are demanding, such as mini-cans of Coke or Coke in new aluminum bottles, as it is to fiddle with ingredients. Coke is likely to watch the reception to the new Diet Pepsi very closely though. "Coke has to think long and hard about disappointing consumers," said Beverage Digest editor Duane Stanford in an interview. Stanford added that it's an unknown if consumers will shun aspartame long-term term, or if the outcries are a short-term phenomenon.
The new Diet Pepsi could give PepsiCo a new engine for growth in the year ahead given years of weak diet cola sales. "I think that diet carbonated soda is the most challenged of any of the carbonated concerns, and anything that can be done to stabilize that category would be most welcome," said TheStreet's founder Jim Cramer in an email.
Although PepsiCo did not disclose sales for Diet Pepsi in the second quarter, Beverage Digest estimates the product's volume fell 8.5% during the three-month period.  In 2014, according to Beverage Digest, Diet Pepsi sales fell 5%.
Coke did not disclose sales trends for its Diet Coke line in North America for the second quarter, only noting the brand continues to "struggle" in the U.S. Global volume for Diet Coke fell 7% in the second quarter.  Sales of Diet Coke dropped 6.6% in 2014, notes Beverage Digest.