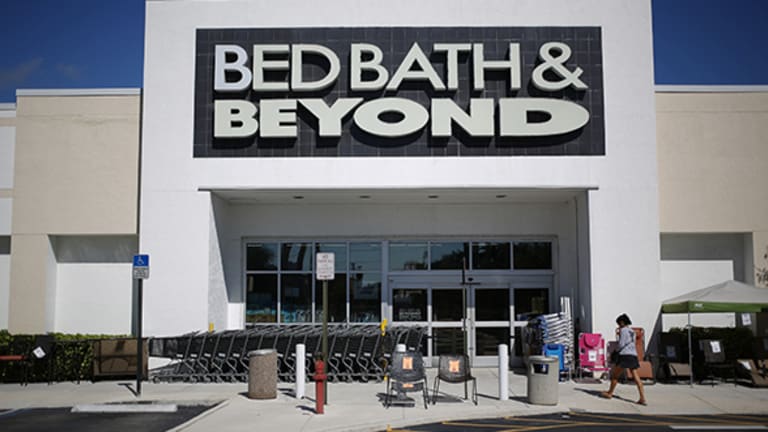 Pep Boys, Macy's and Bed Bath & Beyond: Doug Kass' Views
Doug Kass shares his views on private equity opportunities in the retail sector.
Doug Kass shares his views on private equity opportunities in the retail sector.
Doug Kass shares his views every day on RealMoneyPro. Click here for a real-time look at his insights and musings.

Will 2016 Be the Year Private Equity Buys Retail?
Originally published at 9:29 a.m. EST on December 24 , 2015
The proposed
of
Pep Boys
(PBY) - Get Report
highlights the valuation inconsistencies that now prevail in the retail sector.
PBY undoubtedly has unique strategic merit to the parties bidding for it. But the fact remains that it's a pretty poor retailer, with a low return on equity and a weak return of invested capital. The chain looks like it'll sell for 12x EBITD or so, depending on when a deal closes.
Meanwhile, retailers with much better business models are trading at below 6x of trailing-twelve-month EBITD. These include Bed Bath & Beyond (BBBY) - Get Report , Best Buy (BBY) - Get Report , Dillard's (DDS) - Get Report , Kohl's (KSS) - Get Report and Macy's (M) - Get Report . Even Nordstrom (JWN) - Get Report , a superior retailer by any measure, is trading at 6x -- which explains why Neiman Marcus is unable to return to public markets.
All of these retailers generate significant amounts of free cash and remain highly profitable. That's true even though they currently face tough sales conditions (largely weather-related) and the threat of market-share loss to Amazon (AMZN) - Get Report .
But as good as Amazon is, it can't "eat" everyone. And the threat Amazon poses to bricks-and-mortar retailing mean's there's little if any new-store construction, while low inflation means firms need negligible capital for current assets (i.e., inventory and accounts receivable/payable).
In short, given today's low interest rates, you couldn't conjecture a more favorable opportunity for mergers or private-equity activity in a sector.
Privately held retailers' values are already well in excess of publicly traded ones' market multiples. I think it's only a matter of time before we find out by how much.
That's partly why I remain a buyer of Macy's, Bed Bath & Beyond and Best Buy. I'm also adding Best Buy to my "Best Long Ideas" list at $30.60. It joins BBBY and M as retailers on the list.
Position: Long BBBY, BBY, M, WMT (small)
Look Beyond Bed Bath & Beyond's Lower Guidance
Originally published at 9:05 a.m. EST on December 24 , 2015
Bed Bath & Beyond has had a long list of lower earnings revisions.
BBBY lowered guidance yet again this week, reporting that comps were about 1.5% below plan during the company's fiscal third-quarter (which ended with Black Friday weekend). That's hardly surprising, as warm weather clobbered store traffic -- which spilled over into non-apparel retailers like Pier One (PIR) - Get Report , Williams-Sonoma (WSM) - Get Report and (BBBY) - Get Report .
But despite BBBY's shortfall, the company only announced a small earnings revision -- and I think fourth-quarter results could actually show an improvement.
Management said online sales grew 25% as the company and other retailers continue to develop into "omni-channel" sellers. Bed Bath & Beyond is also an enormous generator of free cash flow, and management will clearly continue to buy back stock given that debt is well under half of EBITD (which is being well-maintained). The return from this activity is almost +16%.
I believe the above math supports being long on BBBY, especially if the weather ever becomes more normal and people rediscover shopping.
While Amazon (AMZN) - Get Report is clearly making life miserable for bricks-and-mortar retailers, BBBY's online gains indicate there's a lot of business for everyone. AMZN incrementally added to its U.S. sales by about $2.5 billion in 2014's fourth quarter -- but this year, that increment will be less. In other words, BBBY is growing its online business faster than AMZN is.
True, I and others expect the retail industry to have an EBITD shortfall in the neighborhood of $1 billion because of things like uncooperative weather. But to put this into perspective, BBBY has contributed $7 million of that shortfall, and will probably account for another $5 million in the current quarter. The rest of the industry will contribute around $988 million.
I intend to keep a scorecard, but retailers will take their markdowns and go on with life. I believe the coming earnings shortfall will be a "one-off," as U.S. consumer income remains solid. Hence, I added to my BBBY long amid yesterday's weakness.
Position: Long BBBY
At the time of publication, Kass and/or his funds were long BBBY, BBY, M and WMT, although holdings can change at any time.
Doug Kass is the president of Seabreeze Partners Management Inc. Under no circumstances does this information represent a recommendation to buy, sell or hold any security.