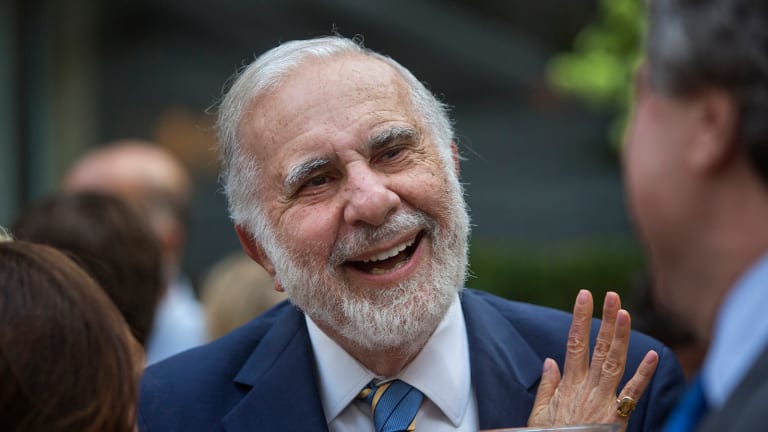 Icahn Lures Pep Boys Back From Bridgestone With $1 Billion Counter-Offer
Auto-parts retailer Pep Boys plans to scrap a buyout offer from tire-maker Bridgestone unless the suitor trumps an offer of $18.50 a share, or about $1 billion, from Carl Icahn.
Auto-parts retailer Pep Boys plans to scrap a buyout offer from tire-maker Bridgestone unless the suitor trumps an offer of $18.50 a share, or about $1 billion, from Carl Icahn.
This article, originally published at 10:19 a.m. on Tuesday, Dec. 29, 2015, has been updated with analyst commentary.
Auto-parts retailer Pep Boys (PBY) - Get Report plans to walk away from a proposed buyout by tire-maker Bridgestone after investor Carl Icahn sweetened his counter-offer to more than $1 billion.
The Philadelphia-based company said its board notified Bridgestone that it intended to abandon the deal, whose latest price was $17 a share, after receiving a proposed merger agreement Monday signed by Icahn Enterprises that offered $18.50 a share with no due diligence or financing conditions. 
Icahn's latest bid marks an increase of more than 20% from the $15 a share for which Bridgestone originally agreed to buy Pep Boys, and the investor indicated he's willing to offer even more, barring any increase in Bridgestone's $39.5 million termination fee. Founded in 1921, Pep Boys operates more than 7,500 service bays in 800 locations around the U.S., where its employees provide auto maintenance and repair.
While Pep Boys has lagged its peers recently on some financial performance measures, buying the chain would broaden Bridgestone's base of 2,200 tire and auto-service centers in the U.S. and offer opportunities for operational cost savings, Efraim Levy, an analyst with S&P Capital IQ, said in an interview. Icahn could benefit by combining Pep Boys with his Auto Plus parts business, which has hundreds of U.S. locations, or by simply driving up the deal price, since he's one of Pep Boys' largest investors, Levy said. 
Whichever bidder ultimately wins stands to benefit from an upswing in the auto-parts market, Levy noted. Declining oil prices and an improving economy have put more U.S. drivers on the road, as evidenced in increased claims at auto insurers like Warren Buffett's Geico.
"The auto parts market itself is something that should see growth because there are more cars on the road than ever, cars are older than ever and now, people are finally driving more," Levy said. "The increased need for repairs, the number of vehicles, the age of vehicles and the increased use of vehicles are all things that should help demand grow."
Bridgestone's most recent agreement with Pep Boys, announced on Christmas Eve, had valued the chain at about $947 million. The Tokyo-based company's Stu Crum, president of retail operations, noted at the time that both companies had nearly a century-long history and shared a common ambition to "form an even stronger company, one that is renowned for its commitment to being the most trusted provider of automotive service" in its neighborhood markets.
"Based on its prior actions, Bridgestone may seek to regain its favored status by merely matching, rather than exceeding the Icahn Enterprises offer," Levy said in a note to clients Tuesday. Bridgestone has previously said the deal would expand its retail operations unit in the U.S. by 35%.
Pep Boys shares surged 8% to $18.79, the highest price since July 2007, in New York trading on Tuesday. Icahn's offer represents a premium of about 6% to the closing price on Monday and a multiple of about 12.6 to earnings before interest, taxes, depreciation and amortization, a measure of profitability known as EBITDA.
That compares with a median multiple of 11 on two auto-parts center buyouts in North America in the past 10 years, according to data compiled by Bloomberg. 
Pep Boys reported a loss of $27.3 million, or 51 cents a share, on revenue of $2.1 billion last year. The company hired Scott Sider, a former Hertz executive, as its CEO in June and announced the same month that it would begin considering a sale because of interest from "a number of potential strategic and financial buyers."