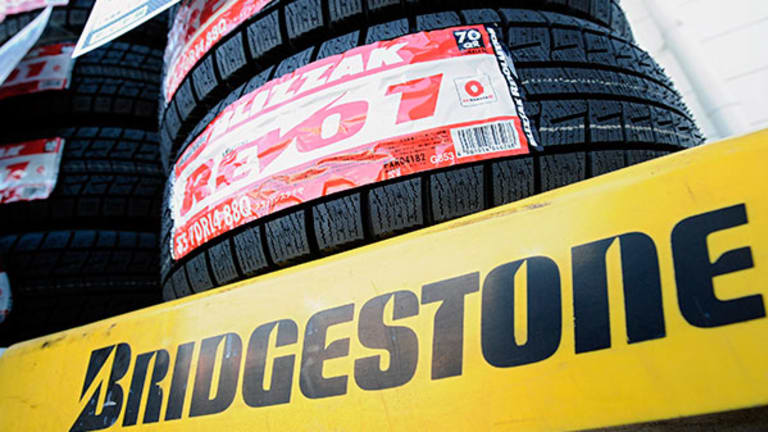 Pep Boys Inks Deal With Icahn After Bridgestone Retreats From Bidding War
Bridgestone won't counter Carl Icahn's latest offer for auto-repair chain Pep Boys, leaving Wall Street to speculate on the billionaire investor's plans for the Philadelphia company.
Carl Icahn inked a deal to buy Pep Boys (PBY)  for $1.03 billion after Japanese tire-maker Bridgestoneundefined  gave up on a bidding war for the auto parts chain.
The Philadelphia-based company said Tuesday that Icahn paid Bridgestone a termination fee of $39.5 million on Pep Boys' behalf after the board formally rejected Bridgestone's latest offer of $17 a share. Icahn's offer had topped that by $1.50 a share and came with no due diligence or financing conditions attached.
The buyout allows Icahn Enterprises to "further bolster our U.S. automotive footprint," the billionaire investor said in a statement. "Since our acquisition of Auto Plus, our wholly-owned automotive aftermarket company, in June, we have been actively looking for an excellent synergistic acquisition opportunity like Pep Boys, which has enormous growth potential."
The transaction is expected to close in the first quarter of 2016, Pep Boys said. Pep Boys would have benefited from the "sheer size and scale" of a Bridgestone combination, but "for the shareholder who's cashing out, this is the best deal," Efraim Levy, an analyst with S&P Capital IQ, said in a telephone interview. "It's a big increase from where they were just a few months ago."
Altogether, Icahn's final offer marked an increase of more than 20% from the $15 a share for which Bridgestone originally agreed to buy Pep Boys in October, and the investor had said he might pay even more. Founded in 1921, Pep Boys operates more than 7,500 service bays in 800 locations around the U.S., where its employees provide auto maintenance and repair.
While Pep Boys has lagged its peers recently on some financial performance measures, buying the chain would have broadened Bridgestone's base of 2,200 tire and auto-service centers in the U.S. and offered opportunities for operational cost savings, Levy noted.
Icahn, on the other hand, stands to benefit from combining Pep Boys with his Auto Plus parts business, which has hundreds of U.S. locations. He would also have been rewarded, had Bridgestone not backed out, from simply driving up the deal price: He is one of Pep Boys' largest shareholders.
The deal was struck in an environment that looks more promising for auto-parts merchants than it has in years. Declining oil prices and an improving economy are prompting more U.S. drivers to take to the road, as evidenced in increased claims at auto insurers like Warren Buffett's Geico.
"The auto parts market itself is something that should see growth because there are more cars on the road than ever, cars are older than ever and now, people are finally driving more," Levy said. "The increased need for repairs, the number of vehicles, the age of vehicles and the increased use of vehicles are all things that should help demand grow."
Pep Boys shares surged 9% to $18.94 on new of Icahn's offer Tuesday, reaching the highest intraday price since July 2007, before paring gains to $18.42 in pre-market trading today. Icahn's offer represents a premium of about 6% to the closing price on Monday and a multiple of about 12.6 to earnings before interest, taxes, depreciation and amortization, a measure of profitability known as EBITDA.
That compares with a median multiple of 11 on two auto-parts center buyouts in North America in the past 10 years, according to data compiled by Bloomberg.
Pep Boys reported a loss of $27.3 million, or 51 cents a share, on revenue of $2.1 billion last year. The company hired Scott Sider, a former Hertz executive, as its CEO in June and announced the same month that it would begin considering a sale because of interest from "a number of potential strategic and financial buyers."
The transaction "provides new opportunities for Pep Boys employees," Sider said in the statement. "There are tremendous opportunities for Pep Boys and Auto Plus, a company that shares Pep Boys' unwavering commitment to best-in-class customer service and solutions. I am confident in Pep Boys' strong future growth prospects as an Icahn Enterprises portfolio company."
While the agreement means a higher payout for Pep Boys investors, its impact on the chain's debt is less certain. Earlier this month, Icahn's interest prompted ratings firm Moody's to back away from considering an upgrade to Pep Boys credit score of B1, which is four levels below investment grade.
Because "a financial buyer, though we acknowledge Icahn Enterprises does own a company in this general sub-sector of retail, is likely to behave differently than a strategic buyer in terms of capitalization, we are no longer able to definitively state that the impact on ratings is likely to be positive," Moody's Vice President Charlie O'Shea said at the time.
Proskauer Rose LLP, White & Case LLP and Drinker Biddle & Reath LLP are providing legal counsel to Icahn Enterprises. Rothschild is the exclusive financial adviser to Pep Boys, and Morgan, Lewis & Bockius LLP is its legal adviser. 
The Morgan Lewis team was led by partners James McKenzie and Colby Smith and associate Andrew Rocks. The Proskauer team was led by Julie Allen, co-heads the capital markets group, and included partner Martin Hamilton and associates Michael Saliba, Van Whiting and Amy Zelcer.